Travel to the Isle of Wight for Stealing Roses and Heather Cooper
Heather Cooper Stealing Roses is historical fiction set in Cowes..
When a book is set in the past, in Victorian times in the case of  Stealing Roses, how does an author manage to get the sense of time and place? How do they research setting when it has changed so much since that time? Heather Cooper loves a challenge and so guides us around the literary setting of her novel…Travel to the Isle of Wight for Stealing Roses and Heather Cooper…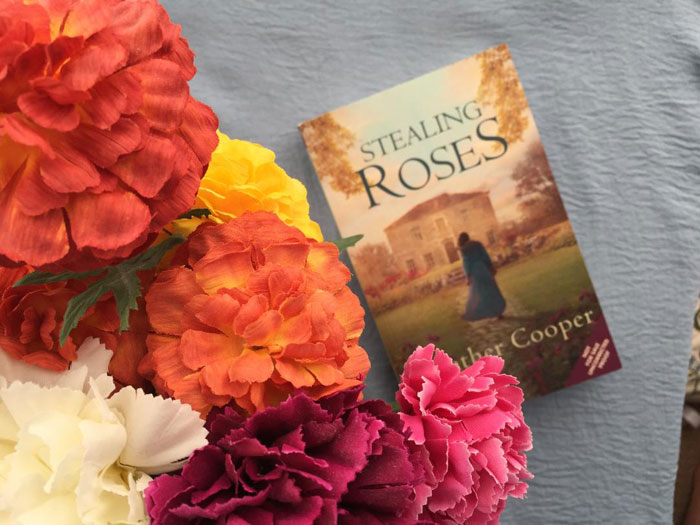 Stealing Roses is set in Cowes on the Isle of Wight in Victorian times – and if you walk along the narrow winding high street of Cowes today, it will not look too different from the way it looked all those years ago. There are many shop fronts that look much the same, the elegant Northwood House surrounded by its park still presides over the town, and the ancient castle that is now the Royal Yacht Squadron still faces importantly out to sea.
In 1862 the railway came to the Isle of Wight and the first line took travellers from Cowes to Newport. The changes that the coming of the railway brought to this small seaside town must have been extraordinary. I wanted to write about its tremendous impact on one young woman, who has led a sheltered and restricted life but dreams of a wider world.
When writing I checked every location on contemporary maps but also in the present day. So, when my heroine Eveline Stanhope takes up photography, learns to swim, visits the newly built railway station, and even ventures (most unsuitably) into the Union Inn, it is clear exactly where she is! The story is told from Eveline's point of view, and she has a strong attachment to her home. Evoking a rich sense of place was vital. She is observant and has a deep sensual response to nature, and we see the town and its surroundings through her eyes.
Researching Stealing Roses proved fascinating. Cowes Library supplied maps of the town in the 1860s; the Isle of Wight Steam Railway (we do still have some steam trains) and the Cowes Classic Boat Museum were rich sources.  Julia Margaret Cameron, a Victorian pioneer photographer who lived on the Island inspired Eveline's passion for photography. (Her house, Dimbola, is now a museum – perfect, as I was able to study her methods, cameras, glass plates, and photographs in detail there.)
Readers can visit all these places, as well as Farringford (home of Alfred, Lord Tennyson), Osborne House, and Northwood House . They can also explore Cowes, with its old houses, pretty streets and wide waterfront parade.
I have lived on the Isle of Wight for most of my adult life, and in Cowes for the past ten years. Living here one is surrounded by the world of the Victorians still. Osborne House, Queen Victoria's home and retreat, made it fashionable ,and the continuing patronage of Edward VII and George V, both keen sailors, made Cowes itself rather glamorous. During the second half of the nineteenth century it seems that almost every distinguished Victorian of note visited the Isle of Wight. Tennyson moved here in 1853. In addition, Julia Margaret Cameron followed, and then GF Watts, Edward Lear, Lewis Carroll and Darwin to name but a few. So,  some very distinguished and intriguing ghosts walked these lanes.
Where the railway used to run from Cowes to Newport, along the River Medina, there is now a rather beautiful path. I have walked and cycled along this path a thousand times. It used to be my commute to work at the hospital in Newport. This is where the idea for the novel was born. It isn't hard to imagine the steam trains – even now, you can see the remains of an old bridge, pick up the odd fragment of coal, find the entrance to the railway tunnel, or see an old apple tree . I like to think such a tree grew from an apple core thrown out of a carriage window by some long-ago traveller.
Wow thank you so much Heather for such an insightful Booktrail!
Instagram: /heathercooperauthor    web: heathercooperauthor.co.uk