Cruising around with Maddie Please
There's something very special about a book set on a ship. You have the characters all in one place, floating in what is essentially a smaller version of  the world – a community with places to relax, drink, play and cabins where you can escape to the quiet confines of your own place – and there's not many places you can escape to on a cruise if you feel the need! They are also places to enjoy the company of others and relax  into your surroundings which change every day.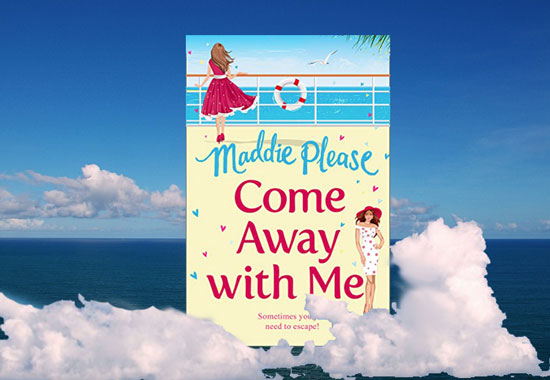 Then there's the chance of a new set of friends, great food and drink every day and the best bit…..a stop in a new city and culture…..before heading off to the next new destination…So why did Maddie Please want to write a book set on a cruise then? You might think the answer is obvious but it's even more exciting that we could have realised!
Hi Maddie….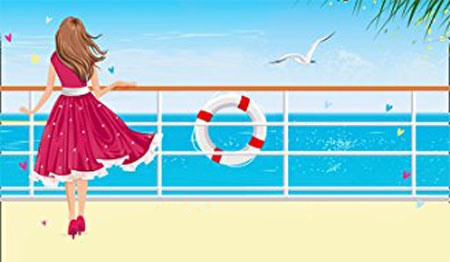 I absolutely love cruising. I went on my first one in 2004 – to the Mediterranean. It completely quashed all my prejudices against something I thought was for 'older' people! Since then I have been on several others. A couple of others to the Mediterranean swiftly followed. Then we went to the Baltic during June, a time of the year known as The White Nights because it never gets really dark. We visited Copenhagen, Tallinn, St Petersburg, Stockholm, Helsinki. It was gorgeous and the first time we had departed from the UK instead of having to fly somewhere first.
My husband was brought up in Washington DC and had wonderful opportunities to travel across the Atlantic with his family on several famous ships including The Queen Elizabeth, the QE2, the SS France and Italian line boats.
He absolutely loves the Cunard line and in 2014 we came back from New York on the QM2. It was fabulous. And of course because the ships clock changes by one hour every day – no jet lag! There are no places to stop of course, but the ship is geared up for this. There are talks, demonstrations, a cinema, theatre, casino, library, planetarium and always inspired speakers. And it's true – as Alexa and India found out, there is a fascination with the Titanic. Where and when she sank, the story of her one journey, what went wrong.
Last year we booked another trip, the one which inspired Come Away With Me. We travelled up the New England and Canadian Coast to Quebec and then back across the Atlantic. Wherever this beautiful ship goes, it causes excitement and admiration. When we left Quebec, literally thousands of people came to watch the ship.
What would be the best cruise to go on do you think?
I'd like to see the West Coast of America and Alaska, perhaps Norway. If I'm honest ANY cruise with Cunard!
What is it about being on a floating hotel that is so good – and so good for a story?
There are lots of different shipping lines to suit all budgets and destinations. The QM2 was the inspiration for Come Away With Me and it really is a 5 star floating hotel. The accommodation is lovely, the food choices and availability are amazing, there is entertainment the service is excellent and there are so many places on board the ship to sit and people watch. We opted to sit at a table of 8 for our evening meal, and they were such a jolly, friendly, interesting group of people. They were partly the inspiration for Ike, Caron, Marty and Marion. I wrote every morning in my favourite place on the 13th deck with a glorious view over the bow. (that's the sharp end!)
Southampton and New York both feature a little in your novel…..
Southampton is easy to get to (we live in Devon) and there is dedicated parking nearby if you are cruising. There are buses and taxis everywhere and the occasional limo. This inspired the scene where Marnie Miller was leaving the ship! There is a well organised luggage drop off, and then you just walk onto the ship; it's all very exciting. Of course no flying also means no luggage limit! And it is nice to dress up occasionally for gala nights and join in with the spirit on board ship.
In New York we booked some excursions through the ship which were well worth it. Everything worked like clockwork and the coaches were air conditioned (thank heavens) and comfortable, the guides were entertaining and well informed. And most importantly you don't have to drive! New York is not for the faint-hearted motorist!
I can't tell you how beautiful the night time skyline of Manhattan is. We sailed from New York on a Friday evening and the lights, the illuminated buildings and bridges were a thousand times more impressive than any photograph. Sailing underneath the Verrazano Narrows Bridge (inches to spare!) was fantastic. The whole thing is outlined in lights, and of course the traffic really doesn't ever stop. It was a breath taking, magical moment.
Wow ! That was quite a journey Maddie! Thank you so much for showing us life at sea!
Twitter:  @MaddiePlease1 Web: maddieplease.co.uk