Bloody Scotland – Where it all began
This weekend Stirling in Scotland is going to be full of people who kill for a living. Fictionally of course but still, it looks set to be a gathering to die for. With some of the best criminal minds around, there is going to be some gruesome chats and revealing discussions.

So how did this all come about? How was Bloody Scotland born? I managed to get Lin Anderson and Alex Gray to stop what they were doing for a minute and have a Bloody Mary cocktail which is now known as a  Bloody Scotland fest.
What does Bloody Scotland mean to you and how did it all come about?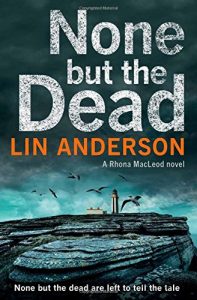 Lin: Alex and I were at a Crime Writers Conference in Lincoln, and wondered why with so many great crime writers in Scotland, we didn't have our own festival like Harrogate. Thus the idea for Bloody Scotland was born over the second bottle of Prosecco.
Ian Rankin said at its launch, Scandinavia doesn't have better crime writers than Scotland, it had better PR. Bloody Scotland was created to change that, to give voice to new writing, to champion our distinctiveness and to celebrate the work of international stars.
Alex:  Bloody Scotland means such a lot to me. One of our best achievements as writers has been to found a festival like this. Not only do we have some of the best crime writers in the world coming to Bloody Scotland but we foster the careers of many of tomorrow's crime writers too.
It came about after that ( now legendary) second bottle of Prosecco at Lincoln crime writers association conference when we discussed the possibility of starting out own 'Harrogate of the North' as we had so many fantastic and world famous crime writers in Scotland.
Rhona MacLeod  and DCI Lorimer – would they be friends and how well would they work together?
Lin: I think they'd get on really well. Rhona's mentor in the earlier books DI Bill Wilson is modelled on my dad DI Bill Mitchell. DCI Lorimer and DI Wilson share many qualities, so yes I think they would be pals. Much like their creators!
Alex: Yes I think they would be friends. They both have the same objective : to find the truth behind a heinous crime and bring the perpetrators to justice. And they both like cats!

If your character picked an ideal crime squad of three characters from other novels who would they like to work with and why?
Lin: I was a big fan of Cagney and Lacey, and a big fan of The Rockford files… I even wrote a second series featuring Patrick de Courvoisier, set in Cannes, loosely based on The Rockford files. The gang of characters you create has a chemistry bigger than the individuals in it, so plucking from other gangs would be a difficult task. Lorimer and Rhona could feature together, not sure who the third one would be though…
Alex: Well Rhona obviously for one to have a  brilliant forensic scientist on hand. DI Costello in Caro Ramsay's novels as she is both fearless and has great patter. Swedish Mons Kallentoft has Malin Fors who is a bit psychic and can tap into the vibes of dead victims. She'd be an asset to the team.
You write about Glasgow/Edinburgh. What is it about these two cities that inspire you?
Lin: I was a student in Glasgow and married a Glaswegian and set up house there initially. I'm a west coaster, born down the Clyde from Glasgow in Greenock. I love Glasgow's vitality and its in your face friendliness, its magnificent architecture and its abundant hospitality. It also is best for clothes shopping and eating out.
Edinburgh is currently my home when I'm not north in my home village of Carrbridge in the Highlands. It's a douce city, beautiful and exceptionally walkable. Rich in Literary tradition, its old and new towns are a testimony to its fascinating historical significance in Scotland's story.
Alex: Glasgow has a huge heart. It is also a city of many faces, the cultural and the couthy combining in a way that I think is quite unique. We have the best sense of humour in the world. Remember where Billy Connolly came from!
Favourite Scottish food?
Lin: Got to be haggis, neeps and tatties.
Alex: Stornoway Black pudding.
Favourite Scottish childrens story?
Lin: Kidnapped by Robert Louis Stevenson.
Alex: Treasure Island!
Why is Scotland so brilliant at producing crime fiction? Tartan Noir is so good!
Lin: Still asking myself that. Our crime fiction was inspired by R.L.Stevenson through books like Kidnapped and Dr Jekyll and Mr Hyde. No cosy crime golden era here, such as south of the border. McIllvanney's Laidlaw set the bar high for modern crime fiction that spoke in voices that we recognised and featured a philosopher detective who always asked, 'Who is the true monster here'. He influenced as all, which is why the late William McIlvanney is at the heart of Bloody Scotland.
Alex: Tartan noir rocks! We have a heritage of noir running right through our writing from James Hogg and RL Stevenson that shows a sense of darkness mingling with a heightened awareness of justice and humanity, perfect ingredients to make for excellent crime fiction.
Talking of tartan, what's yours ?
Lin: I'm an Anderson by marriage and it has a very recognisable tartan.  My maiden name is Mitchell, which is also a clan with a tartan. Mitchell clan also founded the famous Mitchell Library in Glasgow.
Alex: My clan is Mackintosh. My husband's is Drummond and their motto is Gang Warily. Good advice for Lorimer. Maybe I should've made him a Drummond? I like most tartans and would love to help design one for Bloody Scotland, a real tartan noir!
Well ladies, there's a few good ideas right there. Everyone in Bloody Scotland tartan kilts next year! Thank you so much for chatting today and let's raise our  Bloody Scotland cocktails to everyone who will be gathered in Stirling this weekend. Crime writers and readers have a lot to thank you both for. Cheers!