An Island Promise set in Corfu with Patricia Wilson
A Corfu Island Promise with Patricia Wilson
An Island Promise set in Corfu with Patricia Wilson. The story takes us on a journey from the city of Athens, Greece, to the Greek island of Corfu. One story thread takes place in Liverpool and features an Anthony Gormley statue!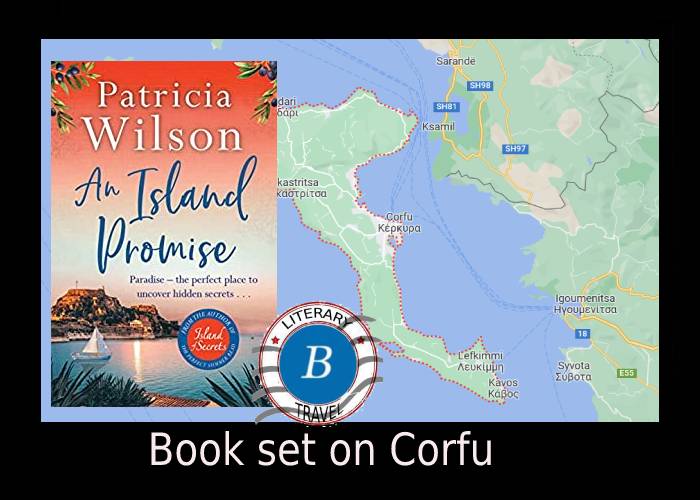 Prologue: 1967, on the Greek island of Corfu, an old lady wearing a grey habit, falls to her knees near a ramshackle cottage in the grounds of Mon Repos Mansion. Sister Alice (Princess Andrew of Greece and Denmark) tells a young novice that she gave birth to her son, Prince Philip, on the dining table in the mansion, many years ago. She has come from Athens to Corfu to have her portrait painted by her very close friend, Daphne von Stroop before she leaves Greece to go and live with her son in England.
Present day: Liverpudlian art restorer, Flora, is grieving the premature death of her beloved husband, Mark, and reminisces about their beach walks along Liverpool's Crosby shore and the Antony Gormley installation, Another Place. Flora receives a letter from her 99 year old Greek grandmother, Daphne von Stroop, asking her to come to Corfu because she has a great secret that she must share with her granddaughter.
Flora, in huge financial debt after fighting for her husband's life, is about to lose her home but she remembers a holiday credit from the start of covid and decides to try and lift her depression with a trip to her grandmother on the island of Corfu.
After her arrival at the old cottage, Flora asks if she can paint Daphne's portrait while she's there.
We are taken back to Daphne Abram's childhood, WW2 in Athens where her Jewish family hide from the Nazis in the shadow of the Acropolis.
Daphne, a teenage girl, falls in love with her Austrian art teacher Aristotle von Stroop. As the Nazi net closes in, Princess Alice hides Jewish fugitives in her city-centre attic (true). Eventually, Daphne and her teacher, Aristotle, escape Athens and head for Corfu where the Princess has given them a ramshackle cottage  in the grounds of Mon Repos, which was once a royal residence.
Flora tells her grandmother how she and Mark backpacked around Greece in their student days. Inside the Treasury of Atrius, also known as the Tomb of Agamemnon, in Mycenae,  Mark told Flora that he would marry her one day.
He then proposed to her in the ancient stadium of Epidaurus that seats 14,000 people where all the tourists heard and applauded.
Daphne and Aristotle's terrifying journey takes them through the Corinth Canal then a little cog railway shunts them high into the snow-capped mountains of the Peloponnese. Danger looms, and the couple try to out-run the Nazis once again, but tragedy waits around every corner and now, they are not only fighting for their own lives, but also for their unborn child.
Their journey takes them to the lagoon of Missolonghi, and the little island of Aitoliko where their baby is born. Will they all make it to Corfu and the ramshackle cottage in the grounds of Mon Repos? The Nazis, headed by Aristotle's SS cousin are still hard on their heels.
As Flora listens to her grandmother's story, she realises she underestimated the old lady. Did Daphne really outsmart the Nazis, and at what price? The answer is painted onto a small stone, which Flora places on the amazing old woman's grave.
Twitter:@pmwilson_author   Web: pmwilson.net