Will Dean on location – filming for the Zoe Ball Book club!
This Sunday sees the very exciting book event of Dark Pines appearing on the Zoe Ball Book Club – complete with short film of the book and its author. It's always good to see books come to life in this way and be discussed, but the short films are really good at bringing characters, music and the essence of the novel together. What will the team at Zoe Ball Breakfast Show make of Tuva and the gang?
We asked the author himself – Will Dean for some insights..
How excited are you to be on the telly?
Very excited! And scared. Most of all I feel lucky. I did not expect this!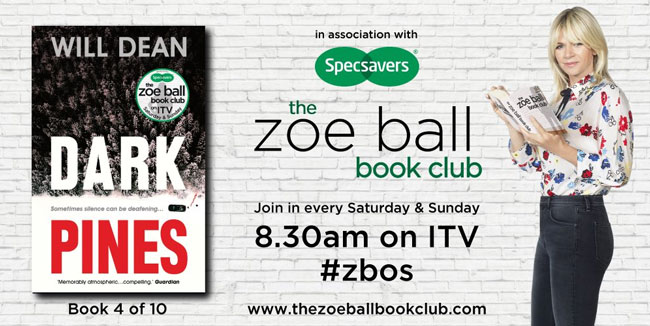 What does this mean to you?
It's lovely to be selected. There are so many brilliant books published each year so it's a bit of a shock. In practical terms it means more readers will discover Tuva Moodyson which is a dream come true. And as Dark Pines is the first of the series (book 2, Red Snow, will be out in January) it'll be interesting to see readers follow Tuva through the years.
What would Tuva think of it all?
She'd be happy. But she'd probably roll her eyes at the thought of me on the TV.
Tell us more about Gavrik.
Gavrik is a small isolated town in Varmland, central Sweden. It has a 2-man police station, a salt liquorice factory, a pulp mill, and a McDonald's. Everyone knows each other. Gossip is rife. Tuva is the sole full-time reporter at the Gavrik Posten, the local paper. Locals are bound together by secrets and lies.The town is marginal. It's stagnated. It's a town bordered by vast elk forests and frozen rivers and Tuva is keen to leave as soon as she can!
What do you love about Sweden and where you live?
I live at the centre of a huge forest a few hours south of Varmland. I love so many things about life here: the distinct seasons, the more equal society, the vastness and wildness of the nature, the night skies, the peacefulness, the mushroom-picking, the empty unspoilt beaches, the people. My boggy clearing is special to me. I'm miles from neighbours or proper roads and that offers sanctuary. A good place to read and write and think and play.
How are you going to celebrate in Sweden on the fact your book is now so popular?
I'm not very good at celebrating! I'd rather just crack on with writing (currently working on book 3). But my favourite things are hiking in the woods with my wife and 4-year-old, chopping wood (essential with out winters), and sea-kayaking (we paddle and the kid sits in the middle eating meatballs).
What was the filming like and who did you meet?
It was a pleasure! The team were wonderful and they found a great location close to Pinewood Studios. They even had a Toyota Hilux on set (Tuva drives a Hilux). I met the producer and the director, and I also met (an actor playing) Tuva! It was a day I will never forget.
Tune in on Sunday at 8.30am on   ITV  to see Dark Pines come to life!