Brilliant Brighton – LV Hay – The Other Twin
Why Lucy Hay wrote The Other Twin and set it in Brighton…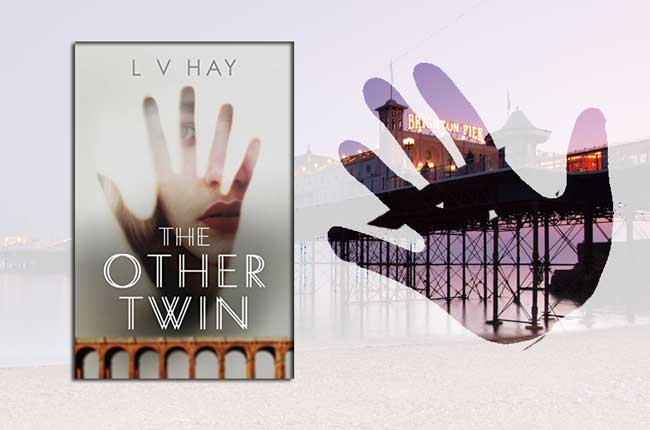 I knew I wanted to write a crime novel with an LGBT theme from the offset in my debut, The Other Twin, so setting it in Brighton was a no-brainer!
This diverse UK city has long been known as a place where love is love, plus you can find your tribe and be yourself … Which makes it even more heart-breaking that certain characters in my novel cannot, thanks to the dark influence and manipulation of others.
Here are the main locations from Brighton that informed my thinking and plotting, when writing. I know Brighton very well anyway, but I spent a lot of time on jaunts in this vibrant city as part of my research and to 'kickstart' me when I got stuck. Enjoy!
The Sea Front And Beach
First up, the obvious. Any seaside novel must take in the sea front! The beach is mostly pebbles close to the roadside, though it falls to shale the closer you get to the water. There are beach huts and tall, concrete steps up to the pavement above.
Brighton is wide and open, with very little shelter from headland. This means wind whips up across the sea front and beach very fast, bringing with it chills aplenty! There's also a marina and many boats, so you can hear the wind whistling through furled up sails and wooden and metal decorations on the boats themselves. When the wind really gets up it is a strange cacophony of sound here.
The Piers
Like many English seaside towns, Brighton is known for having a pier, but unusually this city has two. The Palace Pier is home to many arcades and amusements, as well as kiosks selling thing like drinks, donuts and ice creams to tourists.
In The Other Twin, India and Poppy's parents Tim and Kirsten run an amusement arcade here on The Palace Pier, largely made up of 'Penny Falls' – those machines you throw pennies and two Ps into that create cascades of money if you get lucky.
The West Pier, in contrast is nowadays a blackened shell. In 2003, it caught fire for the second time, for a reason that remains largely unexplained. I thought it represented an interesting contrast and subtext – this is Old Brighton, compared to the glitz of new Brighton via The Palace Pier.
The Obelisk Resort
This is the one part of the book that DOESN'T exist! I imagined a big hotel and resort and out near the marina, somewhere just beyond Brighton Conference Centre. This was actually one of the first locations that came to me: all glass and chrome, with a massive black monolith out the front that you can see from the beach.
The reason for this place is because I wanted to bring forth the notion of tensions in the town and within the families there. The Spence Family, who own The Obelisk, have brought much work to Brighton, but they also have their own agenda which certain locals don't appreciate. I grew up in a seafront town not unlike Brighton (though much much smaller) and certain families can have their fingers in way too many pies shall we say! I wanted to bring this 'classic' problem to the novel and contrast it with the newer elements.
Season
I set The Other Twin at Christmas, new year and January. This was deliberate. Tragedy at Christmas always seems worse somehow, plus I wanted to paint a picture of what seaside towns are like, 'out of season'.
Dark and forbidding, seaside towns in winter can be desolate places – not just in feeling, but literally! Everything is closed, even boarded up. Plus, the skies are so grey and overcast, it can be difficult to see where the sky ends and the sea begins. I wanted Poppy to feel alone and oppressed in her search for the truth, with the season reflecting this.
Though not strictly a 'real' pub, this is based very heavily on a number of real LGBT bars in the city (and if you've been to any, you will know which one this mostly 'really' is!). Lots of people who don't drink in such establishments assume gay bars are all disco and drag queens.
Nothing could be further from the truth. Whilst some places do like 'traditional' gay fare like lip syncing to Kylie and rainbow flags, the average gay pub is much like the average straight one! Booze, pool and bar snacks figure highly. Fancy that!
I hope you've enjoyed going on location to Brighton with me. Do visit this vibrant and diverse city when you can.
Thanks Lucy!
Twitter:  @LucyVHayAuthor Website: lucyvhayauthor.com