Travel to the settings of The Judge's Apothecary – Emma-Nicole Lewis
The literary locations of The Judge's Apothecary
Emma-Nicole Lewis takes us on a journey of her novel….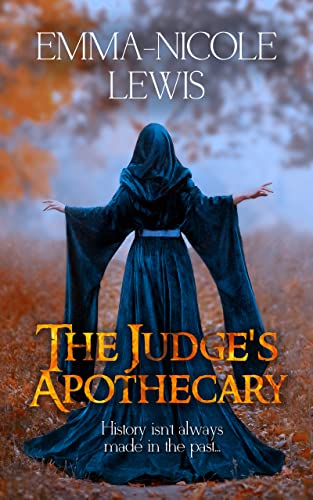 Book research takes me on many road trips. It is an essential part of the writing process and it requires me to walk in the footsteps of my characters. 'The Judge's Apothecary' took me to several places across Southern England because it follows the macabre footsteps of Judge Jeffreys, also known as, 'The Hanging Judge'.
Harnessing my empathy and imagination, I like to use my research to carve out an individual's story and portray how it must have felt to live through those events and to witness some of the greatest, most terrifying and poignant moments in history. The Bloody Assizes, led by Judge Jeffreys in order to bring those who dared rise up against King James II, are no exception. Through his actions and manner in court, Judge Jeffreys sent shockwaves across the country and my novel sees this unfold through the eyes of a woman called Kat.
The setting begins in Winchester as this is where the assizes opened. The beautiful medieval aisled hall, built in the 13th century, is where the first rebels were brought to stand trial. An elderly noble woman, Lady Alice Lisle, stood before Jeffreys and the formidable Crown Counsel, for providing shelter to men who had been part of the rebellion.
Wander down the High Street and take a right at the Buttercross to find 'The Eclipse', a beautiful pub with a Tudor fascia. This is where Dame Alice Lisle was held and a scaffold erected outside of her window.
You can continue your walk through the grounds of Winchester's magnificent cathedral, through the King's Gate and past Winchester College until you meet the river path that eventually leads to St Catherine's Hill. This is a place with a very spiritual feel to it and a place of significance in the book. A clump of beech trees have been planted at the top, over the ground where a chapel once was before being destroyed as part of the reformation under the rule of Henry VIII. Behind the trees is a mizmaze, thought to date back to either the seventeenth century or early eighteenth century. It's one of only eight in England. However, the site dates much further back as it was once an Iron Age fort. I climbed the chalkface of St Catherine's Hill many times and took in the breath-taking views whilst researching my book.
Moving on to Dorchester, I was fortunate enough to get access to the building in which Judge Jeffreys set up residence; I stood in the very room that he slept in and I was allowed out onto the roof area so that I could look out over the network of roofs. Whilst many say that the Crown Counsel used the tunnels that run under the building to Antelope Walk, where the assizes courtroom was, a previous custodian of the building advised that they did in fact use the rooftops. I have used both ideas in the book.
This is a very old building with networks of beams, grand fireplaces and creaky floorboards. When it was Judges' Lodgings it had spanned what is now three different buildings. The room Judge Jeffreys had slept in has a casement window. He would have looked out of this to see the remains of twelve of the thirteen men who had pleaded 'not guilty' and sentenced to a traitor's death. Evidently, they had been dispatched outside his room for his viewing pleasure. There was a very close and stifling atmosphere in that room – I was alone but it did not feel that way.
The book travels to Lyme Regis, where there were more public executions, before mentioning Exeter and journeying to Somerset – home to one of the most rebellious of towns, Taunton, which I visited many times to research. Today, the Castle Green is very beautiful. In summer, the Castle Hotel is awash with the vibrant purple of wisteria and in winter there is an ice-rink. Beyond it is the Museum of Somerset, once the castle's Great Hall. This great hall  is where one of the most shocking of the Bloody Assizes trials took place. Incidentally, this is one of the many reasons why George Jeffreys earned such a dark and sinister reputation.
I cannot mention Somerset without commenting on Westonzoyland and the nearby Battle of Sedgemoor memorial. To find it, you need to walk between two rhynes – long and deep channels of water designed to drain the wetlands of the Somerset Levels. Further on from where the path meets another is a fenced off area commemorating those who fought and fell in the Battle of Sedgemoor.
In spite of the peaceful location, the dramatic echoes of its bloody past do seem to hang over it. When I visited this place, I wanted to trace the footsteps of those men who had marched bravely and silently with Monmouth. They walked in the pitch black, their boots bound in cloth as they sought out the crossing that would bring them nearer to the Royalist Camp where so many tragically met a horrific end or were captured. Kat also rides through here on her way to Bridgwater. It took a lot of walking and imagining to capture how the aftermath of that battle must have looked and how the locals may have reacted.
The places that my research took me have so much rich history and natural beauty that it was very easy to get lost in writing this latest time-slip novel.
Thank you so much Emma-Nicole!
BookTrail Boarding Pass: The Judge's Apothecary
Twitter: @EmmaNicoleLewis Web: emmanicolelewis.co.uk