Travel to locations of The Healing Knife with SL Russell
Healing Knives in London and France
There's nothing more scary than a doctor welding a scalpel right? The one in the novel The Healing Knife has more than one use for it. She has a  plan that involves a life for a life no less…
You might not think there was any locations in a novel like this apart from the operating theatre but you would be wrong. Very wrong. So, anyone for a location visit to France?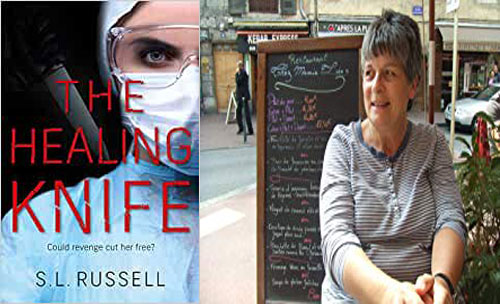 You have driven off the ferry at Calais, and in a few minutes you are sucked onto the southbound A16 – unless, map in hand perhaps, you deliberately take the lesser roads that sometimes follow the coast. That same map will draw your eyes down the north-west side of France until you come to the wide and diverse region that is Normandy. On the far west lies the Cotentin peninsula with Cherbourg at the top, looking out across the sea to Britain and the Channel Islands. At the bottom it suddenly takes a right-angled bend westwards into Brittany, with Mont Saint Michel towering over the border – a border that has been fought over and redrawn many times through history. Here sheep graze on the salt marshes, and sea birds search the low-tide mud for succulent morsels.
A few miles inland is a quiet, lush terrain, drained by rivers rich in salmon and trout and many tiny streams. Here hills are crested with forests; brown and white cattle graze in rich pastures, and orchards of apple and pear abound. Small towns, villages, hamlets are dotted over the landscape, some just four or five houses with their ancient outbuildings. There are modern houses on the town outskirts, but many in the countryside are weathered stone under slate roofs. Woodsmoke rises from their chimneys in winter, their fires fed from the neat stack of logs under cover in a lean-to, or tucked away in a barn. In some gardens you might see a goat and a few chickens, even a couple of sheep or a horse.
This is the setting for the third part of The Healing Knife, where the protagonist, cardiac surgeon Rachel, damaged both physically and mentally by a traumatic event, goes to spend two weeks with only a dog for company before she is joined by the owner, who has seen her need for solitude, rest, healing and time to think – things for which her life up to now has had little space. She works in the garden,  falling asleep on the sunny terrace; she walks the dog, and goes to market, and meets the neighbours. Reading is her passion, but there isn't a medical textbook or a learned article in sight.
As well as all that, she explores the town, in particular the supermarket, and savours the local produce. Warmth and peace, fun and friends, are some of the things that her life has lacked, and bit by bit the atmosphere of rural France in summer starts a thaw, an appreciation of all she has denied herself.
This section of the book uses the background to symbolise the process through which Rachel regains her humanity and learns empathy. It is not all soft and pleasant as there are moments of fear and pain and near-tragedy. However, these moments help her to come back to the rounded and multifaceted person she really is. They also prepare her for the life that lies ahead.
Writing The Healing Knife required a great deal of research. I knew nothing about cardiac and plastic surgery when I started to write. However, the section based in France tripped off the end of my typing fingers with very little effort and barely any need for research. It's a region I know well from living there, on and off, in all weathers and seasons.
Thank you for taking us around the locations in your novel!
Web: www.slrussell.net/