VASEEM KHAN – Postcard from the literary capital of Edinburgh
We caught up with Vaseem Kahn in the glorious city of Edinburgh recently….he was on a booktrail!! We love him even more now. Here's his postcard from the literary capital: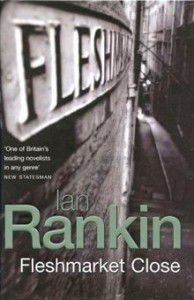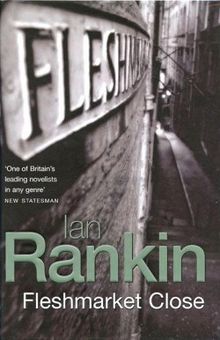 Recently I found myself in the beautiful Scottish city of Edinburgh for the first time. Whilst there I took the opportunity to walk in the footsteps of two of my favourite authors, Ian Rankin, creator of the John Rebus detective series, now in its twentieth iteration, and the inimitable J.K. Rowling, author of the Harry Potter novels.
The Rebus series has long been a favourite of mine. I have marvelled at the way Rankin has created a character that, on the face of it, we shouldn't be drawn to – Rebus is a dishevelled drunk with an oft dubious approach to police work. And yet Rankin wins us over. He imbues Rebus with a wonderful sense of moral unstoppability, whiskey and all.
Edinburgh is John Rebus's city and Rankin has not only brought the place to life, but chronicled its evolution over the past two decades. I decided to pay homage to the series by walking the 'Rebus route', checking out such iconic locations as Fleshmarket Close, and slogging my way up to the top of Arthur's Seat, a high hill just yards from the modernistic new Scottish parliament building and the old Holyrood Palace. From Arthur's Seat I had an incredible view of the city, and I could imagine Rankin sitting up here on a bright and breezy day penning the next tale in the series.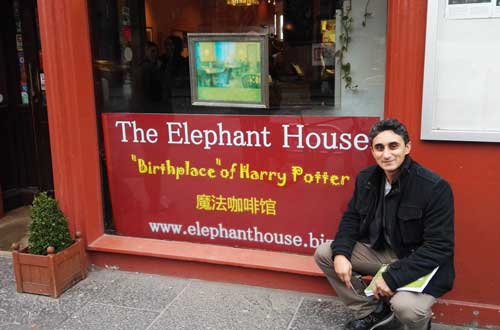 The following day I found my way to The Elephant House café where J.K. Rowling wrote much of the first Harry Potter novel. Nowadays the café has become a pilgrimage site – I saw people from all over the world there to take pictures and partake of a coffee in the 'birthplace of Harry Potter'. I ordered a fresh orange juice, and a smoked salmon and scrambled eggs breakfast, then took my seat on a comfortable sofa with my notepad and began to write. I could not have asked for a more perfectly inspiring venue – given that my crime series, featuring the Baby Ganesh Detective Agency, has a baby elephant as the sidekick to Mumbai police inspector Ashwin Chopra.
The wonderful response to the first book in the series, The Unexpected Inheritance of Chopra, has made me realise that a lot of people really love elephants! And there are over 600 elephants in The Elephant House – my little Ganesha would have been quite at home, I feel! Beneath the eyes of J.K. Rowling, I spent two wonderful hours writing and people-watching. By the end of that time I'd written out a rough outline of another novel in the series. That's the power of inspiration for you!
Booktrail Boarding Pass Information:
Twitter – @VaseemKhanUK
Facebook – /VaseemKhanOfficial
Web – vaseemkhan.com