Travel with Heidi Amsinck to Copenhagen
Travel with Heidi Amsinck to Copenhagen
Heidi Amsinck takes us to the city of her birth to visit the locations of The Girl in the Photograph with a bit of a jaunt around My Name is Jensen too, her first novel.
I was born in Copenhagen but haven't lived there for years. I finished My Name is Jensen, the first in a series of crime novels set in the Danish capital, during lockdown in 2020 when I was unable to visit. Perhaps that's why the book reads like something of a love letter, full of longing for home.
Nyhaven – the famous street and harbour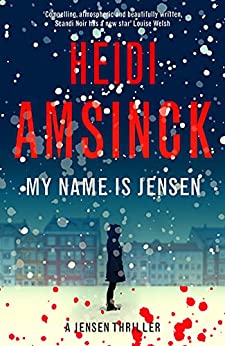 My depiction of Copenhagen is accurate, if not an attempt at social realism. For me, the city exists somewhere between the remembered, the real and the imagined. I use it as a character, alongside reporter Jensen, her apprentice Gustav Skov and former lover DI Henrik Jungersen: a presence that is sometimes cheerful, sometimes eerie, and always 'other'.
One of the many great features of Copenhagen is its size. You can walk the centre end-to-end with ease. I include maps with my books, so people can trace the stories as they unfold. When I was unable to travel, I spent hours on Google Street View, checking the suitability of my chosen settings. None are there by coincidence.
Magstræde 
My Name is Jensen opens in Magstræde, one of the oldest streets in Copenhagen, deep in the medieval heart of the city. Tourists love its leaning, Lego-coloured townhouses, cobbles and bicycles. Before lockdown, I took a photo on my way through and thought, what if this was the scene of a murder? In the book, Jensen discovers a body under a pile of snow, a young man she remembers seeing the night before, holding up a cardboard sign.
City Hall Square  – Dagbladet
Five minutes away, on City Hall Square is the newsroom of Dagbladet where Jensen works, and a short stroll from there, in Sankt Peders Stræde, is the tiny coffee van run by Liron from Jerusalem whom Jensen confides in. She takes her bicycle to Christiansborg, a former royal palace and home to the Danish parliament, where she meets her politician friend Esben Nørregaard.
Sankt Peders Stræde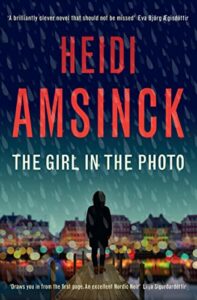 Book two, The Girl in the Photo, opens in a house in the northern suburb of Klampenborg, very like the one my father grew up in. It had a rose garden and a dark basement with a chequerboard floor, and I remember it more vividly than what I did yesterday: its peculiar smell, the sound of its doors opening and closing, its cold terrazzo bathroom floors.
Klampenborg sea front
Not far away is Ordrup Station, a white-painted, listed building, designed in the neo-classical style and known to me intimately from the hundreds of times I have stood there waiting for the S-train to central Copenhagen while staying with my grandmother for the holidays. In The Girl in the Photo, stuff happens here that changes the lives of my characters for ever.
Ordrup Station
My late parents met and married close to Ordrup Station. Their first flat, where they lived when my older brother was a baby, is a stone's throw away. Walking the streets of the areas is like chasing ghosts; there is a sense of time folding in on itself and vanishing. It is this peculiar atmosphere that gets my imagination going. By contrast, London where I live, is the everyday – my job, the supermarket, the tube.
The fairytale statue of The Little Mermaid
Where did it begin? This obsession with scratching the surface of this capital of 'hygge' and happiness to see what lies beneath? Perhaps in childhood where I adored the fairy tales of the brothers Grimm and would walk the streets with their dark tales spinning in my head. Perhaps, my imagination was locked in those years and now irreversibly meshed with the city.
I go to Copenhagen as often as I can, walking the streets, eating the food and eavesdropping on people chatting and telling each other stories. For my third novel, I even got a friend to take me out into the harbour on his boat, so I could check the location where a body is found and imagine what it would feel like to come across it. Later I walked the same route along the quay, imagining DI Henrik Jungersen looking out across the water as the body is recovered.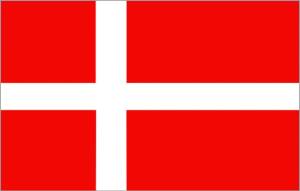 My Danish family and friends are used to my interest in all things murder, and thankfully patient with my countless questions about daily life in a city in which I am now a stranger.
Like me, Jensen was a foreign correspondent in London for many years, but while I stayed, she returned to Copenhagen. 'Home', for me, is now both here and there. As I begin to write my fourth Jensen book, I am grateful that the city is just an imaginative leap away.
Thanks Heidi. Always wonderful to return to Copenhagen!
Twitter: @HeidiAmsinck1  Web: /heidiamsinck.co.uk/