Disappearance at Oare – Whitstable – Julie Wassmer 
Disappearance at Oare By Julie Wassmer
Summer brings a new case for private eye and restaurateur, Pearl Nolan, as she agrees to investigate the mysterious disappearance of a young man, Steven Scott.
This is the latest installment in the Whistable mysteries but this takes us further afield…..
Julie takes us on a tour of her town…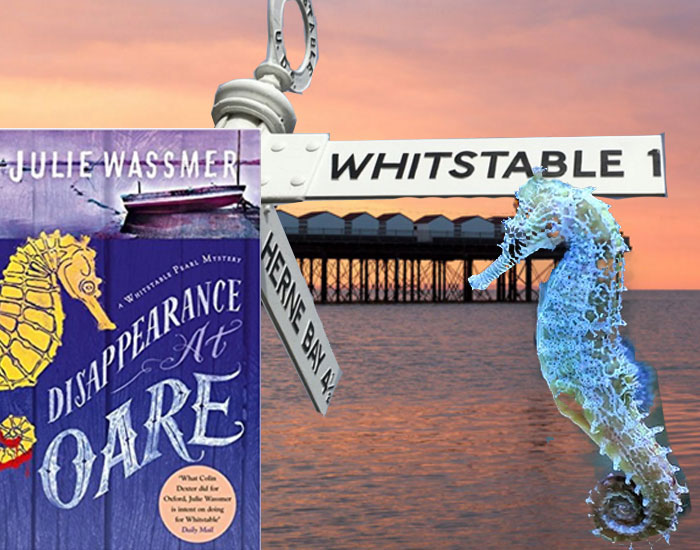 Oare Marshes
Thirteen miles from Whitstable, Oare is a beautiful and mysterious setting that attracts walkers and birdwatchers to the nearby nature reserve.  It's also the place where Steven Scott's car was found abandoned, on an old slipway at Harty Ferry, the spot at which a ferry service had once operated between two points across the Swale channel – from the mainland at Oare to the Isle of Harty on the south-eastern side of the Isle of Sheppey, where an old pub called The Ferry House Inn still welcomes many visitors.
Hollowshore
Pearl is also drawn to an area of flatlands known as Hollowshore where the tidal water from the Swale splits into Faversham Creek, to the east, and Oare Creek, to the west. Here, an old, (reputedly haunted) weather-boarded pub known as the Shipwright's Arms has existed for hundreds of years having served smugglers, pirates and Thames estuary fishermen and sailors. And it's here that Pearl meets with Steven Scott's stepfather to learn more about the paintings that Steven was about to exhibit in a stunning converted warehouse on nearby Faversham Creek…
Faversham Creek
The quayside at Faversham Creek is part of a conservation area and also an important component of the market town of Faversham's maritime heritage, being home to several classic ships and boats, as well as the Thames barge, Greta, whose magnificent brown sails can be seen orbiting the waters around Whitstable in the summer months. It was here on the Creekside that Steven Scott came to paint his pictures and here that Pearl encounters a mysterious red-haired woman, Celia, owner of a houseboat called The Seahorse – a creature that was considered to be a lucky omen for the sailors of Ancient Greece and Rome….
Herne Bay and Reculver
Pearl's investigation also takes her to the ancient point of Reculver, with its ruined church, perched high above the Herne Bay coastline, and to Herne Bay itself in order to interview Steven Scott's mother, Linda. The woman is sadly trapped by grief – not only for her missing son, Steven, but for the loss of Steven's young twin brother, Mark, who died in a tragic swimming accident twenty years ago.  Linda has taken refuge in a strange non-conformist chapel. Her belief that the dead look on as we revolve on the 'carousel of life', leads Pearl to Herne Bay's renovated pier and an old merry-go-round which looks out at the pier's former landing stage, now stranded out at sea. It also leads Pearl to DCI Mike McGuire, with whom she enjoys a date beneath the old famous clock tower on the town's seafront…
Isle of Sheppey
Ignoring DCI Mike McGuire's warnings not to pursue the case, Pearl heads off across the Sheppey Crossing, the arching viaduct for traffic heading onto the Isle of Sheppey and there she gate-crashes the birthday barbecue of her suspect, Leon Marris, a man who owns a tattoo parlour at the beach resort of Leysdown. She also makes a trip to the beautifully isolated Shell Beach and then to Shellness Hamlet, close to a nature reserve which, like that at Oare, is frequented by birdwatchers…. Looking across the water, Pearl realises the coastline facing her is actually Seasalter beach – a 30 mile journey by road but only 3 miles or so across the water…  Seasalter, the next town west of Whitstable, is home to a Michelin starred restaurant and also the home of Steven Scott's wife, Christina, who patiently awaits news of Pearl's investigation.
A wonderful tour and Whitstable sounds utterly amazing Julie. Thank you so much!
Twitter: @juliewassmer   Web: juliewassmer.com