Travel to locations in Just Like That by Nina Kaye
Travel to locations in Just Like That by Nina Kaye
Nina Kaye has a fine invite for you today – Fancy visiting the locations of her novel Just Like That?
Well you are in luck AND it's very, very atmospheric and stunning…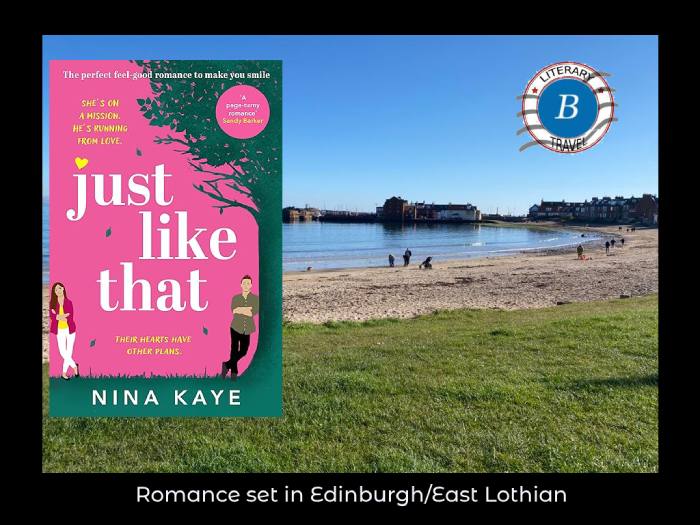 Picture the scene… a crescent shaped beach, with soft pale golden sand – the kind that feels great between your toes. Crystal clear water that takes on shades of blue the deeper it gets, with ripples that sparkle in the sun. Gentle waves lapping at the shore, inviting you in for a dip. A tiny island with a lighthouse punctuating the panoramic vista, while a luscious coastline several miles away provides the perfect backdrop.
You'd be forgiven for thinking this is a far-flung destination, perhaps even somewhere exotic. In fact, this is Yellowcraig Beach in East Lothian, Scotland, and it's the romantic setting for one of the chapters in my most recent novel, Just Like That. That is, until the rain suddenly comes pouring down in true Scottish style and… well, I'll leave you to find out the rest yourself.
Just Like That is set in two different locations: my home city of Edinburgh, where most of my books are based, and the beautiful countryside and coast of East Lothian, an area I've been fortunate enough to spend quite a bit of time in over recent years. If you've read any of my previous books, you'll probably have picked up that I have a real love affair with Edinburgh, having lived in and around the city for twenty-five years. In Just Like That, there are locations that those of you who are familiar with Edinburgh will recognise – such as The Meadows and The Royal Infirmary of Edinburgh (though hopefully not the latter if you've only visited the city!) – however in this story, East Lothian, and most notably, the fictional East Lothian Wildlife Park, become the stars of the show.
So why East Lothian?
Firstly, from a logistical perspective, it's just a short drive from Edinburgh. The park had to be set somewhere that would be an easy commute for my main character, Jess, especially given the carer role she takes on to support her brother's rehabilitation after his sudden stroke. I considered a few locations, including West Lothian, which does actually have its own conservation focused wildlife park called Five Sisters Zoo. However, I didn't want my readers mistaking my conjured-up creation for one that already exists and comparing the two. I also felt a real draw to East Lothian because of the appeal of the pretty coastal towns, villages and shoreline that I could bring into the story in a light touch way – Dirleton, with its intriguing castle ruins, North Berwick with its delightful harbour and, of course, Yellowcraig beach.
I'm also a big fan of the East Lothian countryside. There's a sense of vastness to it, probably because it's fairly flat. This gentle rolling landscape, with its network of country roads that skirt the many fields in the area, reminds me of my childhood holidays in France. Over many years, my parents would drive us all the way from Scotland to various different French regions, and we'd stay on campsites, which I just loved. That moment when we first arrived on French soil always felt so exciting. The greenery, the smells and the sense of openness from the long straight roads ignited a sense of freedom and elation that's hard to replicate, so I love that I can get some of that same feeling from a summer drive along the country roads of East Lothian.
With it having such a powerful impact on me, it became a no-brainer that the home of the wildlife park where Jess meets grumpy Nick, no-nonsense (but unintentionally hilarious) Gwen and mischievous Lauren should be the East Lothian countryside. It provided the perfect setting, not just for the park, but for Jess to go on her journey of self-discovery and find her happy ever after. I hope when you read it, you'll feel some of that magic too.
Twitter: @NinaKayeAuthor
Web: www.ninakaye.co.uk/