Confessions of a Literary Traveller – Anne Allen
Author Anne Allen  – Guernsey set novels revealed
Anne Allen writes the Guernsey series of novels and she's recently been back to her beloved island to appear in a festival there. What went on and what happened? What can she tell us about behind the scenes?
A bit of a Festival based confession this week as the lovely Anne Allen who writes books set on the island of Guernsey spills the beans about the writing festival there and what she got up to the last time she was there….
Read on for the chance to win her latest novel too!
Confessions of a Newbie Festival Speaker
As a lover of books, I have attended a number of Literary Festivals over the years, mainly in Bath and Guernsey, places that were once home. As I listened entranced by the speakers' tales, I could never have imagined what it would be like to be up on the stage myself. But now, after writing seven books in The Guernsey Novels series, I have recently returned from the 7th Guernsey LitFest after being invited to speak about my latest book, The Inheritance.
My name was in the lovely colour brochure among some big names – Lionel Shriver, Libby Purves, Patrick Gale, Adam Kay, Matt Haig and Terry Waite to name a few. I was both excited and nervous about what was, to me, an honour. It was also a validation of all my hard work over the years as an indie author. Since leaving Guernsey some seventeen years ago, I have returned many times, but this was the first time I would be paid to return!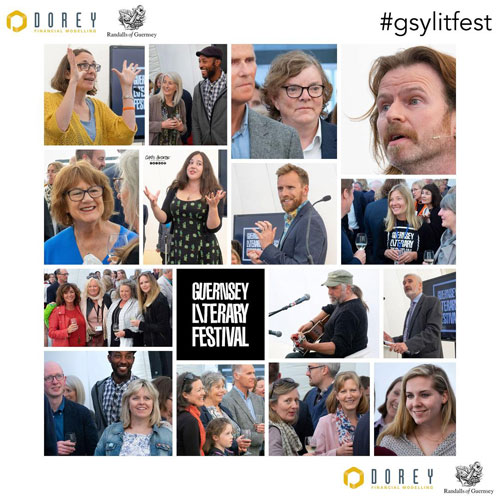 The LitFest took place over six days, covering a mixture of family events, poetry recitals, music, drama and workshops for would-be writers as well as the talks by the authors. Guernsey has quite a reputation for laying on a great festival and is proving popular with both speakers and visitors. This event was the largest yet. The planning had taken months of hard work by a core of professional organisers, aided by a number of willing volunteers during the event itself. My own participation began with a podcast interview at the local library. This will be added to their archives any day now.
Then, a couple of days later, I was interviewed live on air by the wonderful BBC radio presenter, Jenny Kendal-Tobias. We settled down under a gazebo by the Hub, a large inflated tent where many of the events took place. Jenny was kind enough to say, on air, her mother, a retired schoolteacher, had enjoyed my book. This was a good boost before going on to give my talk a couple of hours later.
I have only ever spoken to small groups in libraries in the past and I was nervous about speaking to a large audience (about 70) who had paid to hear me. Most of the faces were of strangers but there were a few friendly 'fans' to help me feel at ease. The session was an hour, allowing for questions, such as 'When's the next book out and what will it be about!' Honestly, that was a bit much considering my new book was precisely 3 weeks old! The lovely part of the event is the book signing, when you get to talk to people face to face. They are only too happy to share their thoughts of your books. Makes up for the many long hours spent in front of the computer.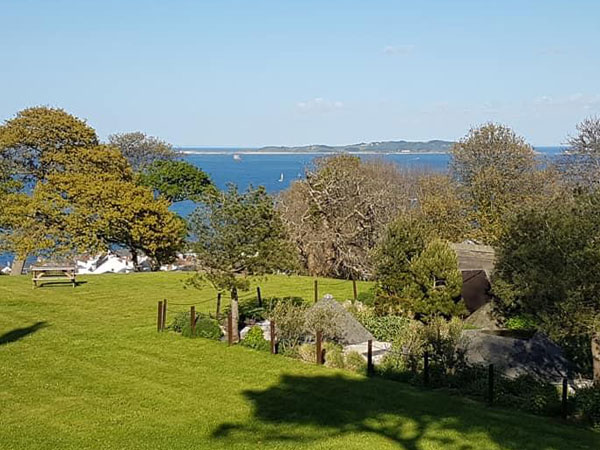 Speakers were well looked after in Guernsey. They were treated to a welcome drinks event early on and then a dinner a few days later. It was fun to mingle with the 'stars' when they were off-duty. I could even imagine some of the star dust settling on me, too. It's fair to say that I've got the 'bug' and would love to take part in more Literary Festivals. I will now speak at the Exeter LitFest in November. Stardom, here I come!
All in a day's work for a festival newbie! Thanks Anne for spilling the beans!
TO WIN a copy of her latest novel – just sign up to our weekly newsletter  – there are plenty more treats in store there too!
Scroll down to the bottom of the page and fill in your email address there. No spa promise!
Twitter: @anneallen21 Web: anneallen.co.uk