Fictional settings – Creating a house in Carlow – Susie Murphy
How to create a fictional grand stately home….
What do you do when you have the location you want to set your novel, but the house, the exact kind of grand house which was prevalant back in the 1800s is no longer there, nor ever was? It takes a greater effort of an historical writer, that's for sure. Susie Murphy explains how: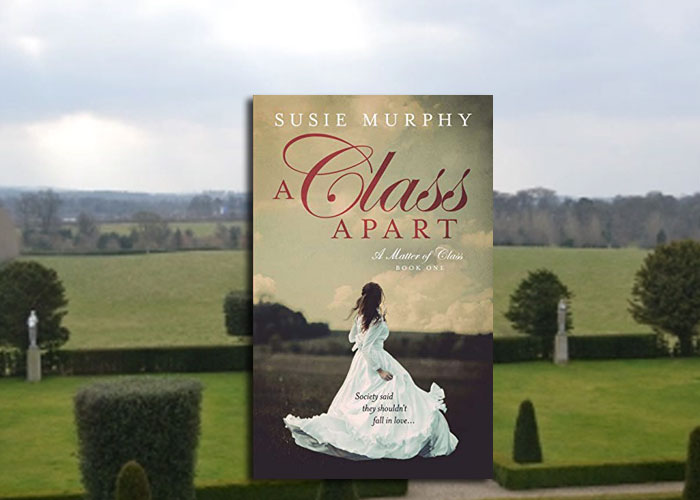 Having an identifiable setting in a novel is key for helping the reader feel grounded in the space and time of the story.
My historical fiction series, A Matter of Class, takes place during the first half of the 19th century and the first instalment, A Class Apart, is set in rural Ireland in 1828. I have placed a lot of emphasis on constructing the setting in the book so that the reader will feel comfortable within the environs of a country estate – encompassing a manor house and its grounds, as well as a local village, tenant homes and farms.
A Class Apart takes place on a country estate in County Carlow. Oakleigh Manor itself is a fictional place but it is based on the numerous big houses dotted around Ireland, many of which are connected to the country's history from the time when English landlords took ownership of Irish lands during the plantations. To give you a specific example (albeit from a later period), I visited Palmerstown House.
Palmerston House
I should note that Palmerstown House was built in 1872, whereas three previous generations have already lived in Oakleigh by the time A Class Apart begins in 1828, therefore some elements of the building design might not match the era. However, I think the feel of the place is nonetheless quite similar.
In such a setting, the manor house is more than just a building; it is a symbol of affluence or oppression, depending on your viewpoint. In a way, it is like a major character in the book and hence I have given it a name: Oakleigh Manor. The house serves as a backdrop to the developing relationship between A Class Apart's two protagonists, Bridget and Cormac: Bridget is heiress to Oakleigh while Cormac works as a stable hand on the manor grounds. The disparity in their social standing is clearly defined through their connection to Oakleigh.
To visualise it exactly like Oakleigh, in place of the stonework there would be red brick, and the avenue would be gravelled instead of tarmacked.
When Bridget and her mother emerge from the carriage, they lay eyes at last upon Bridget's childhood home:
One of the things Bridget loves most about Oakleigh is looking out her bedchamber window at the vast expanse of nature on every side, with its manicured gardens giving way to green fields:
My sincere thanks to the staff at Palmerstown House for facilitating my visit. I hope you enjoyed taking a tour around this 19th century house and gaining an insight into the setting of my own book!
Thanks Susie. I want to live in Oakleigh Manor now as it seems so much more real!
Twitter: @susiemwrites           Facebook: https://www.facebook.com/susiemurphywrites/        web: susiemurphywrites.com/