Anna Mazzola and the Paris of The Clockwork Girl
The Paris of The Clockwork Girl
A very speciall treat today for fans of gothic fiction and wonderful stories set in Paris! Anna Mazzola chats all things Clockwork and Paris's gothic overtones…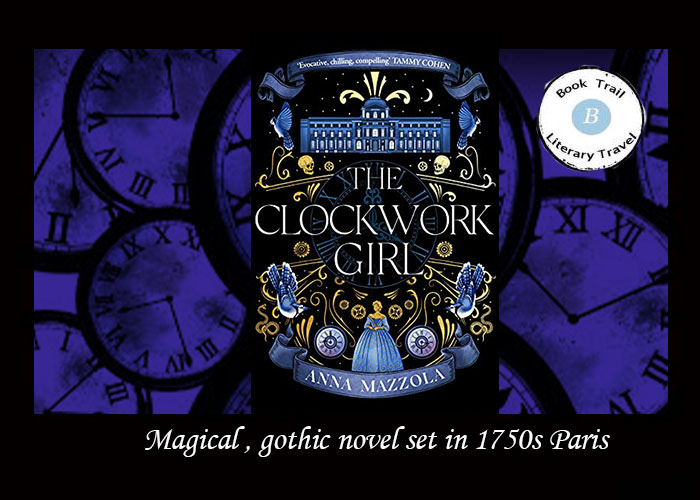 Welcome Anna Mazzola!
In The Clockwork Girl I wanted to create a Paris that was both frightening and fascinating, where something unknown is stealing children from the streets, but where magic also glints.
Like most historical novelists, I love research and spent far too long reading 18th century accounts and poring over maps and illustrations. I discovered a Paris that was desperately unequal, where many begged for scraps while a minority lived in luxury. That is reflected in the key locations I chose as settings:  a seedy brothel, the strange home of the master clockmaker, the old Louvre palace, and the scandalously lavish Palace of Versailles.
THE MONTORGUEIL DISTRICT AND LES HALLES
The story begins with our protagonist, Madeleine, winding through the Quartier Montorgueil. Nowadays, the Montorgueil district in the 2e Arrondissement is a charming place with cobblestone streets, bars, restaurants and clothing shops. In the 1750s, however, it was where very poorest lived, the streets dark and filthy, the buildings so high they shut out the sun.
As she makes her way past glinting carriages on the Rue Saint-Honoré (then, as now, a key shopping street), Madeleine tells us of how, aged twelve, she began working as a prostitute in 'a soot-stained building, bowed and blackened' in a poor area north of Les Halles. The market of Les Halles, now a huge shopping mall, was once a market bustling with livestock and scurrying servants. Madeleine visits the market the day after she begins working for Dr Reinhart, the most gifted automaton-maker in Paris. He tasks her with finding a live rabbit, and she eventually locates one on the Quai de la Mégisserie, which was then the home of numerous 'oiseleurs' – bird sellers. It's also there that she later acquires the blue jay that appears on the cover of the hardback. As to why Dr Reinhart needs these animals, you'll need to read the book!
PLACE DAUPHINE
I located Dr Reinhart's polished and peculiar house in the triangular Place Dauphine on Île de la Cité, which was at that time the residence of 'gem dealers, pearl traders, mirror makers and watchmakers'. It's still a lovely place and, when I visited, I saw a couple having their wedding photos taken while I was eating a delicious lunch at 'Ma Salle à Manger'. Nearby, on the Pont Neuf, you can see the equestrian status of Henri IV, where, in Madeleine's day, beggars sheltered.
ANATOMY AND THE MACABRE
Dr Reinhart trained not only as a clockmaker, but as an anatomist, and if you have an interest in the macabre, Paris is full of gems. There's Musée de l'Histoire de la Médecine featuring antique medical instruments and preserved body parts; Musée de l'École Vétérinaire de Maisons-Alfort, displaying some grotesque anatomical 'artworks'; and of course the Catacombs where the bones of six million Parisians reside.
THE LOUVRE
In Part 2, Madeleine and her mistress, Veronique (the clockmaker's daughter) move to the Louvre palace, which was at that time used as workshops for craftsmen. It is the old Louvre palace which appears on the cover of the hardback. Today, of course, the Louvre is a world-famous gallery. If you're stopping in, look out for the 18th century portraits, including those of Elisabeth Vigée-Lebrun and François Boucher's portrait of La Marquise de Pompadour.
VERSAILLES
It is the beautiful and intelligent Pompadour, Louis XV's most famous mistress, who guides us through the Palace of Palace of Versailles. You can book a tour of the mistresses' apartments, to see Pompadour's rooms and the closet in which her chambermaid would have lived.
When it was built by Louis XIV, Versailles was the most extravagant court that Europe had ever seen, with 700 rooms, a hall of Venetian mirrors, elaborate gardens, 600 tinkling fountains and a menagerie. Much of the silver furniture was melted down, but Versailles is still the most astonishing place to visit. One aspect which fortunately has also disappeared is the stink. In the 18th century, a lack of adequate toilets meant that visitors often defecated behind statues or pissed against tapestries. Marie-Antoinette was once hit by the contents of a chamber pot as she walked through an interior courtyard.
PARSIAN AUTOMATA
There is no clockwork girl in the real Versailles, but in the Salon de Mercure there's an automaton-clock. When the hour strikes, the the figures of Louis XIV and Fame appear, descending from a cloud.
In Paris, there's a distinctly creepy Musée des Automates housed in an 16th-century cellar. And, if you visit Musée des Arts et Métiers, you can see a piano-playing automaton that once belonged to Marie-Antoinette. She seems eerily real.
Thank you Anna for such an amazing insight into a fascinating novel!
Twitter:  @Anna_Mazz   Web: /annamazzola.com/