Reasons to Go Outside in Dartmoor with Esme King
Reasons to Go Outside in Dartmoor
That title is just perfect for booktrailing purposes and for an author to show us that very location! Dartmoor is where we are off today with Esme King.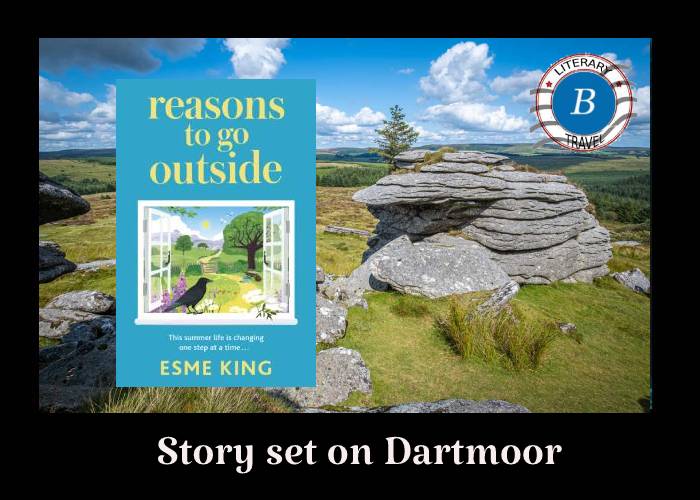 Moving to Dartmoor and living on such remote and wild land left me in no doubt that this was the ideal setting for a novel. A novel about a woman who hadn't been outside of her home in forty-three years.
There was a juxtaposition of an incredibly vast, wide-open landscape and Pearl Winter's self-confinement inside a property in the middle of it. This also added to the impetus I felt so strongly for this character to take a few steps out of her front door and immerse herself in the wondrous environment surrounding her home.
I took inspiration from many of the outstanding features of the moor.  Features such as the mighty Tors that sit like camel humps on the horizon. Then there;s the historic prison, with its dark history and stark appearance. Added to this is the area's unique microclimate that can cause a cloaking mist to fall in a matter of minutes. This will disorientate even the most experienced of hill walkers. Sadly, it isn't a rare occurrence to see the search and rescue helicopter hovering in the concrete grey skies above. Unfortunately the moor is no stranger to tragedy. It gives so much, but then inevitably takes away. It is wild, bleak, untamed, and at times, dangerous.
However,  it was the moor's inherent uniqueness that encouraged me to use it as a setting.  I appreciated  this with each passing day as Dartmoor became my home over a period of some eight years. I became accustomed to the sights of muddied wild ponies grazing at the side of the road, crows the size of small dogs seemingly everywhere and the rumble of cattle grids under tyres every time we left or entered moorland.  Ultimately, by climbing to the top of every Tor I loved to enjoy views that were beautiful and breath-taking.
For Pearl, it is a mighty Tor she can see from her kitchen window that becomes a goal for her to reach, a metaphorical mountain to climb. It seems both far away and at other times suddenly within her grasp. If she can only take those first few steps.
For anyone taking their own first steps on the moor, along a wooded valley, or through one of its villages, there is always a surprise to be had. In many ways it is also akin to stepping back in time. You will find blacksmiths still working in forges, woodturners at the lathe, and silversmiths using methods from centuries ago. Westdown, the principal town featured in the novel, is fictitious but based firmly on the towns you will find on the moor, infused with community spirit and the sort of place where help can always be found. It isn't unusual for strangers to be met with a friendly greeting. Ultimately, it is this countryside camaraderie that helps Pearl to change her life, a feature of this location that is as present and defining as the towering Tors, wild ponies, and miles of undulating grassland.
Instagram: @esmekingauthor     Website: /www.esmeking.com/