Travel to Chosen Thomas Hardy country with Elizabeth Lowry
Thomas Hardy and The Chosen by Elizabeth Lowry
One morning in November 1912, Thomas Hardy, entombed by paper and books and increasingly estranged from his wife Emma, finds her dying in her bedroom……
Thomas Hardy is one of the classic English authors of our time. Elizaveth Lowry has taken his own story and that of his wife and woven it into a tale for readers today. This is the story of  Thomas Hardy and his wife….a story yet to be unfolded..
Today we head to Dorset and a few places besides as Elizabeth takes us on her very own Hardy BookTrail!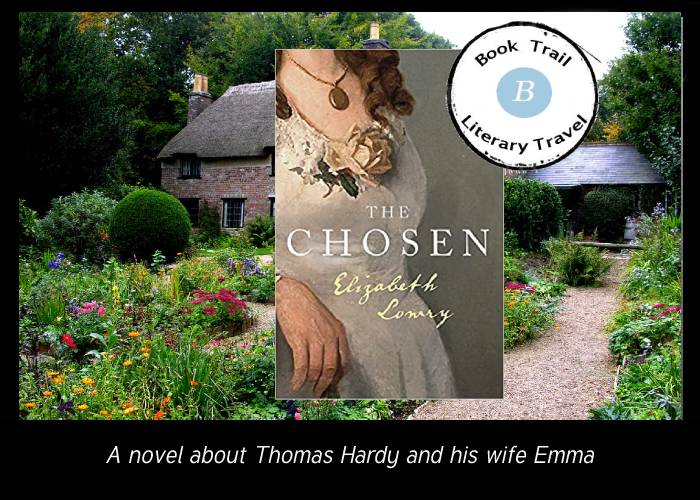 Hardy's Cottage, Thorncombe Wood, and the Heath
Thomas Hardy was born in this cob-and-lime cottage at the edge of the heath, three miles north-east of Dorchester. Surrounded by woodland, with its overhanging thatch and twisted apple orchard, it still conjures the isolated rural life that inspired his novels. Hardy wrote his first four published books at a small table under the window of his boyhood bedroom. He only finally left the cottage to marry Emma Gifford, whom he had met in Cornwall four years previously, when he was 34.
Sturminster Newton
The newly married Thomas and Emma spent two happy years together in the small market town of Sturminster in the Blackmore Vale area of Dorset. They rented a semi-detached house, Riverside Villa, overlooking the River Stour. During these early years, Emma was intensely involved in her husband's writing, often serving as Tom's copyist or writing to his dictation.
Max Gate
In 1885 Tom and Em moved into this large red brick villa, which Tom had built for her to his own design. The house stood on a substantial plot of land, with a garden. They planted beech and apple trees, a nut walk and a border of pines. Sadly, the marriage began to go sour. As Hardy's writing career took off, he became more and more absorbed in his professional life. Soon after, husband and wife started to live separate lives under the same roof. Hardy later extended the house, adding a separate set of attics above a large study he'd designed for himself. By 1899 Emma had moved her bed into one of the attic rooms. They rarely met, eating dinner together every night, but otherwise not speaking.
St John the Baptist, Bere Regis
While researching The Chosen I tracked down the little Norman church of St John the Baptist in Bere Regis. This contains the family tombsof the Dorset Turberville family, whose name and history Hardy adapted in Tess of the d'Urbervilles. In The Chosen we see him struggling in the summer of 1890 to complete what would become his most famous story, with Emma's help. This was the last time that they would work together. Once the book brought Hardy fame, the two grew increasingly apart, and Emma felt betrayed. Tess seeks refuge in this church after she and her family are evicted from their cottage. However she is waylaid by her former seducer, Alec d'Urberville, who has been lying in wait for her in an alcove. This alcove, like so much else in the church, exactly as Hardy describes it in his novel.
Woolbridge Manor, Wareham
Standing some 7 miles away from Bere Regis, this 17th-century building is the model for Wellbridge House in Tess, where Tess and Angel Clare spend their disastrous wedding night. While he was writing the novel, Hardy made sketches and notes of the cruel female Turberville faces painted on the landing walls. In Chapter 34 Angel notices these profiles too after the couple arrive at the house; they have already horrified Tess. Later that night, Tess makes a full confession of her history with Alec. As the disillusioned Angel begins to relent towards her, however, he's checked by the sight of a portrait: the resemblance to his new wife is too disturbing, and he rejects her – much as Hardy would later reject Emma.
Cornwall
The Rectory, St Juliot
This where the love story between Thomas and Emma began. While working as an architect for G.R. Crickmay in Weymouth, Hardy was sent to Cornwall in March 1870 to make plans for the restoration of St Juliot church near Boscastle. When he arrived after a long journey he was met at the rectory door by the rector's pretty, high-spirited sister-in-law, dressed in an air-blue gown.
This was his first sight of Emma. Within a week they had fallen in love. Emma would encourage Tom to pursue his dream of abandoning architecture in order to become a writer, later defying her family to marry him, as he did his to marry her. The aching love poems Hardy wrote to Emma after her death in 1912 remembered and celebrated this heightened time – but only once it was too late. Hardy's desk calendar would remain set, for the rest of his life, to Monday, 7 March: the date on which they first met.
BookTrail Boarding Pass:The Chosen
Twitter: @MElizabethLowry  Web: https://elizabethlowry.co.uk/