Travel to Seville and its orange grove with Rosanna Ley
Step inside the Orange Grove in Seville with Rosanna Ley
A book to transport you to the citrus-scented city of Seville! Rosanna Ley is always a good author to rely on when you need a literary escape. This is her most atmospheric novel yet – you travel around the city's cobbled streets, picturesque squares and fascinating history….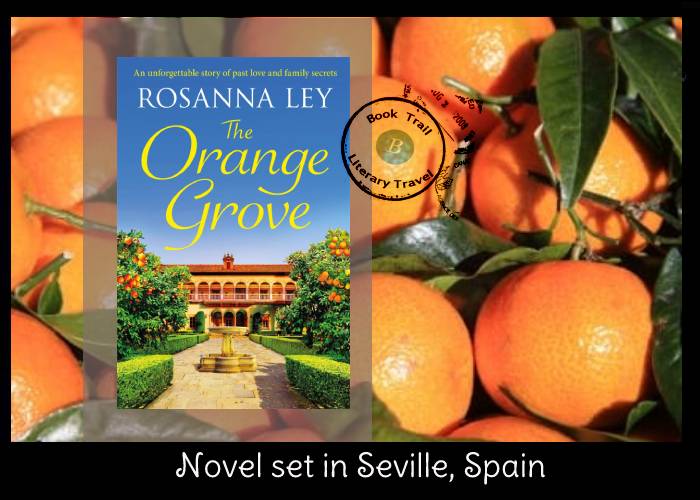 Destination: Seville
Fuel for reading : This book goes perfectly with anything citrus flavoured. It's set in Seville and the main character wants to set up a shop called Bitter Orange selling candles and a range of products derived from oranges. I couldn't get oranges but I did get a lemon to sprinkle on past and a lemon cake for desert. A citrus cordial  is also recommended. You'll be craving one by the end of the novel if not before.
Incidentally, the plot centres on a Spanish recipe for Seville orange and almond cake that Ella keeps hidden from her family. You might want to stock up on either cake or the ingredients for making this one!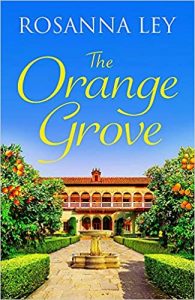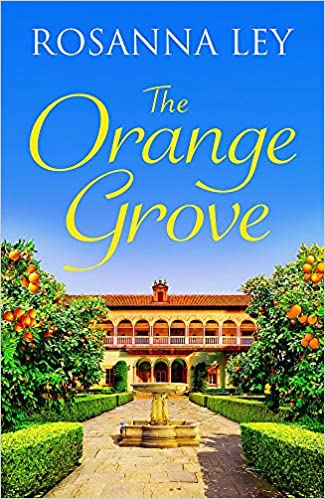 Travel restrictions
There are no travel restrictions at all. The plane is your imagination and the destination and tours have been expertly created by your guide Rosanna Ley
Previous package holidays to enjoy:
Seville
Seville is the heart and soul of Andalucía. Home of flamenco, tapas and the famous Seville oranges. There's also bullfighting but we'll skip that. Cobbled streets, tree lined squares and the gorgeous Guadalquivir river running by…
The story…..
Holly gives up her job and says she wants to open up a shop selling natural products. She knows her mum has always loved Seville so Holly wants her to accompany her there to source orange and citrus products. Ella is reluctant to return but why? Seville turns out to have quite the hold on Holly and her mother and it's an eye opener for both of them.
Hotel – Characters stay in a hotel close to the Alameda De Hercules
Major points of interest
La Giralda
Triana – the best place for ceramics we are told
Calle Sierpes – Ella and Felix see someone play an accordion here
Papeleria Ferrer – the oldest stationers shop in Spain
Calle Tetuan = there's a car advert made out of tiles here
One of the characters is taken on a tour, a few actually, of the city so you really do get to explore Seville. Rosanna Ley is a great guide infusing history and heritage as well as that citrus scent in to each one of her chapters.
Casa de Pilates
Parque de Maris Luisa
Peacock Arch in the Hall of Ambassadors
Plaza de Espana – where the 1929 exhibition was held. Film buffs might recognize that some scenes of Lawrence of Arabia were filmed there as well as a few of the Star Wars films episodes
Jardines de Murillo
The city's secret symbol
There's a secret message that you can see all over the city from plaques to the city's emblem.  The letters NO and DO separated by the figure 8.
They're a phonetic representation of the phrase 'no me ha dejado', meaning "you have not abandoned me". The figure eight is actually a ball of wool called majedaso the full emblem then reads "no me ha dejado".
Legend has it when King Alfonzo X was ousted from power by his son Sancho, the king was so beloved by his city and his people that he stayed in Seville and they looked after him until his death. This secret symbol is his message to the people of Seville thanking them for not abandoning him.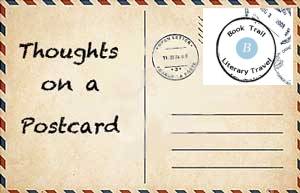 A glorious novel as always from Rosanna. Seville is one of my favourite Spanish cities and I have spent many happy times here especially when I lived in Granada. I became obsessed with these oranges which grow everywhere so I was especially keen to go back with Rosanna, Holly and Ella.
The story flows along with a family drama at its heart, a mother and daughter relationship which was especially poignant. The history and culture infused along with the orange scented goodness was just a delight to read. You really do get the full package with Rosanna's novels!
Holly is at a crossroads in her life and wants to find out more about her mother's beloved Seville. The city reveals its secrets and opens her heart and it's a lovely, romantic and poignant story.
It's an expensive reading experience however. I've since bought lemons, an orange cordial, an orange scented candle and I am currently on the look out for a shop not unlike Bitter Orange…
Susan
Twitter:     @RosannaLey            Web: rosannaley.com/