The (fictional) women of New York City in books
Authors who transport readers to New York City
There are a number of great books about women in New York. Some stories are about women who actually lived, others reimagine events of the past or even invent new ones to showcase the city that never sleeps.
Do you know of Nellie Bly, Typhoid Mary, Rose Baker and  roommates Dovie and Gillian?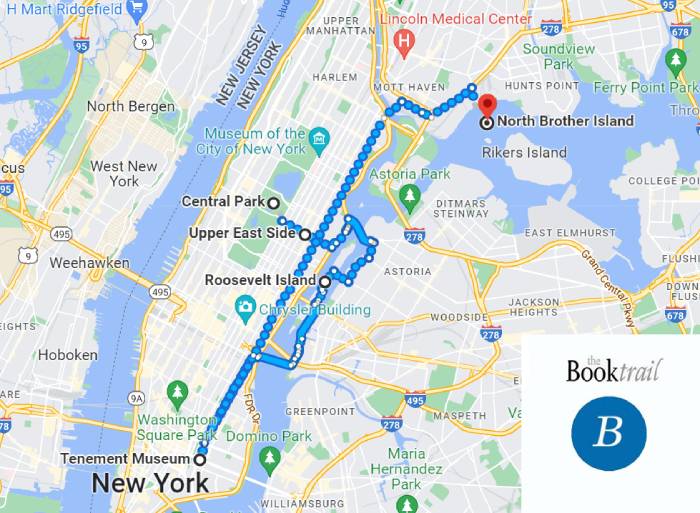 The world of The Other Typist where Rose Baker and her colleages work is highly and very well evoked in this museum. The book is largely set in the Upper East Side like the previous novel and is where gritty alleys and tenement-style buildings mix with upscale apartments and chic boutiques. Nighttime draws hip, young crowds to the area's trendy bars, music venues and restaurants.
The area where the flatmates from That Green Eyed Girl live. A really smart part of the city.  So too is Central Park but that is where someone goes missing in the book.  East 13th Street is where you should head to if it's the book's jazz influences you want to soak up. A claustrophobic and phobic look into the New York of the 1950s. Two women who live together feel that they can't share their love for each other with the outside world.

Louisa Treger introduces us to the real life figure of Nelli Bly, the first female investigative journalist. She was determined to write good undercover story about  city's notorious asylum. She had a goal to really get under the skin of the grim place and reveal the harsh cruelty that goes on behind its walls. Of course, the asylun is no longer there, but you can still go to the island now known as Roosevelt Island.
This is perhaps the most remarkable of them all as it's so unbelievable whilst being completely true.
Mary Mallon was an Irish-American cook. She worked in several places and numerous households as a cook. A long time after her first job, someone made a shocking discovery. Mary was the reason so many people in those homes were contracting typhoid. The authorities quarantined  her on North Brother Island as they did not know what to do with her. How was she carrying the virus without getting any symptoms herself?  She was the first person in the United States identified as an asymptomatic carrier of the pathogen associated with typhoid fever. She was presumed to have infected 51 people, three of whom died, over the course of her career as a cook.
Enjoy your literary travels to New York but not sure you would want to spend time with all of these women. Certainly not in the asylums!