Five Authors Travel via Destination Thrillers
Destination Thrillers are the way to go!
Recently The Daily Mail ran a piece on books set on the beach – destination thrillers or triplit –  and it got me thinking. What kind of holiday would you have if you went to each of the locations in the books mentioned and did what the characters did in the story?
First up….
Your holiday to Mallorca would start well enough. I mean, that cover!Imagine having a party with a fire on the beach as the night draws in. I've actually done it a few times and there's nothing like it. something happens in the book though that would make me want to run…..and this is when the book gets very interesting indeed.
A Beach Party is fun – The Beach Party with Nikki Smith is safer from your armchair.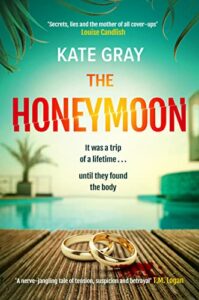 Off to THE MALDIVES next with Kate Gray. A lovely cliff top restaurant, a honeymoon couple go for a late night stroll. Minutes later, there is a body on the steps.
This is one fast-paced thriler that tips you one way and then the other. Gripping storyline and a very cool ( but hot and humid) setting.
Diving in paradise just sounds divine, right? Well if you go with Sara Ochs you might find yourself stuck underwater with the air in your canister runnnig out… haha well at least in the novel.
If water frightens you and diving under water worries then this is a scary book in more ways than one. I found the fact that diving lessons in a diving school could go so horribly wrong VERY appealing. I would read this on the beach maybe with one toe in the water but no more.
You think you 'd be safe heading off to a wonderful mountain andn climbing with a guide. Nope! There's someone on this trip that means you harm.
When you are remote, miles from anywhere with only a bunch of strangers for company….just beware.
If Karen Hamilton is in your party…..
I wanted to include this book as it's the holiday of all holidays. When you mix Love Island with the Hunger Games, this is what you get. You might think joining a reality show would be a free holiday in a gorgeous location. Oh no! Not with Ruth Kelly at the helm it's not.
A journalist thinks that acting as a contestant and getting inside the minds of the  real ones is going to be easy. But she doesn't know why she is really there….
Happy holidays wherever you dare to head off to.