#Authorsonlocation – Scotland and Bruges – Daniel James
An interesting and slightly different Author tour today – Daniel James hails from the sunny North East of England and is being published by Dead Ink Books later this year. He is a writer and journalist who is published with Dead Ink Books located in Liverpool. They are unique in the world of publishing as they use crowdfunding as a way of getting books from new and aspiring authors into reader's hands.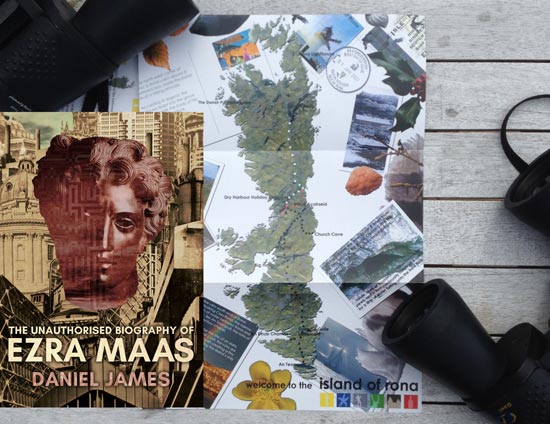 Dead Ink say:
"We believe that there are brilliant authors out there who may not yet be known or commercially viable. We see it as Dead Ink's job to bring the most challenging and experimental new writing out from the underground and present it to our audience in the most beautiful way possible."
I'm a writer and journalist from Newcastle upon Tyne and I currently live in Cullercoats. I worked for The Journal and other North East newspapers for a decade as a journalist, specialising in arts and culture writing. I also freelanced in London and was a finalist for the Press Gazette UK Young News Writer of the Year. In 2011, I founded my own independent arts magazine, The Bleed, working with artists and writers from around the world, and in 2016 I was a member of the Live Theatre Writers Group. I'm also a Northumbria University graduate with an MRes English Literature and MA Creative Writing. I've always loved writing my own stories and it's been my dream to publish a novel since I was a child. I couldn't be happier to realise this ambition this year when my debut novel is published by Dead Ink Books, an ambitious, independent publisher based in Liverpool and funded by Arts Council England.
Can you tell us a bit about Ezra Maas for those who don't know?
Ezra Maas is a reclusive British artist who first became famous in New York in the 1960s. Unlike his contemporaries, Maas rejected the cult of celebrity, never giving interviews and refusing to be photographed, insisting that his radical artwork speak for him. He was intensely private and his exhibitions were surrounded in secrecy. This created a kind of anti-fame around him and he quickly gained a cult following as a result. Maas went on to exhibit work in galleries and museums around the world, including Paris, Bruges, Berlin and Switzerland.
From the 1980s onwards, he was rumoured to be working from a studio mansion in the Hertfordshire countryside, but as ever with Maas, nothing could be sure. There were stories of agoraphobia, drug addiction, mental illness, as well as links to cult-like groups who claimed there were hidden messages in his work, but most of these stories were dismissed as tabloid gossip. Less and less was heard from Maas throughout the 1990s, although he continued to produce new work, adopting new technologies and releasing pieces via his website.
Maas disappeared under mysterious circumstances from his studio in the mid-2000s after announcing plans for his final and most important artwork. His representatives, The Maas Foundation, continue to maintain and protect his legacy, staging retrospectives and selling his work for larger amounts every year. Many believe Maas is dead, but others claim he's simply in seclusion and will return when his final work is complete.

Why did you want to write the story?
In some ways it felt like the book chose me. It definitely had a life of its own and I felt like the story wanted to be told. At times it felt like less like I was writing the book and more like the story already existed out there and it was being transmitted to me. I was compelled to write it, possessed by the power of the idea. On the other hand, it was also an opportunity I had been waiting for my whole life. I was excited by the challenge of unravelling the mystery of Ezra Maas and wanted to be the first writer to tell his story, to do something that hadn't been done before. It started off as a biography, but it became much more than that, a detective story, a literary labyrinth and a descent into the space between fact and fiction. I was determined to discover the truth at any cost. One of the main things that drew me towards biography as a medium was the question 'can we ever really know another person?' It's a question we all face in life, but it's the unique task of the biographer to recreate a life in the form of a book. I also wanted to explore the concept of truth. Is there one truth or many? Is truth a matter of opinion, and who gets to decide? These are very topical questions at the moment and Ezra Maas was the perfect subject to explore these.
What kind of research did you do and how did you go about collecting it all and searching through it?
I love the detective work of being a writer and this particular book was a unique puzzle to solve. One of the difficulties was always going to be getting access to Maas's personal correspondence and archival material as the vast majority is kept behind closed doors by the Maas Foundation and they had already refused to authorise my book. This meant coming at the situation like an investigative journalist and chasing down information that was outside of their control. I search through newspaper clippings, financial and property records but in a lot of cases the best source of information was people and learning what I could from their testimonies. I also read dozens of books about contemporary art to immerse myself in that world and tasked myself with learning as much as I could about 20th century art history, specifically 1960 onwards when Ezra Maas was active. I also read a lot of biographies and studied the medium carefully. This included reading interviews with respected biographers about how they went about their craft.
I took photographs whenever I could, including the shipwreck at Lower Diabaig which features in the novel and the Isle of Rona which I sailed to on a catamaran called the Seaflower. Although I visited a lot of stunning locations while researching Ezra Maas's life, the Gothic atmosphere of Bruges and the rugged beauty of the North West Highlands really stand out in my mind
A really interesting read and fascinating concept Daniel!  Visit deadinkbooks.com/crowdfund for more assistance and to help.