My name is Jensen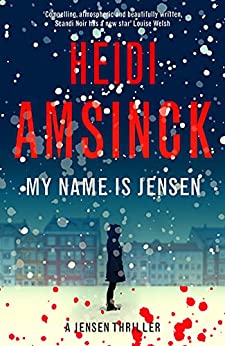 Why a Booktrail?
2000s: A chilling series of murders targets Copenhagen's homeless
What you need to know before your trail
Guilty. One word on a beggar's cardboard sign. And now he is dead, stabbed in a wintry Copenhagen street, the second homeless victim in as many weeks. Dagbladet reporter Jensen, stumbling across the body on her way to work, calls her ex lover DI Henrik Jungersen. As, inevitably, old passions are rekindled, so are old regrets, and that is just the start of Jensen's troubles. The front page is an open goal, but nothing feels right…..When a third body turns up, it seems certain that a serial killer is on the loose. But why pick on the homeless? And is the link to an old murder case just a coincidence? With her teenage apprentice Gustav, Jensen soon finds herself putting everything on the line to discover exactly who is guilty.
Travel Guide
Booktrail it across Copenhagen's chilly streets
A novel that is deeply embedded in the city of Copenhagen but we soon move out to locations: beyond the city such as  a seaside retreat albeit in the midst of winter or a type of commune in the countryside.  Locations in the city include a dentist surgery and a home for troubled teenagers.
Copenhagen is a frozen city and it's the snow and chill which builds the perfect picture of what the city does to its homeless. One of them is found dead of course at the start of the novel and this find sparks off a trail around the city to discover the reality of the homeless problem that people don't see despite it being in full view.
Booktrailer Review
If  you're a  fan of Scandi Noir then head over to Copenhagen in this novel to see another side of it! Danish Noir is less calorific than Danish pastries but even more tasty if this book is anything to go by.

There's a journalist called Jensen at its heart who finds a note on the body of a homeless man with the word Guilty written on it. She's just back from London but her fresh eyes are straight on this strange case. Henrick is the detective on the case. Handy he's her former lover, as this case is going to get interesting.

There are a LOT of loose threads in both the new case and an old one and the two former lovers. Be prepared for some drama and intrigue!

The book treats  the  subject of homelessness well  and the setting is harsh and realistic. There are many a sad moment and a sharp realization that people need a home, a house and that those outside the system find it hard. The social injustice is upsetting but this book does help to highlight the various issues and emotional side to the crisis which is refreshing in a crime novel.

This is not your straight forward crime thriller and it's all the stronger because of it. Jensen is not your average journalist nor is she an average anything. A hard character who is hard to like at times. She is as stubborn as a mule but has the perception to make that not matter.

To be fair, she has every right to be grumpy. Particularly as her former lover is on the case that most intrigues her. Lots of unfinished business there. Tension both here and in the evolving cases. As the list of suspects grows, we the reader gets to see and consider each one in turn as the detectives do. The reading because of this feels very real and authentic.

This is the first in a series and I am intrigued to know more about grumpy Jensen.
BookTrail Boarding Pass: My Name is Jensen
Destination/location: Copenhagen  Author/guide:  Heidi Amsinck Departure Time: 2000s
Back to Results