Escape to a French Farmhouse in Provence with Victoria Brownlee
Travel to Provence with Victoria Brownlee
There's never a wrong day to travel to France. Oh lala it's all about the fine cheese, countryside and French essence! What about a visit to a farm? Deep in the heart of the French countryside. Just imagine. Well, now you don't have to. Victoria Brownlee transports readers there in her latest novel..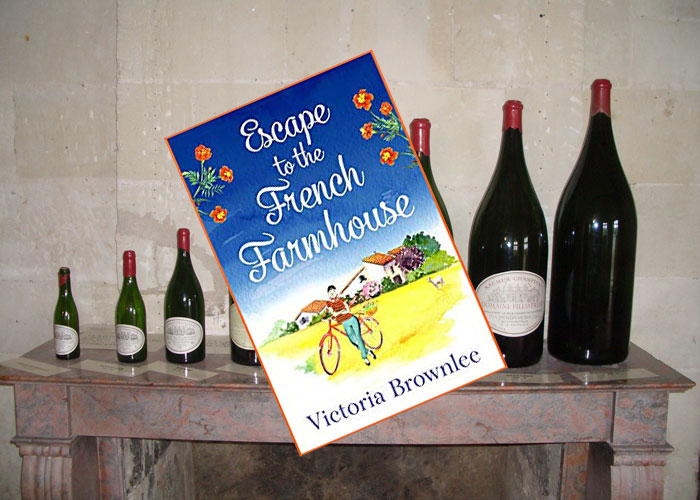 Why did you decide to set your book in a French farmhouse?
Once my main character, Ella, had discovered Paris in the first book of the series, 'Escape to the Paris Cheese Shop', I wanted her to get to know the rich and diverse life of the French countryside in the sequel, 'Escape to the French Farmhouse'.
Paris is such a dynamic city, but outside of the capital people can enjoy such a romantic and idyllic existence and I was excited for Ella to uncover this different side of France. I chose the Loire Valley, because it's such a gorgeous region, with great cheese and wine, and it isn't as heavily represented as other areas of France, like Provence and the Côte d'Azur.
Is this your dream to move somewhere like that?
To the French countryside, yes, but to a goat farm, probably not (mostly because, like Ella, I'm rather scared of goats).
Before finishing this sequel, I did actually take some inspiration from Ella and moved from Paris to Provence. Leaving the city has certainly demanded a period of adaptation – particularly when it has come to renovating a centuries-old village house and getting used to a much slower pace of life – but it has allowed me to better empathise with what Ella was going through following her own move.
What would you love about being on a farm and what would you hate?
I grew up on a farm, so I know exactly what I would hate if I were to repeat the experience now – the isolation, run-down houses, run-ins with animals, the smell of cow dung. But there's also a lot to love – the isolation, the calm, being in nature, watching things grow with the changing of the seasons.
How did you research your novels? visiting the places e.g.?
I've been lucky enough to spend quite a bit of time travelling around France, and the Loire Valley really won my heart the first time I visited (which was around ten years ago). Since then, I've been back a few times, and am continuously struck by the beauty of the landscape, the castles and the architecture, and the goat cheese and wine. My research always begins on the ground, and often on the plate.
How important is location to you?
Location is everything, especially when it comes to writing books with a food focus that are set in France. In France, each area is known for different produce, particularly when it comes to cheese, so choosing where to send my protagonist, Ella, felt like a really serious decision that would have repercussions on what she'd be consuming throughout the novel.
What do you do to get into the setting as you write?
If I'm not physically in my story's setting, I mostly rely on memories from trips, on pictures, and on food to help take me back to a certain meal or experience. For example, for this book, I ate a lot of Sainte-Maure goat cheese to help transport me back to when I was shopping at the local market in Chinon, or to when I first tried the heavenly combination of fresh figs with goat cheese and local white wine. I've always found the flavours of French food to be very evocative.
Do you write on location or in a cafe for example?
I mostly write in cafés because I love getting distracted by people coming and going, checking out what they're wearing and what they order, even eavesdropping on their conversations if they're talking loudly. As much as possible, it's great to write on location because you pick up so much local flare, but for this novel, the bulk of the draft was written in Paris, which was a pretty happy compromise.
Favourite french food and drink?
Champagne and aged Comté if I had to pick just one combination. The long list is, however, very long!
Favourite french word? Do you speak french?
For some reason, I love the word 'malheureusement' (sadly/unfortunately). I love the way it rolls off the tongue and how heavy and melancholic it sounds.
I learned to speak French while I was living here when I was 16. There's nothing quite like the desire to gossip with friends to help motivate you towards fluency.
Any links to France and where do you recommend people go to visit from your book?
Beyond Paris, I definitely recommend a trip to the Loire Valley – the chateaux of the Loire, the village markets, and the many wineries and cellar doors in the area. If people do visit, I'd certainly encourage sampling a lot of goat cheese and drinking a few bottles of Sancerre and Chinon. On a healthier note, this region is perfect for picnics, bike rides through the vines, and for camping.
Thank you so much Victoria! Aaah La France…
Insta:  /victoria_brownlee/    Web:victoriabrownlee.com/