Travel to The French House on Guernsey with Jacquie Bloese
The inspiration behind The French House – WW2 Guernsey novel
Let's travel to Guernsey today for a visit to this special book: The French House….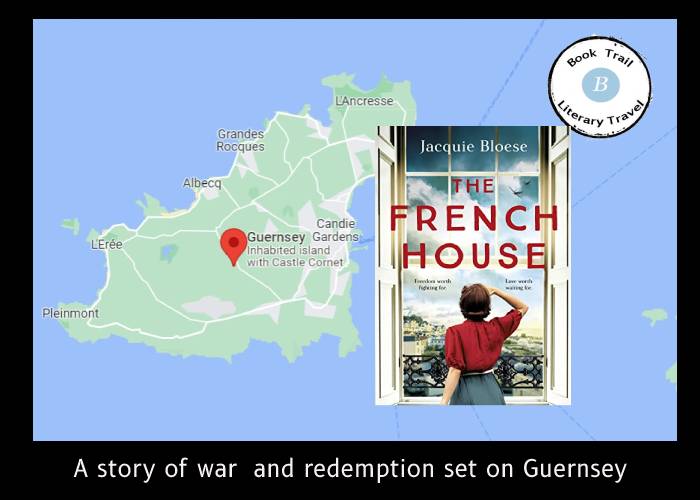 In the early seventies, when my father told his parents that he was moving with his wife and baby from a rather dreary London suburb to the Channel Island of Guernsey, they were less than impressed. 'Why would you move to a backwater like that?" they wanted to know.
However, move we did, at first to a holiday rental on windswept L'Ancresse Common. We had goats for neighbours, and lived not far the hulk of a German bunker, overgrown with brambles.
You're never far from the past in Guernsey – and the German Occupation of the islands during the second World War is impossible to ignore. Not long after the Germans invaded in June, 1940, they set to work. They built concrete bunkers and look-out towers, across the west coast of the island. This was part of Hitler's Atlantic Wall in the event of an Allied invasion.
Diary entries from the time give a sense of the outrage from the locals at what was happening to their beautiful island. Sadly,  there was nothing they could do. When the islands were liberated, the fortifications were so embedded in the landscape that most of them remained.
Reinforced concrete aside, as far as inspiration goes, it was the stories of life under Occupation, passed down through generations, that piqued my imagination.  I came across anecdotes of Germans billeted in spare bedrooms, of flirtations, both harmless and otherwise, of home-made crystal wireless sets concealed under floorboards and in toilet cisterns.
As the war intensified, there was a pervasive, unsettling feeling of being forgotten by the outside world. Both locals and Germans teetered on the brink of starvation. It wasn't long before an idea for a story started to form.
At the novel's centre is a deaf man called Émile, whose ambitions for a new life in Canada come to an abrupt end, when he suffers permanent hearing loss after falling down an unlit elevator shaft. Sadly, these events are not the work of fiction – my great-grandfather became deaf in this way after emigrating to Vancouver, as a young man. His experience has always haunted me. So, I decided to take this life-changing event as the starting point for my novel. It opens on a September evening in downtown Vancouver, 1912, a day that will "vibrate like a chord through the years ahead."
The idea for the setting of the 'French House' itself came from a summer job I had as a student, working as a guide at literary exile Victor Hugo's former residence, Hauteville House, in St Peter Port. I was immediately inspired by Hugo's eccentric interiors – and loved seeing the expressions on visitors' faces, as I took them from room to room. My personal favourites were the salon rouge, a Versailles-inspired drawing room, with scarlet upholstery, mirrors and chandeliers, and Hugo's writing room at the top of the house, made entirely of glass, with views over the sea, the coast of his native France just visible on a clear day.
Hugo's personal life was as unconventional and vibrant as his interiors and his life-long muse and mistress, Juliette Drouet, famously lived across the street from him, in what is now the Pandora Hotel. Theirs was an intense and passionate relationship.  Juliette wrote thousands of letters to Hugo over the course of her life. They remained lovers for fifty years until her death in 1883.
In the early stages of planning The French House, I suddenly realised that Hauteville House was the perfect setting for another different kind of love story. The history of the house as a place of both refuge and exile, also embodied some of the core themes of the novel.
At its heart, The French House is a love story. But it's also a tribute to the island I grew up in and the people, past and present, who call it home.
Thank you so much Jacquie/ This is such a wonderful read and journey!
Twitter:     @novelthesecond  Web: www.jacquiebloese.com