Literary Locations of Erin Morgenstern
Magical literary settings of Erin Morgenstern
There are lots of magical locations in the novels of Erin Morgenstern. She's written two novels that fully captivate the imagination and represent a world between two worlds….
Two novels – The Night Circus and The Starless Sea – are two of the most magical novels I have ever read. I'm not  a circus fan in real life, but the night circus was somewhere I didn't want to leave. The magical literary underworld we got to visit in The Starless Sea was somewhere I really wish I could go. I've been to New York where the book takes us, but it's only a  fleeting visit as it's the cavernous underworld that really opens up…
So, literary locations that you can't really visit. Why have these captured my imagination and why are they good for booktrailers? They immerse you into that space between reality and imagination. The sliver of light, the sliver of possibility between real and fiction and the daydreaming part of my brain that lights up when I am in that world.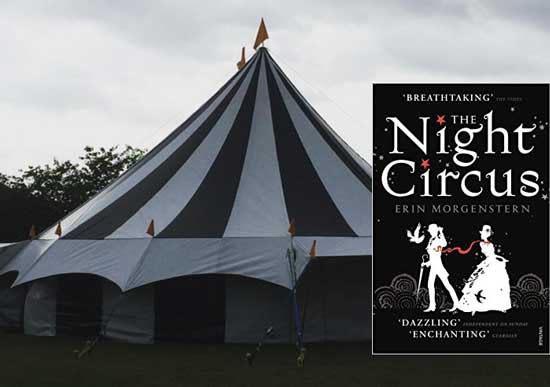 "The circus arrives without warning. No announcements precede it. It is simply there, when yesterday it was not."
If real circuses were like this, I would have been addicted to them. A striped tent that acts like a tardis – immense space of possibilities inside, weird and wonderful acts.
I swear that even before I'd entered the circus itself, the lead up to this moment was a literary shiver of delight….
The author builds up this world of the Circus of Dreams….
"...Then the iron gates shudder and unlock, seemingly by their own volitions. they swing outwards inviting the crowd inside.
Now the circus is open.
Now you may enter."
Then there's that moment of pregnant pause as you sit waiting for what is to come.
"All over the tents, small light begin to flicker, as though the entirety of the circus is covered in particularly bright fireflies. the waiting crowd quiets as it watches this display of illumination, Someone near you gasps"
A world of black and white and little colour. A world that fades away like whispers on the wind…..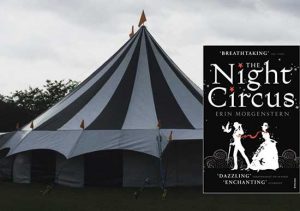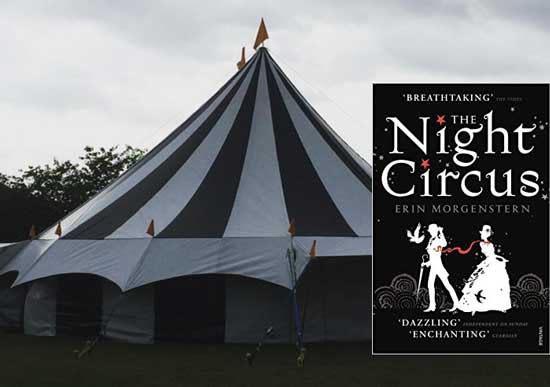 The circus is made up a series of circles, tents full of mist and wonder such as this one:
"Inside, the tent is dark, the ceiling covered with open black umbrellas, the curving handles hanging down like icicles. In the center of the room there is a pool. A pond enclosed within a black stone wall that is surrounded by white gravel. The air carries the salty tinge of the ocean. You walk over to the edge to look inside. The gravel crunches beneath your feet. It is shallow, but it is glowing. A shimmering, shifting light cascades up through the surface of the water. A soft radiance, enough to illuminate the pool and the stones that sit at the bottom."
Now that is quite a setting! It's an experience you really should have as a reader. One where you close your eyes and really feel yourself being pulled inside….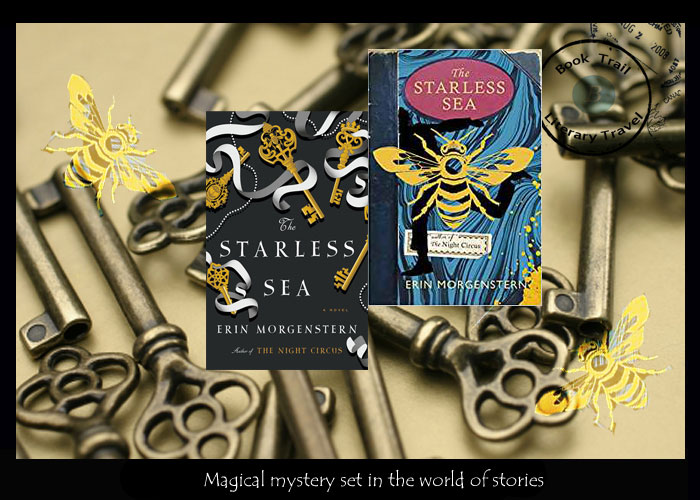 Now if it's immersive literary locations you need, there's far more immersive than the one created in The Starless Sea.
Set loosely in New York, this is the city where the world Morgenstern has created lies beneath…
The library of New York really plays a special role in this novel. I've been but I wish I had found the magical portal that leads into this world of the Starless Sea..
This is a world of secret doors drawn onto walls, of magical portals into book-filled walls, of bookish adventures, masquerade parties and secret passageways. A world of books and stories:
"For those who feel homesick for a place they've never been to. Those who seek even if they do not know what (or where) it is that they are seeking. Those who seek will find. Their doors have been waiting for them."
This is a world of stories, a world that is built as an ode to stories and books. It is written by someone who loves books, words, imagination and magic…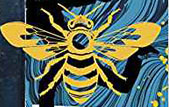 Don't forget, this is a world where we, the bookworms, really feel understood and loved….with sentences like these….
"Having a physical reaction to a lack of book is not unusual."
"Reading a book four times in one day is perfectly normal behavior."
So, two books with no locations as such, but one where the literary settings have been created and crafted so carefully, you really have to visit as soon as you can.
These are booktrails of your imagination.
Susan x