Deep Down Dead – Talking bounty hunters and more
Steph Broadribb is a very special guest. Not only is she one of the first bloggers I started to follow when I started my own blog, but now she's only gone and written one of the most cracking thrillers I've read in a long time. And I mean that. I'm not just saying this because I know her – but it's because we've known each other since the start that this makes this little chat extra special. And she's SO lovely in person, a brilliantly funny and original blogger and she has actually worked as a bounty hunter – the subject of her debut novel!
DEEP DOWN DEAD booktrail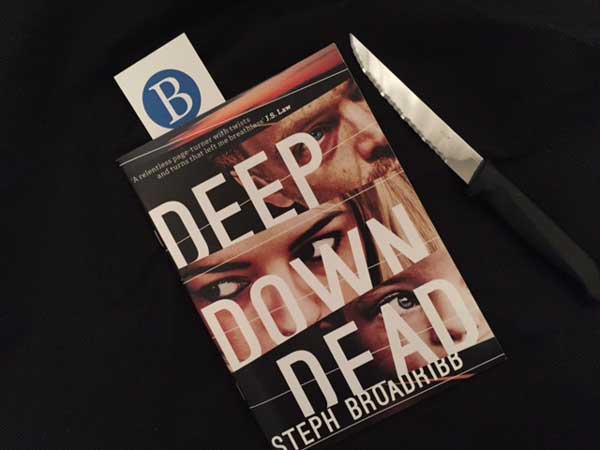 Before we met,I asked Stef what a bounty hunter could eat. She suggested  Reeces pieces – the peanut butter cups, or the small candies that look like M&Ms. "Either that or we could eat subs – mine would have Pepper Jack cheese, salad (inc pickles and olives) and Ranch dressing. A lot of the male bounty hunters I know would have steak (they're into their protein) but I don't eat meat, hence the cheese!" So this is what we have. Reeces Pieces and coca cola….
How chuffed must you feel to get your book out there? When did you start writing it and did you ever think you would see this day come?
It's a great feeling for DEEP DOWN DEAD to be finally 'out there' – it's exciting and scary all at the same time! I started writing DEEP DOWN DEAD when I was doing the MA in Creative Writing (Crime Fiction) at City University London. You spend so long working on a book, drafting and refining it, and getting feedback – in my case from my fellow City MA students like the super-talented Rod Reynolds and David Young, and the fantastic tutors Laura Wilson, Claire McGowan, and my awe-inspiring mentor Zoe Sharp – and then your editors – for me the wonderful Karen Sullivan and West Camel at Orenda Books – that the characters are very real to you. When they step out into the real world you hold your breath and hope that people like them and enjoy reading about them as much as you enjoy writing about them.
I can't believe you trained as a real life Bounty hunter yourself.
I did! I went out to California and trained with a bounty hunter called Rex – a super experienced bounty hunter and very generous guy – learning about how bounty hunters operate under California state law, the practicalities of being a bounty hunter, the tools of the trade, and how to keep safe (or as safe as possible – it's a dangerous profession to be in) when you're out on a job. As well as the training it was great to hear the real life stories of men and women who really know what its like being a bounty hunter for a living.
What did you research and what did you draw your experiences to evoke?
As well as learning about bounty hunting, I also researched the places Lori travels through in the book. I did the drive from West Virginia to Florida visiting the locations along the way. I spent time hiking through the mountains in West Virginia, visiting various theme parks in Florida (not dodgy ones I hasten to add!) and kayaking in the everglades and getting up close with gators (who are actually peaceful creators the majority of the time).
Your blog CTG is where you review the latest crime thrillers – which books or writers have inspired you in your own writing?
I think every book or movie you experience adds to your inspiration. I'm a huge fan of the action thriller, I love a high adrenaline story with pace and dynamic characters. Books I especially admire in the thriller sub-genre are John D MacDonald's Travis McGee series, Lee Child's Jack Reacher series, Mason Cross's Carter Blake series, Jeff Abbott's Sam Capra series, Steve Cavanagh's Eddie Flynn series and Zoe Sharp's Charlie Fox series. I admire the creativity and uniqueness that the great late Michael Crichton brought to every one of his books, and am excited by the way writers like Rod Reynolds (The Dark Inside/Black Night Falling) and Tim Baker (Fever City) are combining old school noir with pacy action. I also find movies are a great way to study storytelling and structure and find the work of Quentin Tarantino (Pulp Fiction/Django Unchained), Charlie Kaufman (Eternal Sunshine of a Spotless Mind/Adaptation) and Callie Khouri (Thelma & Louise/Nashville) highly inspirational.
You live on a farm. Do you do any hunting there yourself?
I don't hunt! I can shoot but I only shoot targets or clays – not animals, never animals! I have had to chase the odd chicken though – usually when they don't want to go back in their coop at the end of the day. I'm also pretty experienced at rounding up escaped cows and sheep!
Which fictional detective would you like Lori to work with one day?
I would love for Lori to partner up with Zoe Sharp's Charlie Fox one day – I think Lori could learn a lot from Charlie, and they'd have a great deal of fun working together.
What's your tipple?
Depending on my mood either a dry white wine or a Tom Collins made with Bombay Sapphire.
Your pet hate?
Weak handshakes, and people who eat with their mouths open!
Did you pick the cover at all as the girl looks a bit like you ( well I think so hehe)
That's very flattering of you to say so! But, seriously, no I didn't! The cover was designed by the fabulous folks at Orenda Books and the designer hadn't met me at the time!
Fantasy novel casting if I may? Who would play the characters in a film?
Hmmm … tricky. Well, I think Hayden Panettiere is such a dynamic and talented actress that she'd be incredible as Lori (although IRL Hayden is younger than Lori!). When I was writing JT I had a younger Robert Redford in mind, but I think both Charlie Hunnam or Josh Holloway would be a great fit. What do you reckon?
Most embarrassing moment at a book event….
At the Theakston Old Peculiar Crime Fiction Festival at Harrogate a couple of years ago I bumped into a familiar-looking guy at breakfast. Assuming that he was someone I'd been chatting to in the bar the night before I said hello and asked him how he was and we spoke for a few minutes. It was only as I walked away that I realised why he'd looked so familiar. He wasn't someone I'd met before. He was the actor Peter Capaldi! I'd had a box-set binge watch of his tv series – The Thick Of It – just before heading to Harrogate, that's why he'd seemed familiar. I was mortified!!
Which booktrail would you like to go on or which have you been on?
I'd love to go on a booktrail of Ian Ranklin's Rebus and Mark Billingham's Thorne.
Thanks Steph for your fantastic answers! It's been such an honour having you on here! Looking forward to book two already! Susan
Booktrail Boarding Pass Information: Deep Down Dead
Author/Guide :Steph Broadribb  Destination: Florida, Georgia West  Virginia, Yellow Spring
Departure Time: 2000s