Travel to Whistler with Helen Whitaker
Travel to Whistler with Helen Whitaker
Single in the Snow is set in Whistler and there are some lovely snowy locations to enjoy!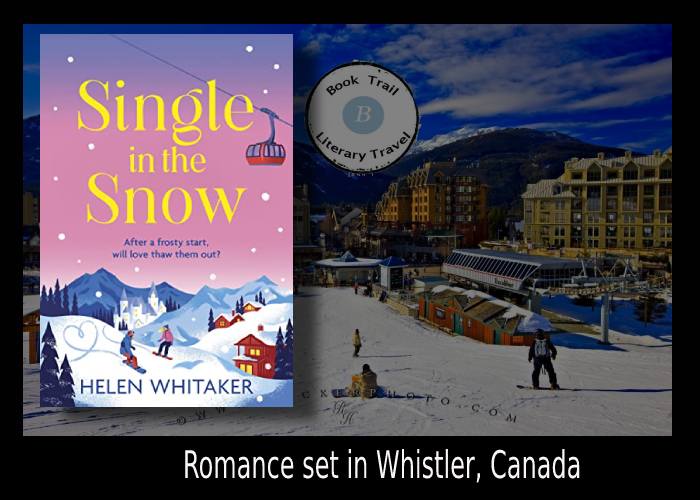 Whistler is a Canadian mountain town, roughly 90 minutes from Vancouver in British Colombia, via a very scenic route known as the Sea to Sky Highway that takes in stunning nature from woodland to waterfalls. I first travelled it twenty years ago at age 21, when I took a year out after graduating from university, and my best friend and I decided to 'do' a ski season there, primarily because with a winter season that lasts from November until May we'd get a solid six months of snowboarding in.
In Single in the Snow, my main character Jen makes the same decision – only at almost thirty, she's ten years older than the average seasonaire, hasn't set foot on skis or snowboard in her life and is running away from a string of failed relationships.
I've had Whistler percolating for years as the setting for a rom-com. The ski resort consists of Whistler and Blackcomb mountains and it's an upmarket, picture-perfect town that looks like a set from a Netflix Christmas movie.
The population is a mixture of locals, transient seasonal workers and tourists (with enough money to stay in an upmarket, picture-perfect town), plus a sprinkling of celebrity (Michael J Fox was there during my tenure, but everyone from Cameron Diaz to Justin Bieber has been spotted on the slopes).
When it came to writing a wintry romance, it was an easy reach setting-wise because that combination is ripe for unlikely encounters and plenty of drama!
Back in 2001, my introduction to Whistler was via a youth hostel in Whistler Creek, called Southside – which is still there – and while it describes itself as 'basic', it's still more upmarket than it was back then. Creekside (as it was known) was seen as the shabbier sibling to Whistler town and the la-di-da Blackcomb. I have great memories of that hostel, which inspired the one where Jen stays when she first arrives. I met another English girl on a gap year there, who to this day is one of my best friends. There were several other seasonal workers who became the supporting cast to my own winter season. As a result, I found my inspiration for the Aussies, Kiwis and Canadians Jen meets in the book.
Meanwhile, Dusty's Bar and Grill, at the base of Creekside Gondola, was the location inspiration for Canucks, the bar Jen and her friends hang out in. The Boot Pub (on the corner of Highway 99 and Nancy Greene Way), which sadly closed down in 2006, fed into the raucous atmosphere.
Though the ultra-swish Redwood Hotel where Jen works in the book is fictional, there is a swanky five-star hotel in Blackcomb, The Fairmont Chateau Whistler , and I worked there – as a receptionist in the spa rather than the hotel itself. Like Jen, we were expected to be 'immaculately groomed', although my boss was nothing like the hideous Eduardo. Perks of the job included access to the hotel's swimming pools. We also had a mandate to sample each of the spa treatments on offer in order to upsell packages to the guests. Those complimentary manicures and hot stone massages were a real drag, as you can imagine.
7174 Nancy Greene Drive
Subsidised staff accommodation does exist in Whistler. During my time in town, the people who worked for the mountain company, Whistler Blackcomb, threw an excellent New Year party there on 31 Dec 2001 that went well into 1 Jan 2002. (That's all I will say about that). However, as hotel employees my friend and I weren't entitled to staff housing. Instead, we shared a basement room in a family home at 7174 Nancy Greene Drive that we rented from a family.  They epitomised everything wholesome, outdoorsy and North American. If you need a visual, I compare the dad to Dawson's from Dawson's Creek in my 2011 travel journal.
I went back to Whistler in 2015, fifteen years older and pregnant with my son, and went to have a look at the house. It had become a yoga studio (I can only imagine how much the house was worth by then).
And what about the slopes? I've been a little creative in the book regarding ski trails and their locations. However, my own memories, and how I felt snowboarding there, definitely fed in to the novel. On Blackcomb Mountain I loved going up Seventh Heaven Lift which took you to 2284ft. I loved coming all the way down the Dave Murray Downhill on Whistler Mountain. All ending (of course) with a beer at Dusty's. I have a loose arrangement to go back with my Whistler friends for our next landmark birthday, and can't wait!
Thank you for a wonderful tour of Whistler Helen! Now to dig out those skis
Twitter: @helbobwhitaker   Web: //www.helenwhitaker.me/