Damnation – Switzerland with Peter Beck
Are you ready to enter the world of DAMNATION…?
It's a thriller set in Switzerland so there's going to be more than one icy location or two to visit….you ready? we're off to meet Peter Beck…
My hero, Tom Winter, is head of security at a Swiss private bank which has some incredibly wealthy international clients. To my knowledge, this role is unique in the world of crime writing. In this role, Winter has a lot of freedom, so as an author I can send him all over the world, making him both Swiss and cosmopolitan. That's fun to write. In DAMNATION, I send Tom Winter – besides the locations in Switzerland we're discussing here – to Egypt, Norway and the United States.
Can you explain your title?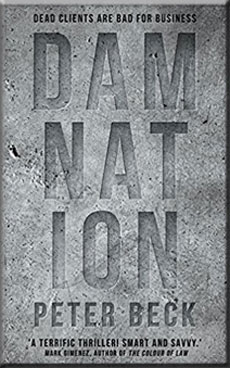 Sure. There are two clues in DAMNATION.
The first one is "dam". The plot involves foreign investments in critical infrastructure. In Switzerland, the dams in the mountains store water, our "white gold". And I'm not giving away too much by saying that one of those huge dams features in the action-packed finale, which led critics to dub Tom Winter the "Swiss James Bond"…;-)
The second clue is the metaphorical sense. As we all know, there are great villains in the banking world. Behind the picture-perfect scenes, they often do business brutally. So what happens if you move in those circles? You're kind of damned, between a rock and a hard place.
I also work in the corporate world myself – I was an executive board member of a big company and sat on several non-executive boards – and I experienced first-hand, albeit on a smaller scale, the power struggles Winter has to contend with.
As a psychologist, I put a lot of emphasis on what goes on within my characters, to shape their personalities, their motives. It's really important for me that Tom Winter always tries to do the right thing, despite the bank's boss, who's only interested in making the biggest profit possible. For me, a hero grows with his dilemmas, when he's damned, caught between a rock and a hard place. We all face these quandaries at one time or another, albeit usually on a smaller scale.
Why is location important to you?
I'm always trying to trigger a cinematic effect in the reader's head, helping them to escape to exciting new places. So the locations, be it a bunker in the Swiss mountains or a beach in Nantucket, play important roles in my writing.
The location's atmosphere envelops my characters and adds another layer to the story. The settings present me with loads of unique opportunities for plot twists, clues or action.
Just think about the literal sense of the word "cliff hanger": everybody remembers the steep waterfalls in the Bernese Oberland, the Giessbachfälle, of Sherlock Holmes.
At the end of the day, everything happens in time and space. In DAMNATION, Winter meets Fatima in Cairo and there's immediately a chemistry between him and the successful businesswoman. Norway's fjords are dramatic and Boston is just a great city. And being Swiss, I had to have some action in our beautiful mountains.
How do you research the locations of your thrillers?
I usually combine researching locations with holidays or day trips – I take loads of photos and imagine a million things that could happen there. My criterion for a great location is that it must be fascinating for the readers. So while writing, I'm always trying to pick the most exciting ones.
Why is the story important – its message?
I don't want to change the world, I just want to provide good entertainment, a thrilling read.
But I guess the question I started with is: what happens when dodgy people with an awful lot of money – and the right Swiss banker of course – get their hands on critical infrastructure, like nuclear plants, hospitals or dams only because the government wants to save money or has to sell assets?
A stupid terrorist blows himself up, a smart terrorist buys the explosives factory so to speak. If there's a message in DAMNATION, it's along the lines of Bertold Brecht's observation: "The biggest crime is to found a bank."
How do you manage to evoke the five senses into a scene?
You have to press the right sensory buttons, giving clues how the world smells, sounds and feels. For example, my second thriller with Tom Winter starts with a baker who's found caramelized in his own oven. There you have heat, smell and an oppressive atmosphere within one sentence.
My experience is that sight is overrated and overused. Odors, sounds or pressure are much more primitive, primal perceptions and somehow go to the core without a detour through consciousness. Just think about Hitchcock's "Vertigo".
Something you found surprising whilst researching the novel?
Working on a thriller is a long, tedious process and sometimes I'd think: Oh, I've overdone it a bit here, it's not credible. So I'd rewrite it and the day after, a story just like that turns up in the news. Reality often overtakes fiction.
Thank you very much Peter for a very interesting guide to the city of Damnation !
BookTrail Boarding Pass Information: Damnation