A Blogger goes to Night Market Country
Ewa Sherman, translator and writer, bilingual bookworm, lover of all things Nordic & Scandinavian including the Moomins. A Viking in training who loves nothing more than to read a cracking crime novel so the perfect person to chat with about Daniel Pembrey's latest novel The Night Market: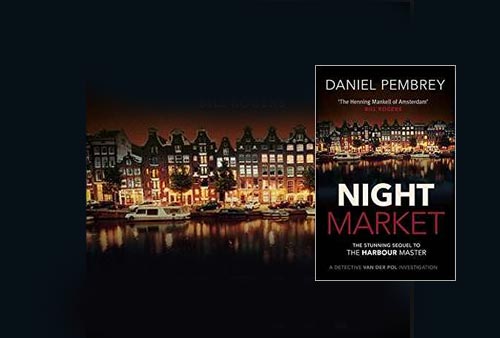 Night Market's stunning cover doesn't betray the book's darker themes. It draws you into the inviting vision of picture perfect touristy Holland. It picks up from where The Harbour Master ended as the Amsterdam detective Henk van der Pol is now faced with a very tough assignment. For a complicated mixture of reasons he agrees to infiltrate an international team investigating an online child exploitation network. But the consequences of that decision seriously affect his personal life. Following a shocking revelation from his wife Petra and an outburst from daughter Nadia regarding his latest job: watching the watchers at a small police station at Driebergen, he's at an emotional loose end. Henk leaves his houseboat in the docklands area of Amsterdam, and packs essentials: 'a favourite bottle of jenever from the galley, a book I'd been meaning to read – a Herman Koch novel called The Dinner…'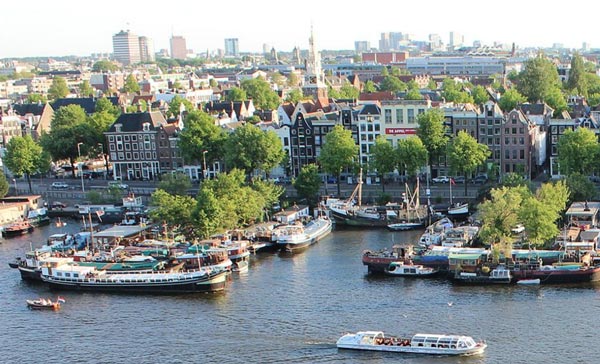 He travels to Norway in search of information and some mental respite in the company of his old acquaintance from the army Olaf Magnusson, now retired police captain, who had worked with the Oslo Police District, and has contacts in Kripos, the Norwegian National Criminal Investigation Service.  As he struggles with his soul-stirring reaction to the child sexual abuse and under-age pornography, he also questions his role as a detective. An old memory comes to mind: 'To catch the bad guys, you must think like bad guys. Some part of you must become them…' And Henk, who's no stranger to cases involving dark and unsavoury matters such as sexual exploitation, trafficking, drugs, corruption, aggravated assault, homicide, wants to find out whether a link exists between a famous Dutch architect Heinrich Karremans, other than just designing buildings in Oslo and owning an isolated cabin near Trondheim, in true Norwegian style of going off for days at a time, alone, into the wilderness.
Henk's 'cold and wet' weekend in Larvik and Stavern clarified some issues and gave him temporary peace of mind but not for long.
The dramatic sailing trip and ominous weather luckily don't happen to everyone. Both towns are bathed in summer sunshine when I visit. You cannot escape the Dutch – Norwegian connections throughout the history, as Holland had traded with Norway for centuries, and 'at one point, a fifth of the Dutch navy was made up of Norwegian sailors'. Old military and maritime history is present especially in Stavern which grew from a naval base called Fredriksvern initially built for the Royal Norwegian Navy. The past inspires the present and all those who live in the area. Jørn Lier Horst, a former senior investigating inspector at Vestfold Police District, and author of the hugely successful William Wisting series, is all smiles when talking about area. But he goes serious when discussing the measures to help offenders.
Stavern music festival is just about to start, and Jo Nesbø is due to bring his band, swapping famous Harry Hole for a guitar. I didn't go to the Larvik public baths nor on a fishing trip to check the lobster pots with Olaf. Instead I soaked in the sun and admired old wooden buildings and historic heritage, gorgeous sea, hot sand on the beach and imagined the Svenner Lighthouse, off Stavern harbour but an invisible mirage in a distance.
Did Henk van der Pol have a chance to relax with another novel by the Dutch writer and actor? Koch's Summer House with Swimming Pool is a tale of a doctor to the rich and famous, accused of murder. Crime fiction fades in comparison to what Henk has to deal with as he's in demand again. His creator Daniel Pembrey will not allow him rest on his laurels. Just as well.
BookTrail Boarding Pass: The Night Market
With many thanks to lovely Eva for this book trail with photos!