Trail to the Nevada desert with Rod Reynolds
Your guide to Los Angeles and  Las Vegas awaits…
When you need a guide to the rough and gritty desert landscape, hitmen who take off on trails to find their target….Reynolds is your man..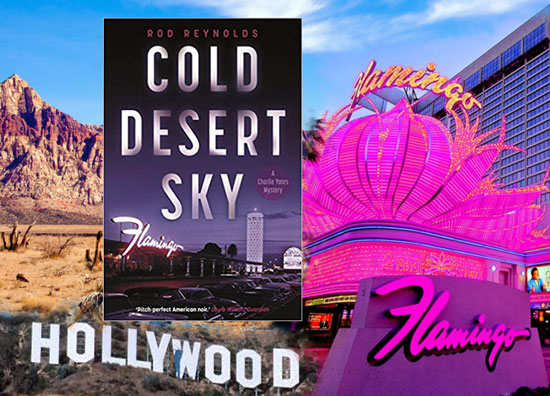 Cold Desert Sky is the third book in the Charlie Yates series and is set in Los Angeles and Las Vegas. It sees Charlie obsessed by the disappearance of two Hollywood starlets, but having to lay low in the City of Angels because infamous mob boss Benjamin 'Bugsy' Siegel wants him dead. Charlie's investigation eventually leads him to a nascent Las Vegas, where Siegel is finishing his palace of sin, the Flamingo Hotel. Finding himself caught between the mob and rogue FBI agents, Charlie's hellbent on doing whatever it takes to find out what happened to the missing girls.
My first two books were set in Texarkana and Hot Springs, two small towns in Texas/Arkansas I knew nothing about before I started researching them. This time was to be different.
Los Angeles was the first place I ever visited in the US, more than twenty five years ago. It's a strange city – one you expect to be familiar from all the movies and TV shows, but that is, in reality, hard to get a handle on. The Hollywood sign is barely visible miles away, up in the hills. The instantly-recognisable stars on the Walk of Fame were covered in chewing gum, on a tacky part of Hollywood Boulevard. A city made for cars, it was so vast and dispersed, there was barely anything to call a 'centre.'
Still it made an impression on me. I've been back a few times in the intervening years, and like my hometown of London, LA has cleaned up its act since the early 90s. But even on that first visit, amidst the grime and rundown tourist shops, there was a sense of stardust. That's inevitably to do with the history of the place and the cultural impact of the movie business, and I loved the idea of setting a story there, trying to draw out that sense of 'glitz with a dark underbelly.'
Vegas had the opposite impact on me to LA. Another place I've visited regularly over the last 20 years, the first time I went I was blown away by it. Like LA, it's a town that evokes mental imagery long before you arrive, and I expected to be underwhelmed – it all seemed a bit corny. But when I stepped out of the car, the city just dwarfed me. The scale of it all is impossible to gauge from pictures or video. Fairytale castles standing next to a black-glass pyramid. The MGM Grand over the road, an emerald monolith. And more and more of these things stretching as far as you can see down the street. I just couldn't process what I was seeing.
Over the years, I became interested more in Vegas' quirks than its better-known attractions (or maybe I just got sick of losing money at Blackjack…) The history was one of the main ones: a desert outpost created to help the Hoover Dam construction crews blow their wages in the 1930s, co-opted and turbo-charged by the mob in the 40s and 50s, and finally sanitised, commoditised, and supersized by big business in the 70s and 80s. To call its past colourful is an understatement.
So when I learned of the link between Hot Springs, where my previous novel is set, and Las Vegas – with Bugsy Siegel being the thread connecting them – I couldn't help but set part of the next book there, at the time when it was all kicking off. As an author looking for an exciting setting, Vegas in 1946 had everything.
Cold Desert Sky takes Charlie all over America, but focuses on two cities that are among my Stateside favourites. If I've captured them on the page at even a fraction of their real-life wattage, I hope you'll understand why.
Thanks Rod!
Twitter: @Rod_WR