Travel to Fall Out locations with M N Grenside
Fall Out locations with M N Grenside
It's time to play the music
and time to light the lights
So now, let's meet M Grenside on Authors on location tonight
Fall Out by M N Grenside – If ever there was a clue as to who is on Authors on Location tonight, then this is it. M N Grenside has worked on The Muppets which will be forever ingrained on many an imagination. Now, he's written a thriller with locations across the world…..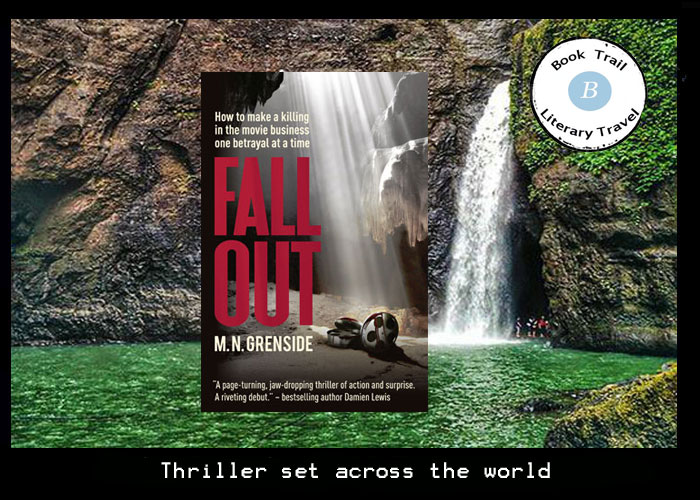 Over to you Mr Grenside..
After a stint on the outer reaches of Lloyds of London – Kidnap, Ransom and Extortion Insurance, I started with Jim Henson and the Muppets. That job change is a cracking story, but for another day! Following the Muppets, I became an Independent Producer. I have been involved in the Entertainment Industry for many years and in just about every aspect of it… Writer, Producer, Distributor, Channel Owner and even Recording Artist/Talent Management. During this wonderful ride I have worked with numerous stars.
My book Fall Out is a thriller set in that world as I have learned many things in Hollywood about story. "Character is Action. What a person does, is what he is, not what he says," said Hollywood script Guru Syd Field. I have forever kept that tattooed on my forehead.
Location, location, location
Nevertheless, well-chosen locations are equally important – a location drives a story on. If well-chosen, it should reflect the underlying themes in the storyline at that moment; be they danger, loneliness, action or relaxation. Location should never be random but its description must quickly set a picture in the readers' mind's eye, so as not to slow the pace of the story.
Fall Out has locations in Bel Air and Venice Beach in LA, Belgravia in London, Theoule and Cannes in the South of France, Como in Italy, Habkern in Switzerland and Manila along with Pagsanjean in the Philippines.
In total, I attended various Festivals in Cannes (Film, Television and Music) over fifty times. When I was an owner of the Hallmark Channel, we rented the apartment in Cannes that I featured in the book.
To France now, and I was married at the Villa D'Este in Como and grew up near the Eden Rock Hotel in Cap D'Antes where I was a water ski-ing instructor one summer. The villa in Theoule, the boat and the statue all belonged to a dear friend of mine. The art filled house next to the Dorchester Hotel was owned by colleague and collaborator, multi Emmy award winning Producer, Robert Halmi Snr. This was Lilly Langtree's house back  then where she had an affair with King Edward VII.
Write about what you know
'Write about what you know' is a cliché for good reason. Wherever possible, I have written about locations that I have first-hand knowledge of
What you don't know you need to research. The book has a long bibliography; everything from Eleanor Copplola's Book, Notes on Making Apocalypse Now (she is Director Francis Ford Coppola's wife) via Balisong, The Lethal Art of Filipino Knife Fighting to Lonely River the secret stories of Hunan Province and Nu-Shu. In fact, Nu-Shu, a hidden written language used only in secret by women, fascinated me so much it got wound into my Da Vinci Code type clues!
Inspiration for the book
Overall, it's difficult to pinpoint the actual inspiration for the book. It's an amalgam of my love of travel, adventure, dangerous sports, history and Asian Art. This led to discovering a well-hidden mystery with an explosive reveal; a gem of a true story that needed telling in a relevant and I hope gripping setting. When reading Fall Out the reader should not be able to tell where reality ends and fiction starts.
Furthermore, as for the film industry itself, the reader is an insider, as I lift the veil on the secrets of film making and some of the chicanery behind it. As a bonus to enjoying a thriller, readers pick up a few titbits that help them understand what goes on making a movie. Then, they can even read the credits understanding some of the arcane names and terms!
As for the characters in Fall Out…I'd get sued if I told you whom they are based on!
When he's not writing
When all is said and done, I'm a self-taught cook and a bit of a danger junkie; hang gliding off Mt Annapurna to tobogganing down the Cresta Run. I have been lucky enough to own several sports cars from the 60's and 70's. I even had a black pug called Cato, like the one owned by Cara Baines in the book!
With many many thanks to MN Grenside for this interview!
It's time to get things finished
On the most sensational, inspirational, celebrational, muppetational
This is what we call the Fall Out Show!
BookTrail Boarding Pass:Fall Out
Web:  hwww.andanotherthing.com/mngrenside