Step back into the past with Nicola Cornick
The Phantom Tree is set in Wiltshire, in the great forest of Savernake, at Wolf Hall and in Marlborough. It also draws on the history of Littlecote House, which is just over the border in Berkshire. Here Nicola Cornick takes you back in time……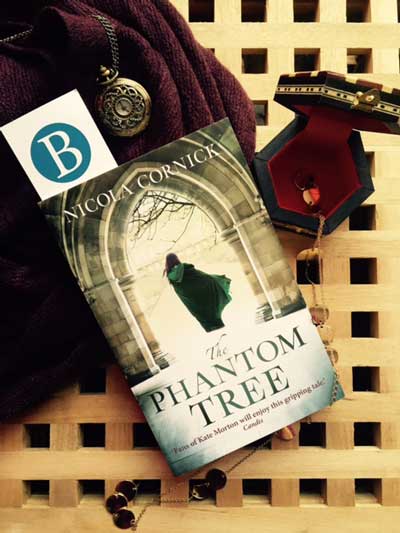 What is it like researching a historical novel mixed with fact and fiction?
I had a fabulous time researching as I was able to visit all the places in the story; walk in Savernake Forest, see the site of Wolf Hall, visit Littlecote and go to the church at Great Bedwyn to see Sir John Seymour's tomb. I had read a lot about Wolf Hall and Savernake in the famous period when the Henry VIII courted Jane Seymour there, but I was writing about the next generation so I wanted to discover what happened next to the Seymours. I scoured the records for information on Marlborough and the surrounding area in the Elizabethan period, and also read up on the exploits of Wild Will Dayrell of Littlecote, a Seymour cousin, who was the inspiration for Will Fenner in the book.
Have you ever found something yourself in an antiques shop that has turned out to be a surprise?
I wish I had! I'm constantly scouring antiques fairs and arcades for fascinating objects. I've found lots of pretty things that catch my eye – I especially like blue glass and jewellery – but I've never found anything surprising. However, the little portrait of Anne Boleyn that features at the beginning of the story and gave me the idea for the whole book was found by a relative of mine in an antiques shop in Hungerford so that is enough to encourage me to keep on looking!
Why do you think Anne Boleyn and the Tudors are still so intriguing?
I think the Tudor era is like a huge soap opera, packed with larger-than-life characters and shocking events that still fascinate us today. In the case of Anne Boleyn I feel it's a combination of the injustice of her fate and the fact that she was a clever, interesting woman whom we can still relate to today. It's the sense of danger and excitement that's appealing too. It was such a vivid age full of opportunity but also violence and superstition. It's an irresistible combination.
What gave you the idea for this novel?
It all started with the portrait I mentioned above. I was visiting family and saw this gorgeous picture on the wall of a woman in Tudor dress. I found it totally beguiling. She has a little smile on her face as though she knows a secret, and there is a pearl missing from her hood… On the back of the picture it says it is a portrait of Anne Boleyn, one I'd never seen before.  However, my writer's imagination got going and I started to speculate on how interesting it would be if it were not actually Anne but some other, lesser-known Tudor woman. Then I connected it with the story of Mary Seymour, Katherine Parr's daughter, and I thought how fascinating it would be if the portrait were in fact a clue to her fate…
How much is real and how much fictional?
I researched the historical records of Mary Seymour's life and there isn't much attested fact to go on, so the story of her return to Wolf Hall and subsequent life at Middlecote is fictional. However, I've tried to be as accurate as I can in re-creating the Wolf Hall of the Elizabethan era and creating the historical framework in which the story takes place. I also drew on the real history of the Dayrell family of Littlecote House for the element of the book based at Middlecote. So Mary's story is fiction but the setting and background are real.
You work in a very historical place. What do you love about buildings with a past?
I'm so lucky to work at Ashdown House as a volunteer for the National Trust! I find it hugely inspirational. I love the idea that historical buildings – historic sites generally – are like time capsules. It's 2017 and I am walking through the front door at Ashdown and there were people doing the same thing in 1717 and 1817 and 1917… The house has seen all that history and experienced so much of the past. I find that astonishing and when I visit a historic site I feel connected to the past through that idea of a timeline.
A painting with a hidden secret. Which famous painting do you think has a secret message inside?
Actually we have one at Ashdown House! It's one of the first group portraits in the history of English art and was painted during the English Civil War by Charles I's court painter, William Dobson. It's packed full of symbols and it definitely tells a story! At the moment we're working with some art historians to decode it's history and secrets. It's very exciting – I'm keen to write a book about it!
Dual time line stories are so intriguing. How different is it writing in the past and present time lines?
When I first started writing dual timeframe stories I found it much easier to write the historical thread than the contemporary one, perhaps because I had more experience of that and loved creating a rich and vivid historical world. In contrast, writing about the "real" world around me was a difficult challenge, perhaps because it is so familiar that I need to infuse it with some of the same writing magic.  I've come to enjoy the present day thread much more and I think that for me the excitement of writing the present comes from the mystery element. I love that the present day characters are looking into history and that past events are influencing the present. Together I think the two stories can give the book so much depth and richness.