Walking a Tightrope near Manchester with Marnie Riches
Walking a Tightrope in Bev Saunders' Cheshire
Marnie Riches is taking us on a tightrope tour of Hale and Altrincham. Care to join in?
Walking a Tightrope near Manchester with Marnie Riches: What happens when a private investigator ends up being the one uncovered? Recently divorced Beverley Saunders now lives in the basement flat of her vest friend's house. Bev's former glittering marketing is over so she starts to do investigative work for other wronged women, gathering dirt on those who have wronged them. Her next case however is going to make her own past, the subject of intrigue…and danger….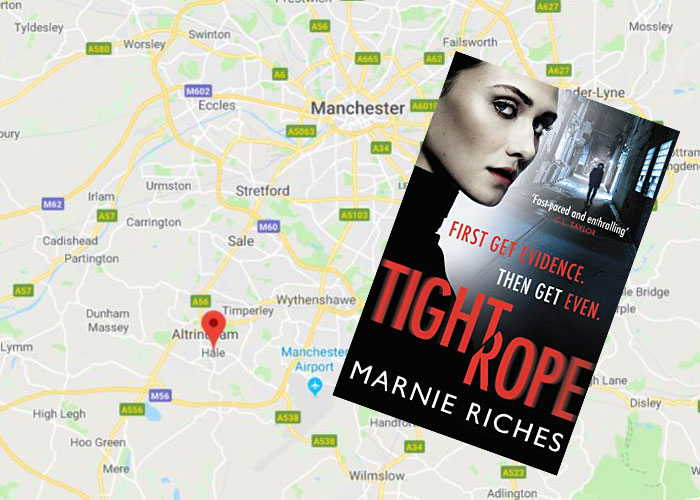 Having written about South East London and Amsterdam in my George McKenzie series (The Girl Who… books), and having zoned in on Manchester for my gangland books, Born Bad and The Cover-Up, I knew I had to switch location for my all-new PI Bev Saunders series. It had to be somewhere northern, though, because I didn't want to leave my Born Bad readers high and dry, and, given I actually live in the northwest, it made sense to stay in or near the rainy city. Hale was the perfect choice! It's the place where footballers and Cheshire housewives roam as nature intended – in packs, thundering across the leafy landscape in their Range Rovers and their Bentley GT Continentals to the watering holes of Piccolino's and Victor's, where they quench their thirst on Krystal champagne and Hendriks gin.
Now, for an ex-council estate kid like me, Hale Village and adjacent market town, Altrincham represent a mixture of heavenly semi-rural suburbia and surreal, almost laughable bling-based weirdness. These are areas that are full of spray-tanned ladies-who-lunch (on undressed salad leaves), after having spent the morning at the gym and/or beauty parlour. They are immaculately groomed and diamond-festooned, despite spending almost every waking hour in gym leggings (yes, their perma-pert bums deserve it, girlfriend!). It's always an eye-opener for someone like me with a utilitarian working-week uniform of bad hair, anorak, jeans and sneakers. They are, however, largely dependent on their powerful husbands to maintain what can only be described as extremely pampered lifestyles. The denizens of Hale and Altrincham are heavy on the bling, hold the fat and sugar…they're stressed to the threaded eyebrows, they're competitive as hell and they're ripe, ripe fruit to be harvested by the storyteller.
My heroine, Bev Saunders, is a working class kid-made-good, who ends up right back at the bottom of the heap thanks to an acrimonious divorce from her unscrupulous, manipulative ex, Rob the Knob. He steals from her a glittering marketing career, then he takes her home, leaving her at the mercy of her frenemy, Sophie. That's how Bev ends up as Hale's most likely resident – living in the mildewed, dark basement flat of Sophie and husband, Tim's Victorian mansion. It's a modern day Upstairs/Downstairs!
With her career in tatters, Bev opts to set up as a private investigator. It is Sophie who introduces Bev to her next paying customer, Angela Fitzwilliam. Angela is the battered wife of the Shadow Science Minister, Jerry Fitzwilliam. Bev commits herself to fighting for her affluent yet beleaguered client, but she soon finds herself in far too deep.
The book takes readers on a tour of Altrincham and Hale, but also casts the narrative net as far as Chalfont St. Giles in the Chilterns, where her tech-whizz sidekick, Doc, is forced to hide out with his parents. Then we head to Westminster in London, where Jerry Fitzwilliam sits in Parliament. There is a rooftop pool scene, later in the story, where I took my inspiration from a lovely visit to a private members' club called Shoreditch House. Desperate to dig up dirt for Angela, Bev has a clandestine honeytrap tryst with Jerry Fitzwilliam, posing as catfishing alter-ego and femme-fatale, Cat Thomson. I was inspired by private dining at Mosimann's club in Belgravia (also used in The Girl Who Walked in the Shadows) that I'd witnessed years ago, when I was working for a children's charity. Until then, I hadn't realised that people dined in private rooms for as little as two people, racking up bills that could feed hundreds for breath-taking haut cuisine and fine wine!
But then there is Boo – a character in the book whose backstory weaves in and out of the main story. Boo is the downtrodden daughter of an artist and a tiler. She comes from the streets of red-brick terraces that are typical of any town or city in the north or northwest. They are the relic of the great industrial age. So, does Boo come from Derby or Nottingham or Sheffield or Hull or Radcliffe or Bolton? I leave that for the reader to decide. I leave that for you to decide!
Thanks Marnie for that Tightrope tour!
BookTrail Boarding Pass: Tightrope
Twitter:  @Marnie_Riches   Web: marnieriches.com