The Madwoman of Blackwell's Island NYC with Louisa Treger
Visit the island of the asylum with Nellie Bly
The Madwoman of Blackwell's Island NYC with Louisa Treger. If you have never heard of Blackwell Island, you soon will. This novel is set there when, years ago, in the middle of the Hudson River, there was an asylum. Those who people thought were 'mad' were sent there. One women got herself admitted in order to reveal the abuse and torture that went on within.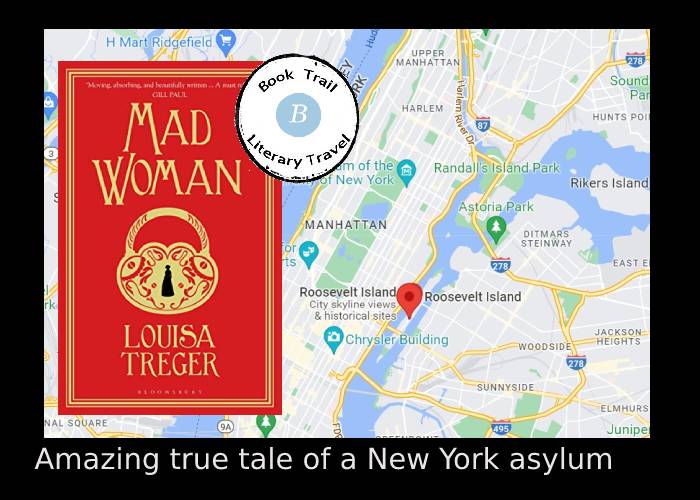 SUCH a remarkable true story and one that is stunningly recreated in Madwoman.
The Madwoman of Blackwell's Island NYC with Louisa Treger……
Nellie Bly, the inspiration for my novel, Madwoman, was America's first female investigative journalist. She grew up without privilege or education, knowing that her greatest asset was the force of her own will. Her maxim was: "Energy rightly applied and directed will accomplish anything."
Early in her career, she heard a rumour about patients facing abusive treatment at the Women's Lunatic Asylum on Blackwell's Island off the coast of New York. She decided to feign madness and institutionalize herself for ten days. Her goal was to go where no sane woman had voluntarily gone before. What's more, she would come back with a story like no other.
What took hold of my imagination was wondering what kind of person could do that. Remember, this was at the end of the nineteenth century when asylums were dangerous places, and women were supposed to be ladylike and reticent. The only way Nellie could get taken seriously in the male-dominated newspaper industry was to do something so daring and extreme. I felt the leap of determination that propelled her into the institution like an electric charge, and I had to write about her.
I soon realised that location was crucial to the novel, and so I set off to America to see for myself the island Nellie was incarcerated on. Blackwell Island as it was then, is now known as Roosevelt Island. Just as Nellie did before me, I had to set foot on it to understand its story. Upon arrival, I  stopped to speak to a few of the locals. A man in a wheelchair outside his convalescent home pointed me to the next-door building as the institution where Bly stayed for ten days. I could tell he wasn't elated to be its neighbour.
It was then that I saw that all that's left of the asylum is its octagonal tower, now part of a gentrified block of apartments. As I walked around Roosevelt Island, I couldn't help picking up a sad, haunted atmosphere. I was walking the steps of where the inconvenient in American society were sent over 130 years ago.
In Nellie's time, there was a prison, workhouse, smallpox hospital and the asylum. It was the isle of the poor, the sick, the criminal and the insane, out of sight, out of mind for ordinary, respectable New Yorkers. Now it's been modernised, there are schools, shops and apartment buildings. The inhabitants I met were reluctant to discuss the Island's difficult history – understandable given that they are trying to get on with their lives there. Even so, the history is impossible to ignore, particularly as the ruins of the smallpox hospital, otherwise known as the Renwick Ruin after its architect, James Renwick Jr., still stand; a crumbling, ivy-clad apparition, lost to time.
The view of Manhattan from the island
From what used to be the asylum grounds, I could see Manhattan – it was tantalisingly close. At the time of Nellie's incarceration, New York had just had electricity installed. During the hours of darkness, the city was illuminated like a glowing embroidery of light. Imagine what it was like for the women of the asylum to watch this enchanted place from dank, gaslit Blackwell's Island, especially as most of them had no hope of getting home.
The asylum was a place of horrors, governed by cruelty, and little attempt was made to treat or rehabilitate the patients. As I stood there, I realised that it must have been similar to being shut away on Alcatraz or Robben Island. My visit to Roosevelt Island brought Madwoman to vivid life and made a profound impression on me. I will never forget it.
Remanents of the Smallpox hospital today
On her eventual release, Nellie's articles described with great empathy her experiences in the asylum, and they didn't shy away from describing the brutal conditions. They gave face and voice to the marginalised and captured public imagination, making her a celebrity, a fiery national presence. Shortly afterwards, officials added nearly $1 million to the asylum's budget, an enormous sum for 1887.
View of Manhattan from the Smallpox hospital
As well as improving conditions for mentally ill patients all over the country, Nellie's Blackwell's Island exposé pioneered a path for women in newspapers. Before, newspapers only allowed women journalists  to cover fashion and society pages, theatre and concert reviews.
But Nellie created the first real place for women as regular members of the newsroom and an important part of the editorial mix. Her articles catalysed a new journalistic movement known as stunt or detective reporting, the acknowledged forerunner of full-scale investigative journalism, and they paved the way for successive generations of women reporters to achieve what they did. Nellie had a huge impact on journalists on both sides of the Atlantic.
For example, she inspired giants of the 1960s, like Barbara Walters and Gloria Steinem. More recently, BBC journalist and presenter, Martine Croxall, went on Celebrity Mastermind with Nellie Bly as her specialist subject – and won. Nellie appears many times in popular culture, such as by Sarah Paulson in American Horror Story: Asylum (2012) as the Nellie Bly-type character, Lana Winters; and Nellie was the inspiration for Lois Lane in the Superman DC Comics and TV series. Head nurse Miss O'Grady inspired Nurse Ratched in One Flew Over the Cuckoo's Nest by Ken Kesey (1962).
Nurse Ratched
Nellie's life story and her experiences in the asylum are quite modern and topical. It it clear that we still grapple with big questions about mental health.
In certain ways things have changed, and in others not at all. Look at countries such as Iran, which brutally suppress women. Other issues women – and men – are still up against include freedom of speech and the pay gap between the sexes. Not to mention attitudes to mental health, and the underrepresentation of the marginalised. All of this brings home to me why I write historical fiction:
History isn't a series of dry facts in the past. It's a narrative that we live and relive in the present.
Nellie Bly started off as an underprivileged girl, and she became a woman far ahead of her time, a pioneer for women and women's rights, pushing boundaries and societal norms. She changed the world and left it vastly improved, proving once and for all the maxim she lived by:
"Energy rightly applied and directed will accomplish anything."
I believe that the best way of honouring her is by continuing her work of campaigning for justice and equality in the 21st century.
.
BookTrail Boarding Pass:  Madwoman
Twitter: @louisatreger web: //louisatreger.com/