Travel to Rome with Kate Eberlen
Rome – ing around the locations of ONLY YOU
Ever wanted to learn a language? Been tempted to go to a language school in the country whose language you want to learn? What about heading off to Rome with Only You which is set there? With author Kate Eberlen as your guide?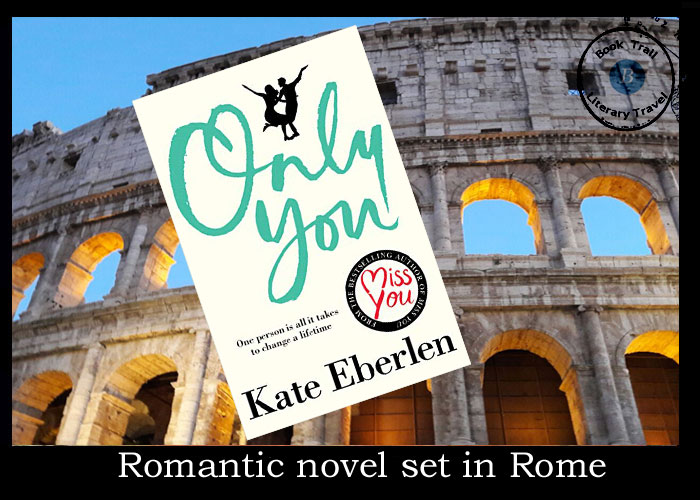 I've loved Italy since I first visited when I was ten and when I was seventeen, I spent a formative gap year working as an au pair in Rome.  Since then, I've visited many other regions – Lombardy, Tuscany, Umbria, Venice, the Bay of Naples, Puglia, Sicily.  My novel MISS YOU was inspired by visits to Florence.   When I started thinking about ONLY YOU, I decided to return to Rome.
I had half an idea for a love story – an image of two people dancing in the Piazza Navona – but I needed to find out who they were and why they were there.
I rented a loft apartment with a breath-taking view of the city in the upcoming residential area of Pigneto.  For the five winter months I lived there, the weather was particularly beautiful, the skies unbelievably blue, the air crisp and filled with sunshine.   Almost every evening, I watched a spectacular sunset.
To improve my Italian, I enrolled in a school.  My walk there each morning took me over a busy roundabout where many tram routes criss-cross beneath the arches of the Porta Maggiore, built by the Emperor Claudius in 52 AD.  Then, under a railway bridge and along the Aurelian Walls which skirt the night-club area of San Lorenzo.   It's this juxtaposition of ancient and modern that makes Rome unique and, for me, constantly exhilarating.
The students  came from all over the world and mostly stayed for only a few weeks.  Speaking low-level Italian, we were unable to say a lot of things we wanted to.   I found that the slow discovery of people's stories and their various reasons for being in Rome, gave me the idea for the starting point of my two characters, Alf and Letty.
In the afternoons, I visited ancient sites like the Forum and the Pantheon, or simply wandered in the Villa Borghese or the cobbled streets of Trastevere, thinking about how my characters might see these places.
At weekends, I revisited Tivoli and many of the other beautiful towns within an hour of Rome, such as Anzio, where my characters eat a delicious seafood lunch and dance on the beach!
I discovered places that I had never previously visited in Rome, such as the via Appia Antica and the top of the Vittoria Emanuele monument, which is one of the best places to view sunset over the city as the angle of the light somehow turns the yellow-gold stone to rose.
I loved living in a proper neighbourhood with a library and little shops.  I found a local restaurant, Bentu e Soi ( it means Wind and Sun in Sardinian) on via Casilina, where the lunchtime menu was so delicious, and so reasonable, it was ridiculous to even think about cooking for myself.  It might seem a little unadventurous to return to the same place again and again, but this is not at all unusual in Italy, and indeed it can cause offence if for some reason you miss a few days once the proprietor knows you.
As summer approached, my beautiful apartment with its huge windows became unbearably hot, and there were reasons for me to return to England.  On my last night in Rome, I felt so sad, I caught the bus into town and threw a coin in the Trevi Fountain just to make sure that I returned!
Every writer has a different way of working on a novel.  I spend months doing research and thinking about my characters.  When I eventually sit down at the computer to write,  I do not know exactly what is going to happen, only which character I am writing about and where they are.   Location is therefore incredibly important to me, and it is also what makes writing enjoyable. I love thinking myself back to a place, seeing the beautiful views, smelling the aromas, tasting the food.
I didn't start writing Only You until months after I returned to England after my glorious sojourn in Rome, but once I did, I felt I was returning to the city I love, and I very much hope that my readers will be transported there too.
BookTrail Boarding Pass: Only You
Twitter: @kateeberlen          Web:  .kateeberlen.com
You can see the photos that Alf takes on his Instagram account @rometourguidealf