Fall Out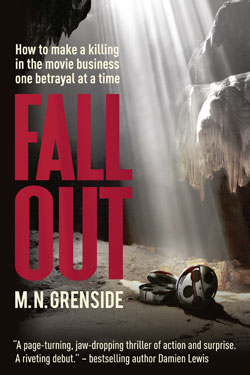 Why a Booktrail?
2000s: An LA screenwriter is killed shortly after completing his latest script.
What you need to know before your trail
An LA screenwriter is killed shortly after completing his latest script.
Echoing events from the past the screenplay is sent to a very specific group of people and will change their lives forever. All are connected to a movie that had abruptly stopped shooting in the jungles of the Philippines years before. FALL OUT exposes the truth about a conspiracy and murder that led to a half-a-billion-dollar fortune for a select few.
Follow the story of Producer Marcus Riley, who sets out on an increasingly dangerous quest to get FALL OUT made. From a powerful Agent's office in Hollywood, hidden treasures in Belgravia and a remote chalet in the Swiss Alps to murder at the Cannes Film Festival, Marcus teams up with designer Melinda (Mako) de Turris as they and the other recipients of the screenplay are pursued by an assassin from the past.
With clues cleverly concealed in the screenplay, Marcus and Mako unravel a lethal puzzle that for some will bring death, others the truth and ends in a cave with a shocking secret…..
Travel Guide
Travel worldwide with an LA producer and Fall Out
Fall Out has locations in Bel Air and Venice Beach in LA, Belgravia in London, Theoule and Cannes in the South of France, Como in Italy, Habkern in Switzerland and Manila along with Pagsanjean in the Philippines.
It is difficult to pinpoint the actual inspiration for the book. It's an amalgam of my love of travel, adventure, dangerous sports, history and Asian Art. This led to discovering a well-hidden mystery with an explosive reveal; a gem of a true story that needed telling in a relevant and I hope gripping setting. When reading Fall Out the reader should not be able to tell where reality ends and fiction starts.
When I was an owner of the Hallmark Channel, we rented the apartment in Cannes that I featured in the book.
The villa in Theoule, the boat and the statue all belonged to a dear friend of mine.
BookTrail Boarding Pass: Fall Out
Destination: Worldwide Author/guide: MN Grenside Departure Time: 2000s
Back to Results