Explore Cuba with Rachel Rhys
Travel around The Island of Secrets
Explore Cuba with Rachel Rhys – Rachel Rhys has written a  wonderful novel set on the island of Cuba. There's something very interesting about Cuba isn't there? It's as if it's trapped in another place and time. Tradition and culture still rule this island and outside influences are few and far between. Of course, this novel takes us back to the 1950s where life was very different again. How did the author create Cuba on the page? Rachel tells us more….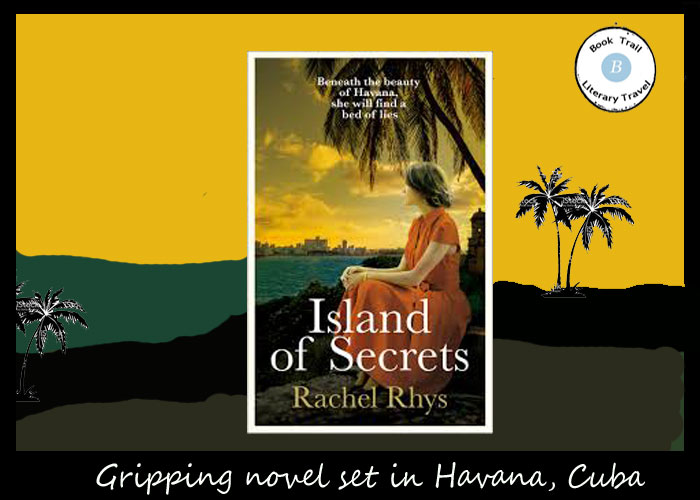 Sitting in my little study in lockdown London, going through my photographs of Cuba taken just over a year ago, it feels a different lifetime. The vividness of the colours – cobalt skies, lush green vegetation tumbling over plunging hillsides, sunsets that streak the sky pink and orange and turn the sea molten gold. The decaying grandeur of the buildings, all peeling paint in shades of faded rose and lemon and pastel blue, and soaring ceilings leading out onto intricate wrought iron balconies that crumble onto the pot-holed roads underneath.
The cars – Chevrolets, Buicks, in jewel colours with rounded bonnets and chrome bumpers that glint white hot in the relentless Caribbean sun.  A lone trumpeter in a white suit leans against a steel wall, an old woman in a floral hat, smoking a cigar as wide as her arm, poses for money with a cat wearing a white frilly dress. Carts are heaped with tropical fruits – mangoes, papayas, guavas, pineapples. Crystal clear turquoise water laps at deserted beaches where tangled green plants grow directly out of the white sand beaches.
After these last two months hardly venturing from my little terraced house, anywhere is going to look exotic. However, the truth is that Cuba has always appeared other-worldly, frozen at a particular point in time while the rest of the world kept on turning. It's rather like a combination of internal economics and external embargos keeping investment in infrastructure to a minimum and foreign imports negligible.
For the long-suffering Cuban people it can be deeply frustrating. Cars with holes in the rusty bodywork through which you can see the asphalt blurring underneath and engines held together by elastic bands and prayers. Power that comes on and off seemingly at whim, food shops lined with empty shelves. WiFi exists only in certain areas – posh hotels and public parks where suddenly you'll come across people sitting on every verge, every bench, every wall, heads bent as if in prayer. Education is second to none, but opportunity still lags a long way behind.
And yet… and yet… the music, the art, the dance, the energy that pulses in the streets…
When I was looking for a setting for my third Rachel Rhys novel, I knew I wanted somewhere glamorous but with a seedy underbelly. Somewhere  that would provide a fitting backdrop to a dark mystery centred around a dysfunctional American family (is there any other kind?)
The Hardmans are a mixed bunch. Patriarch Hugh is a Hollywood director, marrying for the third time to a much younger woman. The wedding is being held at a stunning mansion belonging to Hugh's friend Bruce Bonini. Witnessing the whole thing, much to her considerable surprise, is English ingenue, Iris Bailey. She is a talented artist who has been hired to sketch portraits at the wedding which will then be  given to the guests. However,  everything is not what it seems. The host turns out to have sinister motives behind his act of seeming generosity. There is something very unsettling about the relationship between the bride and groom. On top of that, there's the mystery of what really happened to Hugh's second wife, film star Jean Summers, who drowned off the couple's yacht in the Gulf of Mexico five years before.
As soon as I had the bones of the story in my head I knew I wanted to set it in late 1950s Havana. I'd always dreamed of going to Cuba. What better backdrop could there be to a story about a golden family hiding a rotten core, than Havana during that era! On the one hand this was the most glamorous party destination in the world, beloved by celebrities and artists and writers.  On the other, it was overrun by American mafia growing rich on the proceeds of prostitution and gambling while the corrupt Cuban government turned a blind eye.
It was a pattern repeated throughout the country where International corporations owned the lucrative sugar and tobacco plantations. At the same time, ordinary Cubans laboured long hours for little reward, their children uneducated and often starving. No wonder this was a country teetering on the brink of change. The result was a groundswell of support building for Fidel Castro and Che Guevara. Their band of revolutionaries biding their time in the Sierra Maestra mountains.
The results of that tumultuous period are visible everywhere as you travel around Cuba. Everywhere from the posters of Fidel and Che on every street corner to the smell of diesel in the air from the old cars that cannot be replaced. It is still an island of contrasts – a landscape of breath-taking natural beauty filled with decaying buildings, a highly educated population living on state rations. Poetry and poverty, abundance and restriction, wide open skies and narrowed horizons.
Havana is steeped in history and culture, its narrow alleys and picturesque cobbled squares lined with buildings that reflect all the contradictions in this crazy island. There's the colourful crumbling colonial mansions, now occupied by multiple families, with their wrought iron balconies and peeling facades. Then you have the modernist 1950s hotels with their rooftop pools. Don't forget the grand municipal buildings with their magisterial flights of stone steps. Noise is everywhere – car engines backfiring, neighbours shouting to each other from their windows. Music pumping into the air from the bars and restaurants, their doors thrown open to the streets.
The Malecon is the 8km long stone sea wall that runs the length of the city. People call it the longest sofa in the world because so many come here every evening to share a bottle of rum and watch the sun set. From one end you can look across the water towards La Cabaña. This was once the forbidding fortress where once political prisoners were detained and executed. As the heat of the day ebbs, you can sit and watch the sinking sun burnish the sky rose-gold. Just ninety miles ahead of you lies America with all its brash excess, while behind you the city of Havana throbs and pulses and prepares itself for another endless night.
Wow, what a wonderful account of your journey and research. Thank you so much Rachel!
Twitter:  @MsTamarCohen       Web: tammycohen.co.uk/