Julie Stagg: Fogas novels set in France
Well what a lovely surprise, sitting here with a lovely cake ready to eat and a whole bunch of questions that our friend Julia has so kindly offered to answer. I put so much effort into making the cake yesterday, but well, things happen and I had, well a few problems with the cooking equipment. A bit of a disaster in the kitchen you might say. But let's gloss over that shall we because Mr Sainsbury came to the rescue in the form of this little beauty –
So, with the books and the booktrail owl all set, come on in Julia and have a seat. Your cuppa and your cake await….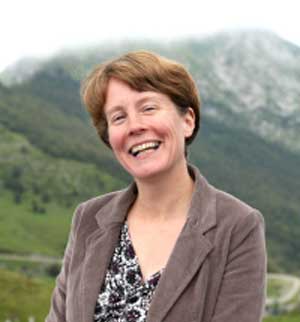 Here, I've got the posh napkins out all ready – it's just like being in a real French cafe, isn't it? (Booktrail towers is now decorated with bunting and French flags all ready for Julia's arrival  – we don't mess around here you know)
Although Fogas is the fictional setting – can you tell us more about what places inspired it?
Fogas is set in the very real Ariège department in the French Pyrenees, down on the border with Spain and Andorra. This part of the Ariège is a land of soaring mountains and deep valleys and is very much a character in my books. Fogas itself is a commune of three separate villages, divided by geology, united (usually!) by politics and a desire to be autonomous. It is populated by fictional characters but based on so many of the political districts in that area.
How much of the Fogas trilogy is based on your own experience? You capture life in a French village very well – I mean I used to live in Cher region and a lot of what you write rings true. What do you find most endearing and most annoying about living in France?
I think most authors draw on their own experiences, even in the slightest of ways. So no doubt my time spent running an auberge in the 'Fogas' region has yielded lots of material – but perhaps not in the way you would expect. I'm an expert on the frustrating red-tape of French bureaucracy which features in my books and know a thing or two about hotel inspections (see L'Auberge!). But when it comes to the events in my books, they are mostly fiction. As for endearing and annoying aspects of French life? For me, the culture of lunchtime closing ticks both boxes. When you run a business and are 16km of winding mountain roads away from the nearest town, it can be a real bind. On the other hand, I love the fact that commerce doesn't rule the roost and that lull in the day becomes quite a habit. I've been converted into a fan of the long lunch hour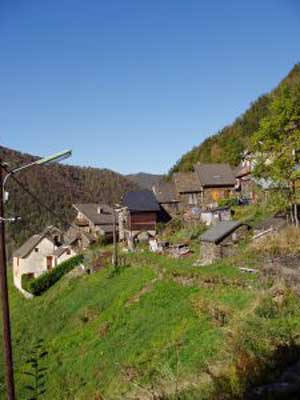 Which parts of France should a reader visit in order for them to experience your books in full?
Obviously, the Ariège. And more specifically, the Couserans section of that department which is in the south-west. I guess a trip to Brittany wouldn't hurt either as Stephanie Morvan, one of my central characters, hails from Finistère. And Paris, perhaps? To get a taste of the life Fabian Servat leaves behind in The Parisian's Return. Other than that, any rural town or village where there is a gathering of people at the bar, in the épicerie, playing pétanque… Listen to the passionate debate that will doubtless be taking place and you're halfway to Fogas.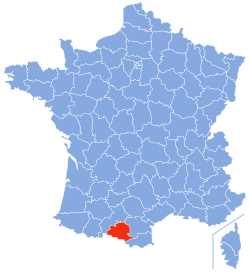 Can you recommend a French dish that they should eat when reading your books? A good wine?
Ha ha! Anyone who has read my books knows what's coming next…Cassoulet! It features in nearly every book. Wine? Well, despite not being renowned for its vineyards, the Ariège is making great strides in producing wine and I can recommend anything from the Domaine du Sabarthès, especially Les Vignals rouge. We sold a lot of that in the restaurant at the auberge.
And can you tell us three French people and three British people (living or dead) you would invite to an Entente Cordiale themed dinner?
This is so tough. In the end I decided to go for a robust political debate because that's what so much of the Fogas Chronicles is about. To further that end, I'm inviting a real-life friend, Monsieur Christian Guibert, retired shipworker from Saint-Nazaire and regular guest at our auberge. He's a staunch communist, a natural raconteur, and if I say the donkeys in his region have no back legs, you can get a sense of his ability to talk! To provide balance, and simply because he has a namesake in all my books, I have to invite Sarko – the former president Nicolas Sarkozy, not the Fogas bull! To add to the spice, Queen Elizabeth I, whose relationship with France was rather stormy. And Madame de Pompadour, who could provide an insight into a woman wielding power in non-legitimate ways. Finally, two chefs who inspired me when I ran the auberge and who can provide fantastic food to distract from any tension; Rick Stein and Raymond Blanc. (Yes, the sharp-eyed amongst you have noted the imbalance of nationalities but I'm claiming the lovely Monsieur Blanc as a pseudo-Brit!)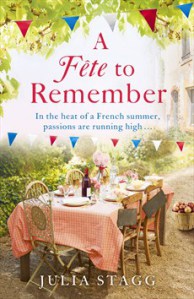 Booktrail: Haha Donkeys with no back legs!? Perish the thought….
Favourite French language author?
Aghhh – again, so difficult to choose. Irène Némirovsky has to rate highly. Émile Zola, bien sûr. And the lesser known Georges-Patrick Gleize who writes about the Ariège as passionately as I do. But also a recently discovered contemporary classic, Michel Déon, whose The Foundling Boy is simply a joy. Oh, and Marc Levy of course…like I said. It's difficult.
In your new book A Fête to Remember – It's summertime and holiday season in the mountain commune of Fogas and deputy major Christian Dupuy is in love! What does this mean for Fogas?
Trouble! Because behind the blue skies and the peaceful sound of cicadas, a storm is brewing… But then everyone who is au fait with the earlier books in the series will know that Fogas always attracts trouble. Even when love is in the air!
The Fogas Chronicles so far have introduced us to a range of characters. Which ones feature in your new book? And do you have a favourite?
The stage is always crowded in the Fogas Chronicles and A Fête to Remember is no exception. It features all the usual suspects, including gruff Annie Estaque and soft-hearted Christian Dupuy. But we also get to know a few new characters. Perhaps foremost of those is Jérôme Ulrich, Préfet of Ariège and a very important figure in this book. As for a favourite, how can you even ask?! It's an impossible question. Although, Tomate the cat, as the only real character, would have a large vote…especially as she is sitting next to me right now and monitoring every word!
Aaah you can't help to immediately jump on a plane and go to find Fogas and all its characters. April 10th seems so far away! Until then I'm going to dip in and out of the first three to have a flyby visit to Fogas before the next longer stay. Thank you so much for coming over, and for the basket of cassoulet and wine! Aah you shouldn't have. Well we will all tuck into this at Booktrail towers so would you like to take the rest of this cake with you? Go on, and take some British tea bags with you – well you know.