Daughter of the Yorkshire Dales – Diane Allen
Diane Allen is the author of many books set in Yorkshire and when you realise her background, it's a nice homage to where she feels most at home. The Bronte sisters are her all time favourite authors. How could any one not fall in love with dark brooding Heathcliffe? she says. The setting on the wild swept moor lands above Haworth? Today Diane takes us to HER Yorkshire…
Author review on a Postcard: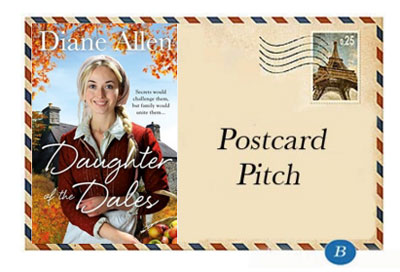 It's chaos at Windfell. Isabelle's husband's been unfaithful and Jane, she's a suffragette! As for Danny's family, Rosie is far too headstrong. Troubled times!
So Diane! Hello and welcome to TheBookTrail….
The Book:
The book is the third in the Windfell trilogy and follows the lives of the Atkinson family, through ups and downs. The family is divided in two, with Isabelle and her husband and children, inheriting Windfell after her mother's death. While Archie, his son and his family live at Crummock Farm. Both have family scandals, Isabelle's husband has a sordid affair ending in tragedy, while Danny's earlier indiscretions in his life come back and haunt him. Meanwhile, the children of both families are headstrong and are determined to have their own way!
What is special about the locations you feature in your books?
The locations are just a few miles from where I live. They are at the center of the Yorkshire Dales and the scenery around that area is very spectacular. Main features at the three peaks, Whernside, Pen-y-Ghent, and Ingleborough along with the spectacular Ribble Head viaduct.
How did you research the setting?
Part of the setting came about by accident when I went a walk around the partly derelict Christie's cotton mill at Langcliffe. It is such a wonderful mill and has had such an impact on the local area, I did a lot of research, talking to local people and using my local library. Crummock Farm is where I lived when young, I grew up with its history and know every inch of the surrounding countryside where I used to wander.
Cotton Mills…
It was amazing delving into the history of the Cotton Mills in the area. I had no idea that there were so many mills in Craven. You don't automatically think of cotton in this area. The fells are grazed by sheep so we are known for our wool industry but that was mainly taken into Bradford's spinning mills. So I was surprised to find cotton mills in quite a few local villages.
Crummock Farm…
I was lucky enough to live my life at Crummock Farm until I was ten years old and then return to the Craven area when I got married over forty years ago. I've always lived within a thirty-mile radius of all my books settings and my families roots to the area go back over five hundred years.
Any stories you can tell us about the writing of this book?
Just that it started on my walk one frosty morning as I stood upon a really slippery piece of slate that was on the walkway to the Christie Mill cottages from the Cotton Mill. I felt a strange feeling, remembering all the times the workers made the same walk, past the mill pond, some dragging their feet and other's nattering to one another and I thought this is an ideal setting, I've got to go home and write!
Travel tips for visiting the setting in your work?
I'd recommend that anybody visiting my part of the world stops in Settle. It's a small market town central to the Dales, having beautiful scenery all around it. There are lots of welcoming pubs and restaurants in the town and plenty to see and do. Not to mention a trip on to be taken on the spectacular Settle to Carlisle railway line which goes through some of the North's most beautiful Dales.
Thank you Diane. A wonderful visit to the Yorkshire Dales!