Travel to Isle of Rum with no Sleep with CL Taylor
Travel with Cally Taylor to the Island of Rum
You won't sleep with this novel adventure. Heading up to the isle of Rum might sound like a nice relaxing time away, but when Cally Taylor is your guide, you just know that this quiet island hideaway is going to be claustrophobic, scary and downright chilling…. Travel to Isle of Rum with no Sleep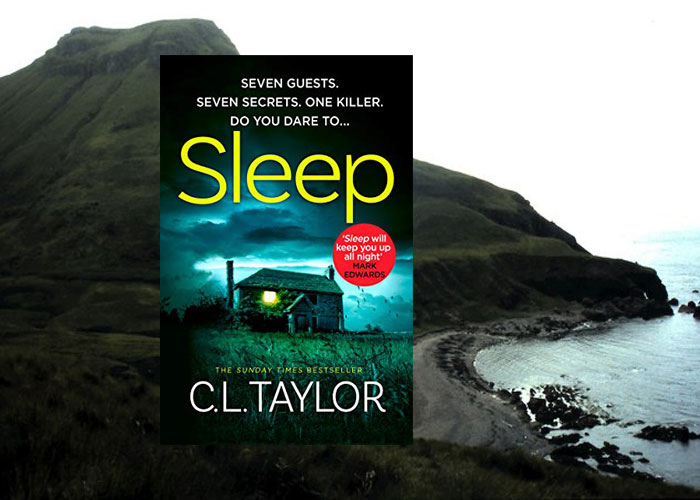 So, Sleep – can you tell us a bit about location and setting?
The bulk of the novel is set on the Isle of Rum, off the coast of Scotland, but the first chapter of Sleep takes place in a hotel in the Brecon Beacons where Anna and her team are on a team-building retreat. Afterwards Anna drives everyone back to London but they never make it. Their car is hit by a lorry and two of the team die and one is paralysed. Anna is the only one who literally walks away but she's plagued by guilt and develops insomnia. She struggles to return to her life back in London and when her relationship ends she decides to make a new start somewhere new.
After seeing a documentary about the Scottish Isles on TV she searches the Internet for jobs and finds an advert for a receptionist at a hotel on the Isle of Rum. She's drawn to how remote the island is and how few people live there and instantly falls in love with it on the ferry from Mallaig. But what she doesn't know when she starts work and seven strangers turn up for a walking tour, is that the person who was sending her the 'sleep' messages back in London has followed her to Rum. And they're not going to leave until she's dead.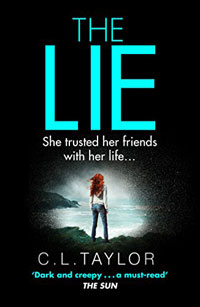 How you do evoke setting in your work and why is location important to your stories?
When I come up with an idea I normally start off with a 'what if?' question so for Sleep it was 'What if a group of people who can't sleep because of the guilt they feel all end up in the same hotel?' I'll then think about my main character and what it is she wants – the goal she'll be pursuing over the course of the novel. I'll then think about where the novel is set. The location is important to every book and the setting I choose depends on the type of story I'm writing, the atmosphere I want to create and the plot it needs to serve.
For some books like Sleep (set on the Isle of Rum and cut off from the mainland by a storm) and The Lie (set in a retreat in the Anna Purna mountain range of Nepal) the location serves as a crucible, trapping the characters and preventing their escape.
I'm not a hugely descriptive writer, partly because I don't enjoy it and partly because I don't want to bore the reader, so I'm very selective when it comes to the details I include and the things I leave out.
I give the reader enough information so they can picture the setting but, more than that, imagine they're there too. It's important to use all your senses when describing a location – what can you feel, hear and smell as well as what you can see.
How did you research Sleep?
This is where I admit that I didn't visit the Isle of Rum. For previous books I have visited the locations that feature – either in the past and drew on my memories (the Anna Purna range in The Lie), or I travelled somewhere specifically to include it in a book (Clogherhead in Ireland for The Escape).
I did look into visiting the Isle of Rum but, from Bristol, it would have taken me four days of travel to spend one day on Rum and I just couldn't fit it in with the childcare of my seven year old son. As a result I spent a lot of time on YouTube watching people's clips of Rum. I also bought a DVD of a BBC documentary about the Scottish Isles and watched that.  I also spent a lot of time talking to Trudi Clarke, who is the ranger on Rum.
Where do you live and how does that affect how you write?
I live in Bristol with my partner, our seven year old son and a three year old Cockerpoo called Lily. I've featured Bristol in several of my books – The Missing, The Escape and the one I'm writing now – but I could live in any location and write. I did have to live in Bristol for several years before I could write about it though as I didn't want to see it through a stranger's eyes. It needed to feel like home.
How else do you get the sense of a place in your work? (the culture, language, habits etc)
Despite being set on Rum only one of the characters in Sleep has a strong Scottish accent and I ran that dialogue by SJI Holliday, a fellow author who's a Scot herself. Because most of the action takes place in an invented hotel I didn't really need to include much of the culture of Rum in the book although I did research the history of the island. I do mention Kulloch castle and the Bullough Mausoleum which are both big tourist pulls
Have you ever travelled somewhere to see a literary setting of some kind ?
A few years ago we went on holiday to Dartmouth. I dragged my family onto a ferry, then a train so we could visit Greenway, Agatha Christie's holiday home. Seeing her infamous fur coat collection was quite something.
How do readers sleep after reading this novel?
Hopefully they won't. 😉
And witht that…..I leave Rum, Cally Taylor and realise that the only sleep I will get from now on is this book 😉
BookTrail Boarding Pass: Sleep
Twitter: @callytaylor  Web: //cltaylorauthor.com