Literary Locations of Cosy crime Queens
Literary Locations of Cosy crime Queens
When you want to read crime fiction but want to explore the less hard-core crime novels, the so-called cosy crime stories, then there are a selection of authors you really need on your reading list. Some take you to times gone by and to the golden age of crime fiction. Others are more modern day but depict life in a simpler way where crime stories are less police procedural led and are are more mysterious and Christie like.
Sets books largely in Yorkshire in the 1920s. Kate Shackleton is the Christie of her days. She is a character who investigates strange goings on and often manages to stumble across a crime or misdemeanour by mistake. Take the time she was in Harrogate for example and ended up investigating a murder when she finds a body in a theatre. If you thought a visit to Leeds library would be safer, well then  Death of an Avid Reader will make you think again. A short break to Whitby and a Dracula themed visit has Kate investigating something where the vampire Dracula once roamed….
You have to admire the Queen of all Queens of crime fiction. The crimes in her novels are often called cosy crimes, but let's face it , what's cosy about poison, murder and kidnap? Nothing of course, it's just that the settings are classic ones in a simpler time when now, looking back with rose coloured glasses, we look and wish we rode in classic cars and dressed for dinner. Travelling by steam trains for example sounds wonderful but then the ABC murders might make you think differently. Even if you upgrade to the Orient Express, you can't guarantee there's not going to be a murder….
Get yourself off to  a desert island….oh but on the other hand…..
When you think of the glorious English countryside, many people head to the Cotswolds. Well, take a moment to think of Agatha Raisin. She moved there and expected bake sales, country walks and a simpler life, but what she did was set up her own detective agency after  a series of incidents. You would think nothing really happens in the countryside but even country fairs aren't safe in these books! A walk across the moorland provides more deadly drama.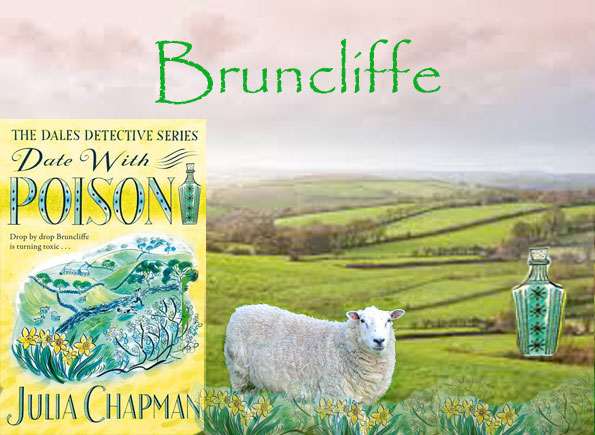 Yorkshire does provide some of the best settings for this kind of fiction. As well as Frances Brody, there's the lovely Julia Stagg who sets her novels in the Yorkshire Dales. There's mentions of the famous tea and fat rascals, Betty's tea rooms and more, but it's the wonderful evocative settings of the moors, the flowers, the rural roads and the characters that populate this part of the world that really makes these novels sing. Wait unilt you meet Samson and Delilah and pop into the Dales Dating Agency. The Dales Detective Agency on the other hand has dates of a whole other nature – with death….
Cosy crime Queens show that cosy is actually anything but!