The ABC Murders (Poirot)
Why a Booktrail?
1953: Can Poirot find a murderer with the help of a train timetable?
What you need to know before your trail
There's a serial killer on the loose, bent on working his way through the alphabet. And as a macabre calling card he leaves beside each victim's corpe the ABC Railway Guide open at the name of the town where the murder has taken place.
Having begun with Andover, Bexhill and then Churston, there seems little chance of the murderer being caught – until he makes the crucial and vain mistake of challenging Hercule Poirot to frustrate his plans…
Travel Guide
BookTrail Travel on the train to Agatha Christie Country
This novel takes up around the counties of Hampshire, Sussex and Devon on the search for a killer who is using the train timetables to kill…but is that the full story?
The stations and towns are chosen, seemingly, very carefully. The victims names also follow the alphabet ABC….The first is a lady in Andover
the second in Bexhill, the third, a man in Churston… Andover is where they travel to and go to a shop in the main street. A crime scene of the strangest kind..
Bexhill   and   Churston
Bexhill in Sussex and then off to Churston in Devon for the next two scenes. Bexhill is home to a number of interesting places that are very  Poirot like: a Manor House in the Old Town and an abundance of Edwardian and Victorian architecture.
Churston railway station is on the Dartmouth Steam Railway, a heritage railway in Torbay. This is of particular interest for Christie fans as the great lady herself lived nearby and so was keen to use this station and area in a story. She lived at Greenway which is now a National Trust property
All very nice English villages with small train stations. Poirot follow the trail of the killer and hopes to find a weak point in the clever letters he is sent, and in the pages of the Train timetables..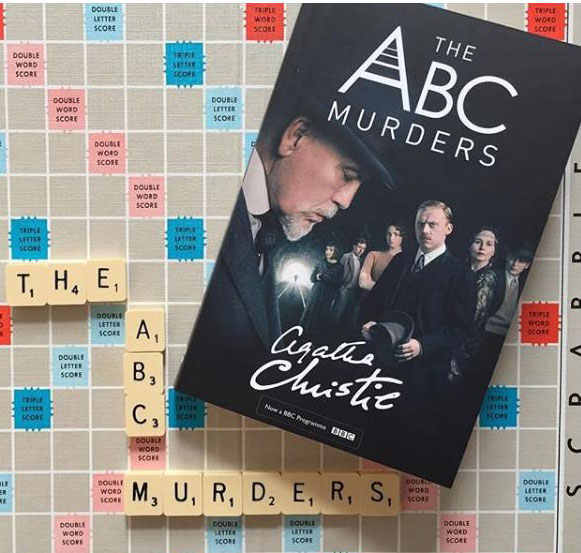 Booktrailer Review
Susan @thebooktrailer

Another great novel from the pen of Agatha Christie. How clever this one was. Someone is using the train timetables to pick stations beginning with A, B, C… and victims with surnames of those letters to.

The joy with this was the travelling around following the clues from one station and village to another. There's red herrings and twists and delight when Poirot starts to unravel it all.

There's not a lot more I can say about this novel as it would all give the game away!All the best bits, all the moments I want to share… I can't!  This is going to be on the BBC this Christmas…..with John Malkovich..and I can't wait.
BookTrail Boarding Pass: The ABC Murders
Destination: Andover, Bexhill, Churston, Devon  Author/Guide: Agatha Christie Departure Time: 1953
Back to Results