Travel to The Miniaturist with Jessie Burton
This Christmas sees the adaptation of Jessie Burton's novel The Miniaturist on BBC. Starts on Boxing Day and concludes the next day. How exicting is this going to be! A favourite novel on the BookTrail so we can't wait to see Nella and Peebo!
This week Heat Magazine did  a lovely Mini Guide to the Miniaturist (see what they did there), so we thought it was time to revisit Amsterdam and add a little bit of magic to the book's debut on TV.
1686 –  eighteen-year-old Nella Oortman arrives in Amsterdam to begin a new life as the wife of illustrious merchant trader Johannes Brandt.
However her new home is cold and unwelcoming – Johannes is not even at home at first and his sister Marin seems to take an instant dislike to her. When Johannes does appear, he presents her with a unusual wedding gift: a cabinet-sized replica of their home.  To furnish her gift, Nella engages the services of a miniaturist-but when she gets items that she didn't ask for and which seem to be telling her something, she asks for the miniaturist to stop.
So where should you go to see the Amsterdam of The Miniaturist?
Essential to visit as the very dolls house ( Petronella Ortman's) which inspired the novel is here. This is the place where the idea of the story came to Jessie and so who know what will inspire you if you go there. The items in the dolls house are those that women did used to collect to furnish their miniature homes. This was  a status symbol at the time and many rich homes would furnish a house even more opulently as their real homes
Jessie Burton says
"It inspired me for several reasons. Firstly, it's a very beautiful decorative object, that has to be seen to be believed. Secondly, the fact it was an exact replica of a real house filled with pieces from around the world, was so fascinating. To me it was a reflection of the society its owner lived in, and posed interesting questions about her motive behind commissioning it in the first place. The miniatures inside it are works of art!"
The Canals
The main setting for the novel. Nella walks the streets as she goes about her daily life. She notices the noises, the stench, the animals and the chaos of the ships arriving in port with their wares from all over the world. Trade in sugar loaves is of course central to the story. There are apparently 165 waterways in Amsterdam but the main one in the book is the Herengeracht where Nella goes to live with her new husband.
Kalverstraat
Where the mysterious miniaturist lives…..if you can find her that is.
Jessie:
I had no connections before I went on holiday there in 2009. I read social history and recipe books. I studied maps and paintings, and I traced the physical city with my footsteps to get a sense of it. I'd like a miniature of my cat because then at least I'd be able to control her and know where she actually is half the time…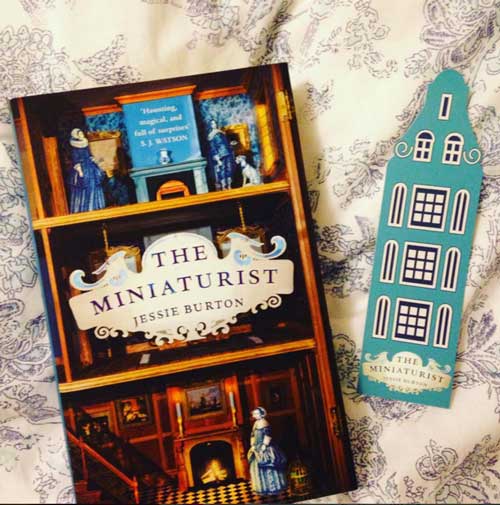 Where to stay
 Hotel Vondel – Jessie stayed here during her research
Where to eat
Albert Cupymarket for the Pefferts or Poffertjes which you can find in the book as Cornelia makes them for Nella
Don't forget – BBC – Boxing Day at 9pm