One Thousand Stars and You – Sri Lanka – Isabelle Broom
One Thousand Stars and You
If you want books with wonderfully evocative worlds to explore, then look no further than Isabelle Broom. Her latest book, One Thousand Stars and You is set in Sri Lanka and it's her best yet.
She's here to take us on TheBookTrail….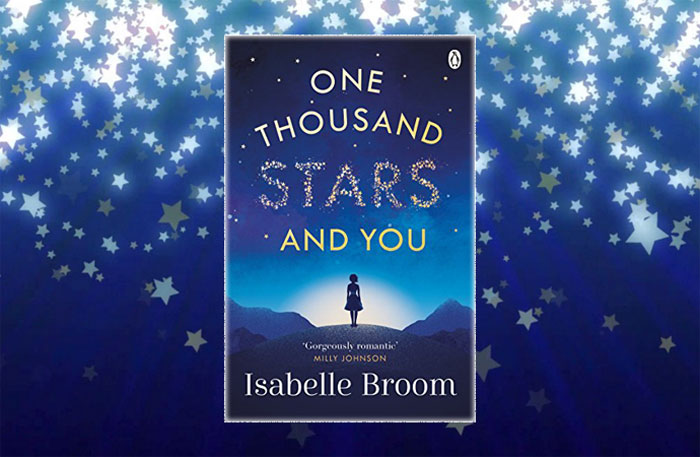 The very first time I went to Sri Lanka, I booked the trip last-minute and foolishly didn't give myself enough time to research. I thought it would be fine to base myself in just one location for the whole ten days, but oh dear – I could not have been more wrong. Sri Lanka is a vast country full of diverse beauty, hidden treasures and glorious beaches. There is history, culture, beauty and adventure at every turn, not to mention monkeys (you should always mention the monkeys), so it's imperative that you move around as much as possible while you're there. On the few days that I did venture out from my beachside hotel down in Kalutara to explore, I saw and experienced so much that I knew I simply had to return – and that next time I would see this incredible island the right way.
There is a magic to Sri Lanka that takes you out of yourself. The colours sing, the heat vibrates, and every tree you pass crackles merrily with life. It's impossible not to feel enthralled, inspired and moved – which is why it lends itself so perfectly to Alice and Max's story in One Thousand Stars and You. They both needed to visit a place where they could step away from their internal struggle and look back at themselves with a greater clarity, and that is exactly how I felt while I was exploring Sri Lanka. It's spiritual, magical and just SO beautiful, and even after two trips I feel like I have barely scratched the surface. I do, however, have a few highlights…
My Sri Lankan journey started in the same place as both Alice and Max's does in the novel: Habarana. This central province is located not far from the splendid Sigiriya Rock (often referred to as the 8th wonder of the world for good reason), the mystical Cave Temples at Dambulla and Kaudulla National Park, where you are 99.9% likely to see elephants. It was while scaling Sigiriya that I encountered the first of many monkeys – and I was so enchanted by it that I gave the little tyke a cameo in the book.
After exhausting the Cultural Triangle, I spent an overcrowded but exhilarating three hours on a local bus and arrived in the joyously chaotic city of Kandy, where I checked into a homestay up in the hills and was taken under the wing of a charming Sri Lankan couple. It was here that I sampled homemade apple jam, sweet black tea and homemade coconut rotis, where I bought a pink sapphire, spotted lizards the size of deckchairs on the shores of the lake and watched the setting sun tinge the sky. The heat felt wet and heavy, while the air was fragrant and sweet, and I felt myself absorbing it all hungrily. Every few minutes, I would see something else that sparked my imagination, another morsel of delight, and chunks of the novel began to write itself as I strolled around, camera and notebook in hand.
The highlight of the trip, however, was to come a few days later, when I hopped on a train (a must-do for anyone wanting an authentic Sri Lankan experience) to reach the oddly dream-like Dalhousie and prepared to climb Adam's Peak. Also known as Sri Pada, this 7,359ft mountain looms majestically over the surrounding landscape, its tip shrouded sporadically by cloud, both mesmerising and daunting those who gaze up at it from below. There were 5,500 steps between myself and the summit, and it was a tough climb – very tough – but every ounce of pain I went through was worth it. I had read that the best way to climb Adam's Peak was through the night, timing it so you reach the top in good time to watch the sunrise. When I stood on those final few steps, hearing the bells ring in the temple and the muffled gasps of awe from all the people around me, I suddenly knew exactly how I wanted my novel to feel to readers. I had my pivotal scene, my symbolic moment – now all I needed was to unravel the rest.
The only sensible way to get from Adam's Peak to Ella is by train, and this time I managed to get a seat in one of the open doorways. There I sat, bare legs dangling free, waving to local children who had climbed up on walls and fences specially, breathing in the smoky, damp scent of the forests and listening to the clatter and clank of the old steam engine as it dragged us through rich emerald tea plantations and past glittering blue lakes. The sleepy town of Ella is known as much for its yoga retreats as it is for its tea, waterfalls and abundant treks, and my sweet local host made sure I was well fed after my long journey by serving up a banquet of the most delicious, fresh and tasty traditional food I have, to this day, ever experienced. There were more monkeys to spot in Ella, as well as old train tracks to follow on foot, tuk tuks to drive (I was terrible at it!) and views to marvel at.
I almost didn't want to leave Ella, but the lure of the beaches was strong, and Sri Lanka certainly knows its stuff when it comes to tropical paradises. Tangalle was the first stop on the south coast – a place where the pace slows to a luxurious crawl and the only sound comes from the crashing of the waves against the shore. I slept in a treehouse set right on the beach and counted stars instead of sheep to sleep. Incense burned, lizards lounged, and whoever took my washing in decided to lay it all out on a low roof to dry – undies and all! I shouldered my backpack and headed east, passing through Mirissa, Unawatuna and Dalawella, before ending my adventure in the port city of Galle. With its colonial architecture, classic cars, strutting peacocks and iconic lighthouse, Galle felt like a different world to the astonishing one I had just experienced – but not in a bad way. All I could feel, as I stood up on those city walls and gazed out across the Indian Ocean, at the fiery red penny of the sun slipping down behind the water and the locals paddling in the shallows, was wonderment.
Twitter:   @Isabelle_Broom