Travel to New Dreams at Polkerran Point – with Cass Grafton
New Dreams at Polkerran Point
We're off to sunny Cornwall today to Polkerran. Ever heard of it? You soon will! Here is author Cass Grafton to take you around….
Cornwall
I grew up in Shropshire, a place bounded by land on all sides as it nestles in the embrace of four English and two Welsh counties.
It's perhaps no surprise, then, that I was swept away by the dramatic beauty and mystical heritage of Cornwall, surrounded as it is on three sides by the sea. Almost another country—as I'm sure the locals would attest—it has strong Celtic associations and a language all its own.
Polkerran Point/Polruan
The location for my Cornish romance series is inspired by two waterside settlements: the town of Fowey and the village of Polruan, facing each other across the wide waters of the River Fowey in south-east Cornwall. A passenger ferry runs between the quays on both sides, and further up the river, a small car ferry links road traffic from Fowey with the hamlet of Bodinnick (once the home of Daphne du Maurier).
After many fabulous stays in Fowey, I re-imagined the beautiful setting into a sheltered bay with a small harbour and an old stone bridge over the much smaller River Polwey—this is the fictitious village of Polkerran Point.
Fowey:
From Chapter Three:
"A settlement since the Middle Ages, the coastal village had formed within two arms of land embracing it from the east and west, forming a natural harbour. The run of cliffs extending from the main side of the bay extended further out to sea, topped by a small lighthouse, giving the village its name of Polkerran Point. However, due to the protected bay's crescent shape, the locals insisted on calling it 'the cove'.
Westerleigh Cottage & Harbourwatch
There are two key residences in Polkerran, facing each other across the water. Westerleigh Cottage is perched on a low cliff on the quieter side of the village (based on Polruan), with views out to sea, and Harbourwatch, an austere property that seems to emerge from the very rocks beneath it, rests on the opposite side of the bay in the 'Fowey' part.
Westerleigh is the property that draws Anna Redding back to Polkerran Point—somewhere she loved to visit as a child., and Harbourwatch is now home to a reclusive historian and writer, Oliver Seymour. It also becomes Anna's place of work.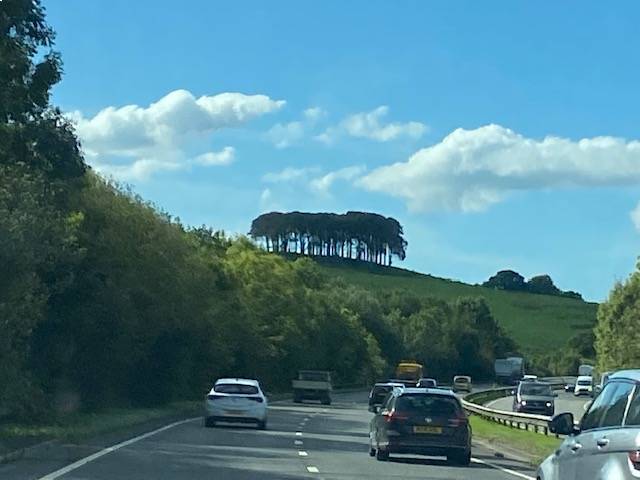 Fowey
I can't begin to express how full my heart is when I'm nearing Fowey. The first thrill of anticipation comes with driving past the 'nearly there trees' on the A30 (or 'nearly home', if you're lucky enough to live in Cornwall).
The drive down past Lanhydrock is even more delightful, through winding roads lined with tall trees and then smaller lanes, bounded on both sides by thick hedgerows, emerging suddenly into open views, a patchwork of fields and there, glittering in the distance, the waters of St Austell bay.
There's so much to see and do in this gorgeous place, without going further afield. The South West Coast Path feeds in and out of Fowey, stretching west past the day mark at Gribbin Head, to Polkerris (great lunch spot at either the Rashleigh Arms or Sam's on the Beach) and beyond. A short ride on the passenger ferry takes you over to Polruan, where the path flows eastwards on a challenging stretch, past Lantic Bay and onwards to the quaint fishing village of Polperro.
Other walks include the popular Hall Walk, running between Polruan and Bodinnick, up around Pont Pill and back and the shorter walk to the riverside village of Golant, but if you prefer more leisurely pursuits, there's a delightful tidal beach at Readymoney Cove (with its own cute shop offering great takeaway fare), and Fowey itself has plenty to amuse, with water pursuits, stylish shops, traditional pubs and excellent restaurants.
Don't just take my word for it. Go and see for yourself, and you may encounter some of Polkerran's quirky locals in the process.
Thank you so much Cass!
BookTrail Boarding Pass:  New Dreams at Polkerran Point
Twitter: @CassGrafton