Cold Desert Sky
Why a Booktrail?
1946: How hard can it be trying to run from the devil in the city of angels?
What you need to know before your trail
Late 1946 and Charlie Yates and his wife Lizzie have returned to Los Angeles, trying to stay anonymous in the city of angels.
But when Yates, back in his old job at the Pacific Journal, becomes obsessed by the disappearance of two aspiring Hollywood starlets, Nancy Hill and Julie Desjardins, he finds it leads him right back to his worst fear: legendary Mob boss Benjamin 'Bugsy' Siegel, a man he once crossed, and whose shadow he can't shake.
As events move from LA to the burgeoning Palace of Sin in the desert, Las Vegas – where Siegel is preparing to open his new Hotel Casino, The Flamingo – Rod Reynolds once again shows his skill at evoking time and place. With Charlie caught between the FBI and the mob, can he possibly see who is playing who, and find out what really happened to the two girls?
Locations
Reset
America/ USA - NV - Las Vegas
Travel Guide
The Los Angeles of Rod Reynolds is hot and dirty, with dodgy bars and hidden alleyways all across town. This is the city of where dreams are made, where actors and actresses dying to be in the next hit movie come from all around to see their fortune. The streets are not paved with gold however for in amongst them are the dodgy bars where the characters of Reynold's live, hang out and rule their patch. Where Charlie Yates spends time moving from one hotel to another.
But this Los Angeles has been recreated with the sights, sounds, flickering lights and smoky bars, colloquial language of the time making it a feast for the senses.
The character Benjamin Bugsy Siegel at the heart of the gangster/casino/hitman style thriller is interestingly a very real and infamous character. His story takes the reader from the big bustling cosmopolitan city of Los Angeles to the dry deserts of Nevada and the flashing lights of the city of sin…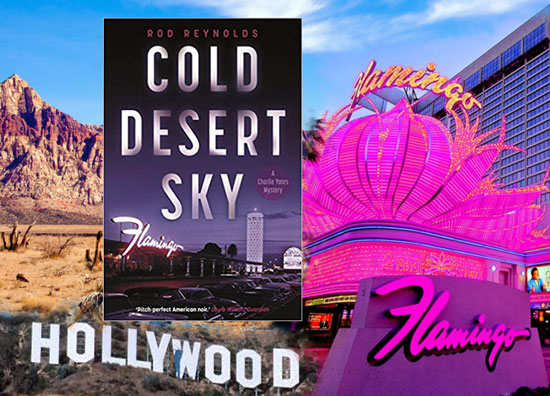 The real life Flamingo Hotel on the Las Vegas strip where a sign marks the spot…
"On this site, Benjamin Bugsy Siegel's original flamingo hotel stood from December 26 1946 – December 14, 1993
The hotel,which housed 77 rooms, including the notorious Mr Sigel's "Bugsy suite" or "presidential suite," as it was sometimes referred to, was unique in more ways than one. The windowpanes, for instance, were bullet proof, and, although there was only one entrance to the top-floor suite, there were five possible exits. This included a hidden ladder leading from the hallway closet to a basement tunnel, which led to an underground garage, where Bugsy allegedly had a chauffeured getaway car awaiting at al times.
But Mr Siegel's preoccupation with safety and escape routes proved to be geographically misplaced, on June 20, 1947, 300 miles from Las Vegas at the Beverley Hills Mansion of his girlfriend Virginia Hill. Bugsy was killed in a hail of Gunfire by unknown assailants."
Booktrailer Review
Susan: @thebooktrailer

Cold Desert Sky is one top class novel. It has everything you need from a gangster themed thriller but it's so much more than that. Inspired by the infamous mobster boss Bugsy Siegel, who you might have only heard of in legend, this is as close as you'll get to the action without jumping in a time travel machine with the risk of getting shot or worse.

It's gritty writing, kick ass dialogue and scene setting so authentic you can smell the cheap aftershave and the stench of the cigarettes as you move from one dodgy bar to the next. I've loved Charlie Yates from the first two books and I honestly say I think I love this one the best. It's fast from the word go and the pace never lets up. The characters come alive off the page, larger than life, each with a story to tell. I would say fleshed out but it feels wrong for a novel with mobsters and undesirables squatting on every page.

From the bright lights and a search for two missing girls to an investigation and trail which leads Charlie to the searing hot Nevada desert and the city of sin, this needs, no deserves to be a movie. It's cinematic in scope, gritty in dialogue and purely golden entertainment.

Nice to see that flickering lights of the Flamingo hotel the same as the title Cold Dessert Sky on the cover. This needs to play a starring role on your bookshelf.
Booktrail Boarding Pass: Cold Desert Sky (Charlie Yates 3)
Destination : Los Angeles, Las Vegas, Nevada  Author/Guide: Rod Reynolds  Departure Time: 1946
Back to Results