The Gifts of Ludlow by Liz Hyder
Literary settings of The Gifts by Liz Hyder
Twelve years ago, I upped sticks from London, where I was born, and moved to the small medieval market town of Ludlow in South Shropshire. Surrounded by hills and forests and lying in the borderland between England and Wales, it's a beautiful place to live and work and the surrounding area is steeped in history. There are Neolithic hill forts, medieval churches, and a landscape ravaged by mining and quarrying over thousands of years. There are stories wherever you look, if you listen hard enough!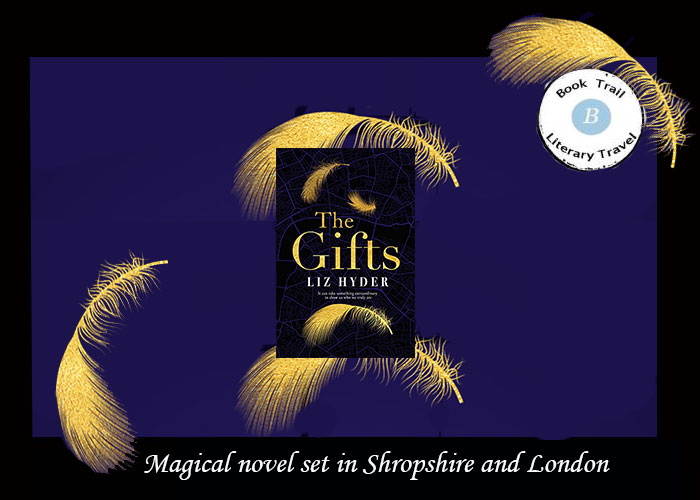 Ludlow itself is dotted with numerous blue plaques marking the lives of those who have lived here over the years. There's one outside the handsome Angel Inn right in the heart of town that mentions The Aurora, the coach that travelled between here and London. Whenever I walked past it, I imagined how it must have felt to arrive here for the first time, coming up through the old medieval gateway up Broad Street, flanked either side by the huge imposing houses of the affluent. I knew that Etta, my Shropshire botanist, wouldn't be in town as such as I wanted to keep her a step away from the hustle and bustle – I based her instead at Elton Hall, a few miles away. It's privately owned by there are footpaths that go right by it and it's a rather splendid building.
When I first came up with the idea for The Gifts, I knew early on I wanted to set it here, amongst the rolling hills of South Shropshire, but also in the dirty, grimy, glorious streets of London. There's something about the duality of city and town, urban and rural that really appealed to me, not because it reflects my own journey, but because the mid-nineteenth century, in which the book is set, was one in which change was very much on the horizon.
Having grown up in London and worked there for much of my life, I know some areas like the back of my hand. It was fascinating to go back and re-walk those streets, this time imagining myself back in Victorian times. Just by looking up and around, there's so much history. This is not just in the architecture that still survives but in the routes of the streets too, and the hidden rivers that flow underground. There had been a whole other London there the whole time, beneath the surface.
St Mary Axe is a short street now dominated by modern buildings but once home to Sir Henry Cline. Henry was a respected, pioneering surgeon who trained up Astley Cooper, one of the inspirations for both Edward and Samuel in the book. St George's Bloomsbury which also features in the book is one of the most extraordinary churches and well worth visiting. I used to go there to lunchtime lectures when I worked, briefly, at the British Library, and it lodged itself in my head as somewhere that absolutely belonged in a story – it even had unicorns on its tower!
One of the other key London locations in the book is Folgate Street in Spitalfields, the home of Mary Ward, one of my main characters and an aspiring young journalist. I've always liked wandering around that area and, even in my time in London, it changed a lot. It's worth visiting Dennis Severs's House on that same street. An American artist with a passion for the past, he restored an old house into an immersive art project that is like stepping into a still-life drama. It's an incredible experience and I may have stolen the top floor rooms for Mary's lodgings!
Finally, as one of my characters is a storyteller from Orkney, I can't not mention that stunning archipelago. Natalya is from Sanday, one of my favourite islands. It has beautiful beaches, phenomenal wildlife, and a fascinating history. It's truly a glorious place – as are all the islands – and I would go back there tomorrow if I could! Sanday truly stole a piece of my heart…
BookTrail Boarding Pass: The Gifts
TwitterL @LondonBessie