Travel to Italy with Jo Thomas in My Lemon Grove Summer
Head off to Italy with Jo Thomas in My Lemon Grove Summer
A treat today. With summer just around the corner, why not head over to Italy with the fabulous new novel by Jo Thomas. Always guaranteed to get the summer vibes going, this novel is scented with lemons growing in the valley around Mount Etna….there's romance, good food and stunning scenery so what are you looking for? Here she's waiting to greet  you so what are you waiting for? Let's Travel to Italy with Jo Thomas in My Lemon Grove Summer
Location is central to this story. Can you tell us more?.
This idea started with an article I'd seen on line, advertising for new residents in an Italian village. My mother's grandparents came to the UK from Sicily as ice cream sellers, and I'd always wanted to see the island. When I start thinking about a story, it's a bit like I'm walking into my pantry and deciding what I'm going to cook with what ingredients. I had a story idea, a setting and then I need the other ingredients. I'm a great believer that once you discover the food of area, it takes you by the hand and introduces you to the people, the history and culture of a place.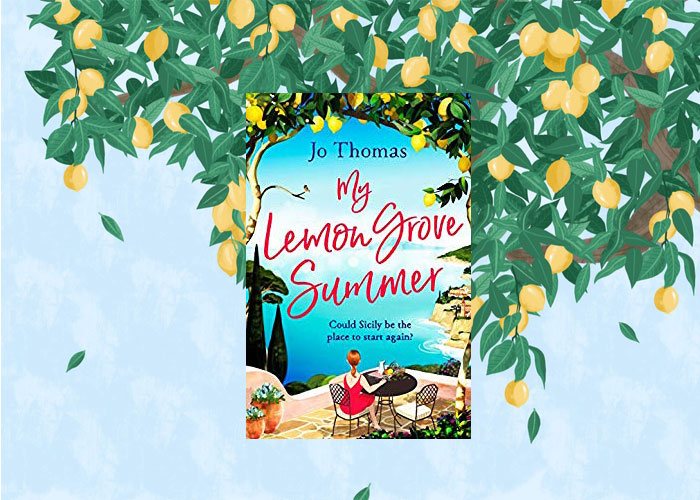 Sicily is no exception. It was the lemon trade triggered the start of the Mafia, as the lemon trade grew; ships would stop to buy them to stop their crew getting scurvy. Lemon harvests were being sold whilst still on the trees, and stolen. The lemon groves started to need protection and the people employed to protect them also began to run the sales of them, control the pricing and who they traded with. Lemons are woven into the weave of Sicily's history, it's people and culture. The citrus fruit there is like nothing I have ever tasted before. It is out of this world. And it is the only place that produces blood oranges, because of the nutrients from the ash of Etna. Etna plays a very important role in this book.
How do you evoke setting in your work? 
You have to use your five senses first of all, how does a place look? What can you hear? What can you see? Smell is very important. How does the place feel? How does the food taste? And most importantly, how does the place make you feel?
How did you research your novel? 
I start by working out the food that is central to my story and then put my character into that world. Once I have the food at the heart of the story and the love story I then generally visit the place. Or it may be it's somewhere I've already visited and go back to look at the pictures to remember the places and how the place felt. I may then separately research the food at the heart of my story. When I wrote The Oyster Catcher I was living in Galway, but ended up going oyster farming on a Scottish island, which incidentally is now the setting of my next book after this one! Research can be used more than once!
Language….
Language is obviously important. Although you have to write the story in English, using a sprinkling of Italian helps set the scene, and of course, Sicilian. The markets and restaurants also give you a good sense of place. How do people eat? Who do they eat with? And where? How do the restaurants feel? How a community feeds it's family is a good starting point for me. I once visited a restaurant in an olive grove in Puglia and the owner told me that for him, life was about the food they grew on the land, to cook in the forno, to put on the table, and he banged the table, for the ones he loved. And that's it in a nutshell. It's all about the kitchen table, whichever country we're in.
Sicily blog
When I started researching Sicily for this book, I discovered a wonderful blogger, the fabulous Sarah Kearney who runs White Almond – Private Sicily, a travel, food and lifestyle blog all about life in Sicily. She answered so many of questions and put me in touch with people she knew on the island. Here's the link to her site.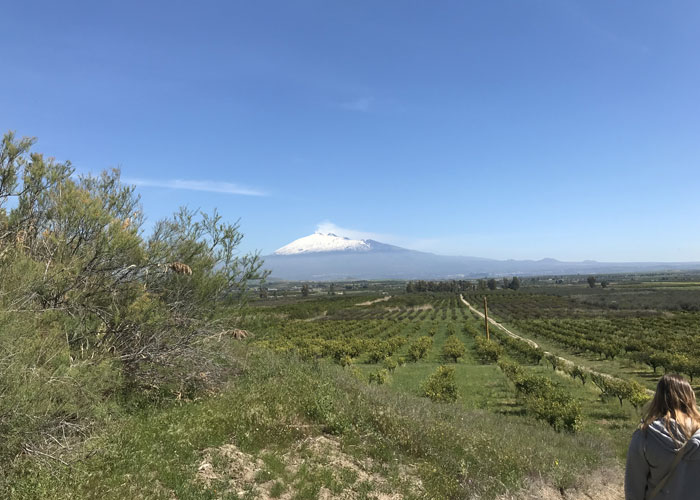 Can you tell us more about Citta D'Oro ..
I flew into Catania airport and I'll never forget that first view of Etna that we got as we landed at the airport. For our first night we went to a family run farm, Agriturismo il giardino del sole, where we rode out on horses through the lemon trees and did a cookery course. From there we went to a villa for the week, Villa Grande in Trecastagni with Etna as a close neighbour.
So, our first trip out was on the horses and the family run farm. Then from our villa in Trecastagni we visited all the local villages to get a feel of area and of course we visited Etna. We also met and visited a citrus farmer Guiseppe at  www.aziendabrancati.it, who gave us a tour of his citrus grove.
My favourite part of research is buying and cooking food in the place I'm staying and of course finding out the best local restaurants.
Have you ever travelled somewhere to see a literary setting of some kind?
Well, I live not that far from Dylan Thomas' Laugharne and have been to his boat house. And I certainly loved the last trip I've just made to the Luberon in Provence, home to Peter Mayle, author of A Year in Provence. Loved the book and the series!
Top tips for visiting your part of Italy? 
I would really recommend doing a cookery course. The one we did at Agriturismo il giardino del sole was wonderful. It felt like Christmas with family members popping in and out, drinking wine, eating olives and chatting. It was something to do as a family, and then enjoying the fabulous feast we'd prepared with our new Sicilian friends.
Thank you so much for such a wonderful tour Jo!
Twitter:  @jo_thomas01    Web: /jothomasauthor.com