You're Invited to Sri Lanka with Amanda Jayatissa
You're Invited to Sri Lanka with Amanda Jayatissa
Thriller writers are famously known to draw inspiration for their stories from snippets of their real lives, but how many can say that the setting for their thriller was influenced by their own wedding?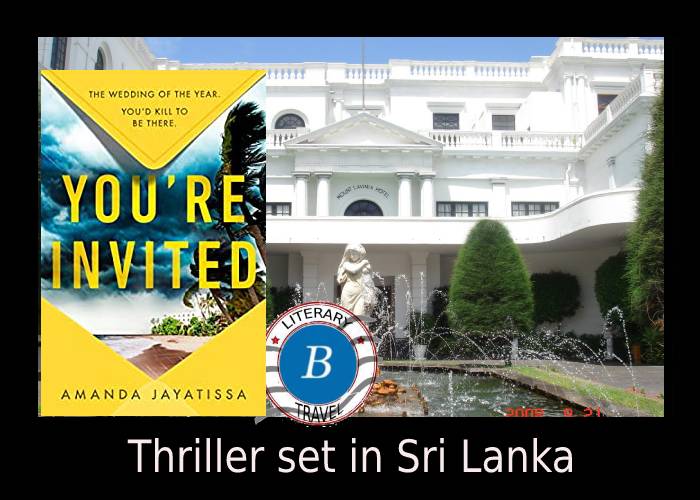 When writing the very first draft of You're Invited, which is based in Sri Lanka (where I am from), I knew the wedding location had to be very special. In fact, it couldn't get any more special than the Mount Lavinia Hotel. This is the very placemy husband and I got married ourselves.
The backdrop of the Indian Ocean aside, the hotel itself is steeped in a story of love, heartbreak, and if rumours are to be believed, ghosts.
It is said that the second Governor of British Ceylon, Thomas Maitland, acquired the land known by locals as Galkissa in 1805. Here, he decided to construct a sprawling mansion to be used as his personal residence.
But that wasn't the only reason that enamoured Galkissa to his heart. He saw the beautiful Lovina Aponsuwa, a dancing girl who wore anklets with bells on them while performing at his welcome party. Her father was the head of a dancing troupe, and Lovina was known to be a highly skilled dancer. Sir Thomas is said to have taken one look at her and fallen madly in love.
The Mount Lavinia Train station
Social norms at the time dictated that their love could never be accepted due to his post as governor and her "low birth." Of course, as any story worth telling goes, nothing stands in the way of true love. According to legend, Sir Thomas constructed a secret tunnel that led from the wine cellar of his mansion directly into Lovina's home, so they could meet undetected.
Mount Lavinia Beach
Sadly, King George III recalled Sir Thomas from his post, relocating him to Malta instead. Heartbroken at being unable to accompany her love, Lovina is said to have thrown herself into the sea while the governor sailed away.
But before he left Ceylon, Sir Thomas had one last request. He asked for his residence to be named Mount Lavinia, after his love and this was granted by the British Government. The entire town of Galkissa is now referred to as Mount Lavinia. Sir Thomas' mansion has been converted to the five-star Mount Lavinia Hotel.
Stepping into the hotel itself feels very much like a time capsule. From its colonial architecture right down to the uniforms of the staff. Its beautiful location right next to the beach makes it an extremely popular wedding location. It's also  a fine location to set a thriller it would seem.
Mostly importantly, a statue of Lovina pays homage to the woman after who the hotel is named, and can be found prominently in the middle of a water fountain at the entrance of the hotel.
A cheeky waiter or two or two will tell hotel guests that the secret passage to Lovina's house still exists. However no amount of searching has revealed it thus far. On a quiet night, hotel guests have said that they could hear the sounds of Lovina's ankle bells tinkling through the corridors of the old wing. They say she is searching for her love who left her, even in death.
Lovina's story has been one I've heard whispered ever since I was a child and would visit the Mount Lavinia beach.
When searching for a setting to You're Invited, which features plenty of heartbreak and betrayal of its own, I just knew that the Mount Lavinia Hotel would be perfect.
Twitter: @AmandaJayatissa  Instagram: @amandajayatissa