Wandering amongst history in Suffolk with Erica James
Coming Home to Island House is a tale of past, present and future. It's a story of a dysfunctional family cusp of wartime  – a woman who returns to the love of her life, but when he gets ill, the whole family return to bury their resentments. But with their new stepmother at the centre of it al, nothing is easy…
Is the war outside on the horizon or inside the four walls of Island House?
Erica James takes us on a journey to that very place in Suffolk…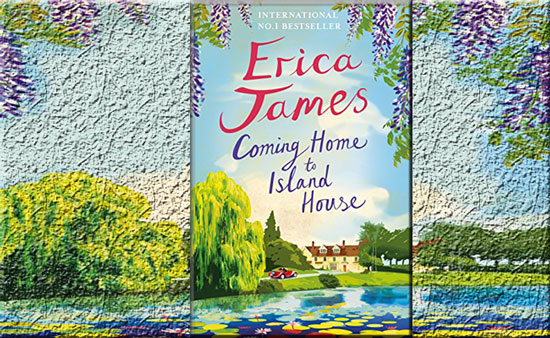 Why is location important to you?  Where is Island House?  The village?
The location of a novel is always important to me as it's somewhere I have to 'live in my head' for a whole year while writing the book.  I like to have an emotional connection with a place before I can set a book there.  Island House is a combination of two houses I know, and I'm not revealing my sources!  The village is fictional, but is inspired by several villages not far from me where I live in Suffolk.
In many ways, the setting isn't that vital to the storyline, it's really about the characters and how attached the reader becomes to them. My novels are character driven, so that's the number one thing I have to get right.
How do you research a novel such as this?
Coming Home to Island House is the third novel of mine with a WWII storyline, so I have acquired quite a library of information on that era, an era that has interested me more and more as the years go by.
Something you found surprising while researching the novel?
There were no surprises while researching, but there were plenty of surprises as the story unfolded, but then that's the way I've always written, I just make it up as I go along and regularly find myself surprised by what happens to a character, or what a character says.
The war stories are quite unsettling – how did you feel about weaving these into your story?
If something unsettles me then I know it has dramatic appeal and has a place in the storyline.
Romily.  Can you tell us more about her?
Obviously she's my alter ego – I'd love to be a dare-devil racing driver, have a pilot's licence and be as capable as she is!  Funnily enough when I first imagined Romily I pictured her sitting in a bay window of a house busily writing, as well as observing the passers-by of the village in which she lived.  I saw her as a much older woman, but then decided to make her a lot younger and suddenly a very different story began to unfold inside my head.
Romily loves the idyllic seclusion of Island House. Her friends are her family. For her holidays, she'd have a few days on the French Riviera, having driven there in Jack's Bentley, and then on to Italy to take part in the Mille Miglia – the open-road endurance race from Brescia to Rome and then back to Brescia.
What would you Erica get up to in your own #IslandHouse ?
Favourite snack to eat when reading.
Tea and cake.
Favourite reading spot?
Bed.
If you weren't a writer what would you be?
A racing driver!
Thanks Erica (and Romily) for a very interesting drive to Island House!
BookTrail Boarding Pass:  Coming Home to Island House
Twitter: @TheEricajames    Web:   ericajames.co.uk